In June, Nightwing and Suicide Squad will be joining Aquaman switching from twice-monthly to monthly — and as a result get the price rise from $2.99 to $3.99.
It's worth noting that it seems that originally the plan for DC Comics was that the twice-monthly schedule at DC Comics was only meant to last a year, but its success saw DC Comics extend that, now heading into its third year. Some books have dropped out, for a variety of reasons.
Surviving as twice-monthly titles now are Batman, Detective Comics, The Flash, Green Lanterns, Hal Jordan & the Green Lantern Corps, Harley Quinn, Injustice 2, and Wonder Woman.
But it's notable that some twice-monthly or weekly titles for June are now $3.99 including the new Justice League series, as well as Man of Steel.
However, despite criticism we may just have made of the DC New Age of Heroes line, those monthly comics at least are holding the line at $2.99.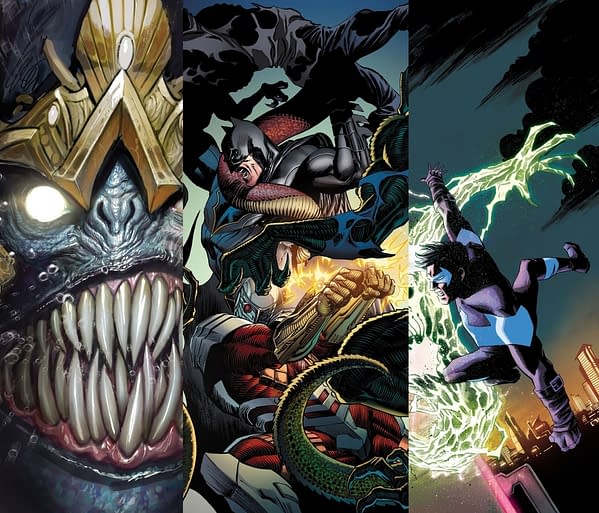 NIGHTWING #45
Written by BENJAMIN PERCY • Art by CHRISTOPHER MOONEYHAM • Cover by DECLAN SHALVEY
Variant cover by JOHN ROMITA. JR. • Retailers: This issue will ship with two covers. Please see the order form for details. Nightwing investigates a string of murders that at first seem disconnected…but when signs start to point to the digital underworld, the mean streets of Blüdhaven begin to transform. So how does a hero like Dick Grayson-—used to using his fists to solve problems—stop a villain he can't get his hands on? Especially when Blüdhaven isn't the only thing compromised by a tech implant in this new "smart city" initiative…so is Nightwing's mind.
On sale JUNE 6 • 32 pg, FC, $3.99 US • RATED T
SUICIDE SQUAD #43
Written by ROB WILLIAMS • Art by EDUARDO PANSICA and JULIO FERREIRA • Cover by GUILLEM MARCH
Variant cover by FRANCESCO MATTINA • Retailers: This issue will ship with two covers. Please see the order form for details. "CONSTRICTION" part three! Trained to kill by Kobra, Deadshot's daughter Zoe may be even more deadly than her father. Batman and Deadshot must face her down and stop her before she kills both them and all of Kobra!
On sale JUNE 13 • 32 pg, FC, $3.99 US • RATED T+
AQUAMAN #37
Written by DAN ABNETT • Art by RICCARDO FEDERICI • Cover by STJEPAN SEJIC
Variant cover by JOSHUA MIDDLETON
"The Kingslayer" part three! With the King of Atlantis' resistance down for the count, a magically monstrous King Rath rampages to extinguish them once and for all! Aquaman and Dolphin must gather whoever's left standing for one final battle, but Rath finds bigger fishmen to fry as he prepares to sink Atlantis deeper into the abyss!
On sale JUNE 20 • 32 pg, FC $3.99 US • RATED T
Enjoyed this article? Share it!