Now Tom King & Bilquis Evely Supergirl Sells Out Thanks To James Gunn
Supergirl: Woman Of Tomorrow is going to be a film. And as a result, everyone has been buying the comic book. More printings are coming!
---
Supergirl sellout! We just mentioned how Warren Ellis and Bryan Hitch's The Authority has sold out at distributor and bookshop chains alike. Since then a few people have added their copies to Amazon Marketplace. As we were posting it, the same was happening to Tom King & Bilquis Evely's Supergirl: Woman Of Tomorrow, which is also being made as a movie by DC Studios. But whereas The Authority was published 25 years ago, Supergirl: Woman Of Tomorrow was only published last year, with a collection of its eight issues published by DC Comics last July.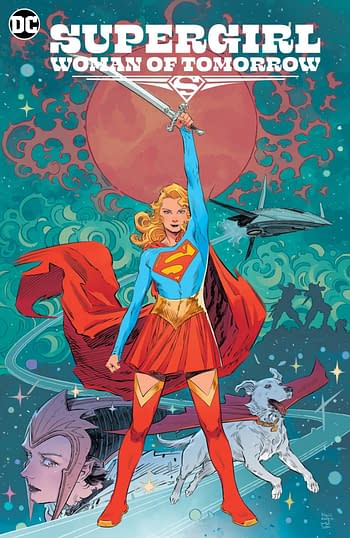 James Gunn says of the movie, "This is based on Tom King (and Bilquis Evely) 's wonderful comic. Tom has been one of the architects of this entire situation. He's been one of the guys in the room with us, along with four or five other writers. I love his take on these characters. He just turns them slightly to be something very unique. In our story, we have Superman who was sent to Earth and raised by incredibly loving parents. Kara was on Krypton. She was on a piece of Krypton that drifted away from the planet, and she lived there for the first fourteen years of her life in a horrible situation where she watched everyone around her die. So, she's a much harsher and more f*cked up Supergirl than you've been used to thus far." Gunn also said of the whole DC Studios project, "We have Tom King. He has been my partner throughout all of this. He was giving me answers to sh*t before I took the job."
And as a result of all this fuss, that Supergirl: Woman Of Tomorrow collection has, today, burned out of Amazon, Penguin Random House and Lunar. Sold out of Barnes & Noble, Hudson Books, Target, Powell's, Books-a-Millon and Walmart. Even Forbidden Planet is all out. Same with Midtown Comics, though they do have a couple of copies of issue 5. All out at Mile High Comics though.
Bleeding Cool had heard that a fast reprint was on the way and Gunn seemed to confirm this, tweeting out in reply to Bleeding Cool's earlier article, saying "Just talked to @JimLee about everything selling out, but the fine folks at @DCComics will have more coming soon. #DCStudios #TheAuthority". That goes for Supergirl: Woman Of Tomorrow as well.
Issue 1 has just sold on eBay for over $43 raw, when the week previously, you could have got it for two dollars . The Gary Frank variant has sold CGC 9,8 slabbed for $250, while issues in the series are selling CGC 9.8 slabbed from $60 to $80, especially the later, rarer issues.
"It's Supergirl like you've never seen her before, in a character-defining sci-fi/fantasy masterpiece from Mister Miracle writer Tom King and Wonder Woman artist Bilquis Evely! One of NYPL's Best Books for Adults 2022. Kara Zor-El has seen some epic adventures over the years, but she now finds her life without meaning or purpose. Here she is, a young woman who saw her planet destroyed and was sent to Earth to protect a baby cousin who ended up not needing her. What was it all for? Wherever she goes, people only see her through the lens of Superman's fame. Just when Supergirl thinks she's had enough, everything changes. An alien girl seeks her out for a vicious mission. Her world has been destroyed, and the bad guys responsible are still out there. She wants revenge, and if Supergirl doesn't help her, she'll do it herself, whatever the cost. Now a Kryptonian, a dog, and an angry, heartbroken child head out into space on a journey that will shake them to their very core. This volume collects Supergirl: Woman of Tomorrow #1-8."
And you can follow along with how other comic books are being affected by the DC Studios TV and movie announcements right here,