Oprah Pics Graphic Novel As One Of Six Books To Read This Spring
The Huffington Post and The Oprah Magazine posted their list of 6 Books You Should Read This Spring and there was a graphic novel in the mix.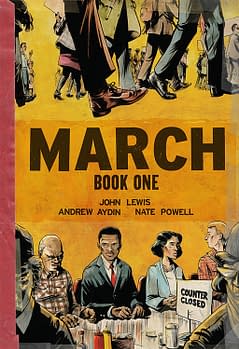 At number two was March: Book One by John Lewis, Andrew Aydin and Nate Powell. This much celebrated book is the autobiographical tale of Congressman John Lewis and his experience during the civil rights movement. Published by Top Shelf Productions, the book has been receiving praise from every literary corner to the nation's capital. Now being added to this list should raise the profile of the first of three planned graphic novels quite a bit.
Here is what they have to say:
It's not often that a congressman stars in his own autobiographical comic book, but that's exactly the role Rep. John Lewis (D-GA) plays in the graphic memoir March: Book One (Top Shelf Productions). Written with Andrew Aydin and Nate Powell, the project was inspired by a 1958 comic book that chronicled Martin Luther King Jr.'s role in a seminal civil rights boycott — and helped spur young Lewis to join the movement himself.

March is both an important first-person account for any student of the era and a riveting chronicle of Lewis's extraordinary life. An Alabama sharecropper's son — a boy preacher whose first flock was made up of his family's chickens — he spoke alongside King at the March on Washington when he was only 23. Less than two years later, in 1965, he co-led a group of peaceful protesters from Selma, Alabama, toward the state capitol of Montgomery. En route, he and others were severely beaten in the violence that became known as Bloody Sunday. This first book of three centers on a series of events Lewis recalls on the occasion of President Obama's 2009 inauguration, and it powerfully illustrates how much perseverance is needed to achieve fundamental social change. In this memoir, Lewis — an elder in our midst — speaks for all of those who paved the way and ensures that their legacy will live on.
— Daniel Squadron
March: Book Two is scheduled to be released in December of this year.