The Other History Of The DC Universe by John Ridley Vs Glory Scroll/Black Reign by Michael Davis
This is The Other History Of The DC Universe by John Ridley. Announced earlier in the year, out from DC Comics in January and on the front of Diamond Previews.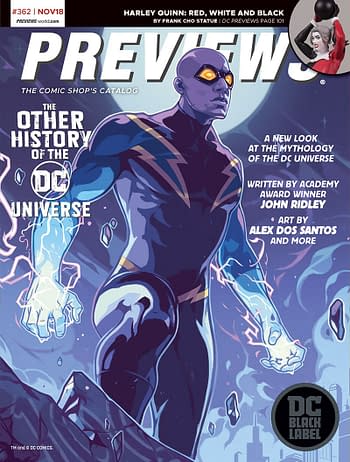 This is how it is solicited,
THER HISTORY OF THE DC UNIVERSE #1 (OF 5) (MR)
(W) John Ridley (A/CA) Alex Dos Diaz
Academy Award-winning screenwriter John Ridley (12 Years a Slave, Let It Fall) examines the mythology of the DC Universe in this compelling new miniseries that reframes iconic moments of DC history and charts a previously unexplored sociopolitical thread as seen through the prism of DC Super Heroes who come from traditionally disenfranchised groups. This unique new series presents its story as prose by Ridley married with beautifully realized color illustrations from a selection of exciting illustrators and comics artists. Alex Dos Diaz provides art for #1, which follows the story of Jefferson Pierce, the man who will one day become Black Lightning, as he makes his way from being a young track star to a teacher and, ultimately, to his role as a hero.
Future issues focus on characters such as Karen and Mal Duncan, Tatsu Yamashiro and Renee Montoya. Extensively researched and masterfully executed, THE OTHER HISTORY OF THE DC UNIVERSE promises to be an experience unlike any other. You may think you know the history of the DC Universe…but the truth is far more complex. THE OTHER HISTORY OF THE DC UNIVERSE isn't about saving the world-it's about having the strength to simply be who you are. In Shops: Jan 30, 2019 SRP: $7.99
Someone who is a little annoyed is Milestone co-creator, Bleeding Cool contributor, publisher, editor, creator and mentor Michael Davis (Phd). He has shared a number of e-mails with Bleeding Cool, regarding a planned project for DC Comics called Black Reign: The Secret History of DC Comics Black Superheroes, also known as Glory Scroll, when it was to be the framework for the Milestone line's return to DC Comics in 2009.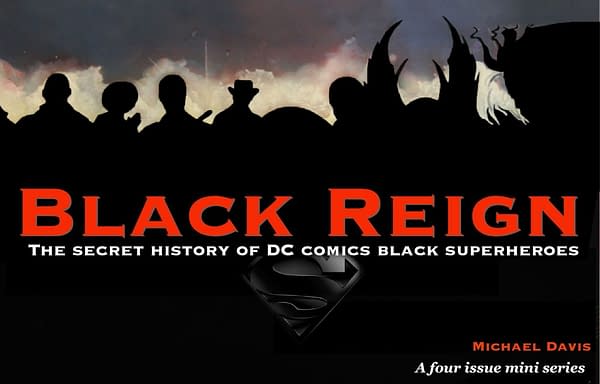 Bleeding Cool has also seen an e-mail from Milestone co-creator Dwayne MacDuffie to Davis and Derek Dingle from 2009, stating that Paul Levitz had killed off the planned ongoing Milestone line, but still wanted Glory Scroll. It read;
Paul Levitz has just killed all of the ongoing Milestone titles that DC Comics planned to debut this year and next. He says he still wants Glory Scroll, but if DC company isn't willing to do ongoing books with the Milestone characters. I'm disinclined to give them Glory Scroll, and the implicit political cover it provides for DC's decades of abysmal performance concerning racial matters. Dan Didio says he's trying to change Paul's mind, so I'm stepping back for a while until it's sorted out.

If indeed DC only wants the Milestone characters for supporting roles. that would be destructive to both their long-term commercial value and our creative intent, and I'll be pulling the plug on the Milestone deal. If I do so, I will also officially withdraw the Glory Scroll proposal at that time. Feel free to call me and discuss.
Six months later, Paul Levitz was fired as President and Publisher. Dan DiDio and Jim Lee were made co-publishers. Would this be a better framework for Black Reign/Glory Scroll? As time passed it seemed now. And Davis received the following e-mail in 2012 from DiDio, in reply to his own.
Sorry for not getting back, but unfortunately we have thought through our publishing plans, and at this time we will not be pursuing Black Reign as a project at DC. Given all our success with the New 52, all our energies for the super hero portion of our line will be focused there.
Again, sorry for the delayed response.

michaeldavishere wrote: Dan, I make it a point to not be a pest but it's been almost a year since we talked at Comic Con, six months since we met at DC and almost three months since we talked at Wonder Con. I think I've built up some not being a pest' points: So-I'd like to know if you are still interested in Black Reign. I think it would be a monster project at DC and hope you see the potential also but one may or another I'd like to move on-hopefully with DC. I look forward to hearing from you. Thanks and congratulations on your new home,
Now naturally ideas are generated independently and comics history is full of the same idea coming up simultaneously without influence, including the UK and US Dennis The Menaces, Doom Patrol and X-Men, Swamp Thing and Man-Thing.
But you can see why Davis might be a little narked at the publication of The Other History Of The DC Universe, considering.
David has, today, made the keynote speech at Afro ComicCon at SAE Expression College in Emeryville, California, entitled NOW YOU CAN'T LEAVE: Level Next & The War For Static Shock. I wonder if he will have things to say?
These are just two e-mails, of course. Davis has many more…