 Patrick Hammond writes:
Our comic, Out of Sight, a tale of invisibility and theft, is currently on Kickstarter. Starting at €5, it's a steal! (Sorry.) It's the story of an art thief, Taylor, who gets caught on a heist. He's bailed from jail by his boss, a man who nobody wants to owe a debt to. Injected with a nanobot serum, every cell in his body is altered. He emerges from the torturous experiment invisible and finally capable of the ultimate steal. But only if he's nude, of course.
You're not truly moral unless you've been tested. We can all say that we wouldn't steal something, but often it's the threat of getting caught that prevents us from doing so. For some among us, though, stealing is just something we have to do. Yes, it is we despicable writers. We who expect our artists to work for nothing while turning our flimsy imaginings into reality. Well, no more; it's time to regain my morality.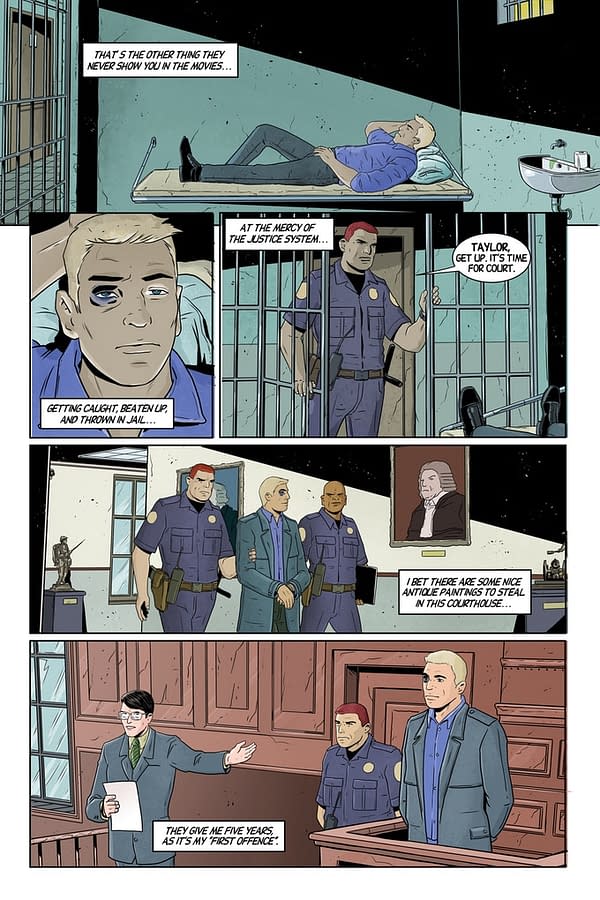 Too often, artists are expected to work for free. If we don't pay our artists, then how can we expect them not to turn into cat burglars? I want to make sure that two guys, whose art I truly love, are going to get paid for working on this comic. I want to deliver something cool to people interested in crime and science fiction. I know I can do all of this, but only if you support the Out of Sight Kickstarter.
Rewards include artwork prints, sketches of you on a heist with our thieving hero(?) and the option to be in the comic! Thanks to all who have helped us get to 50% funded, and thanks to Bleeding Cool for allowing us to steal (oh no…) a bit of your time! (Urgh…).
Here's the link to Out of Sight's Kickstarter page.
* * * * *
This is Josh Davison again. With a really good pitch and great art by the team of Nenad Cviticanin and Joe Griffin, Out of Sight looks like it will be a great comic. It worthy of your support and deserving of snagging your money.
Enjoyed this article? Share it!