Outcast And Justice League Rebirth On The Cover Of Next Week's Previews
Outcast by Kirkman & Azecata takes the front of next week's Diamond Previews for comics shipping in July, as the Cinemax TV show makes its way to broadcast. While DC Comics' Justice League: Rebirth #1 and Justice League #1 take the back cover.
Premier publisher titles spotlighted by Diamond's Gems include Bounty by Kurtis Wiebe and Mindy Lee, Jill Thompson's OGN Wonder Woman: The True Amazon; Rom #1, Throwaways #1 by Caitlin Kittredge and Steven Sanders and Civil War: Kingpin by Matthew Rosenberg and Ricardo Lopez Ortiz.
Other spotlights include Deadpool & The Mercs for Money by Cullen Bunn and Iban Coello, Bryan Lee O'Malley and Leslie Hung's Snotgirl, Jeff Lemire's Black Hammer, Adam Hughes' Betty & Veronica series and the launch of Michael Uslan and Giovanni Timpano's crossover The Lone Ranger/Green Hornet.
Black Hammer also covers the Previews Customer Order Form…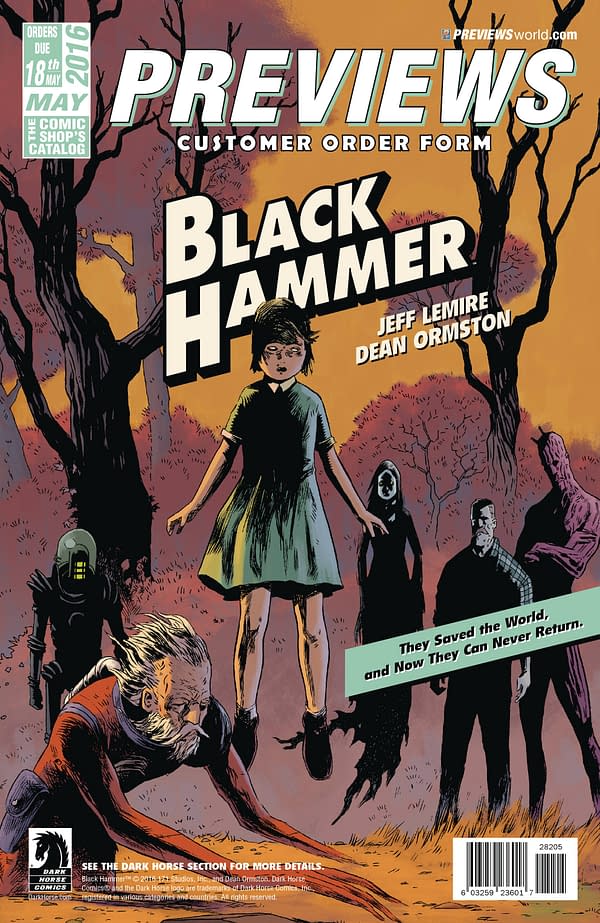 And Marvel put Civil War II (naturally) on the front of their spinoff Previews.