Scott Lobdell Really Wants Red Hood's Outlaws to Be the X-Men
The cover solicitation for Red Hood And The Outlaws #38 didn't have any speech balloons on it.
But the published one did.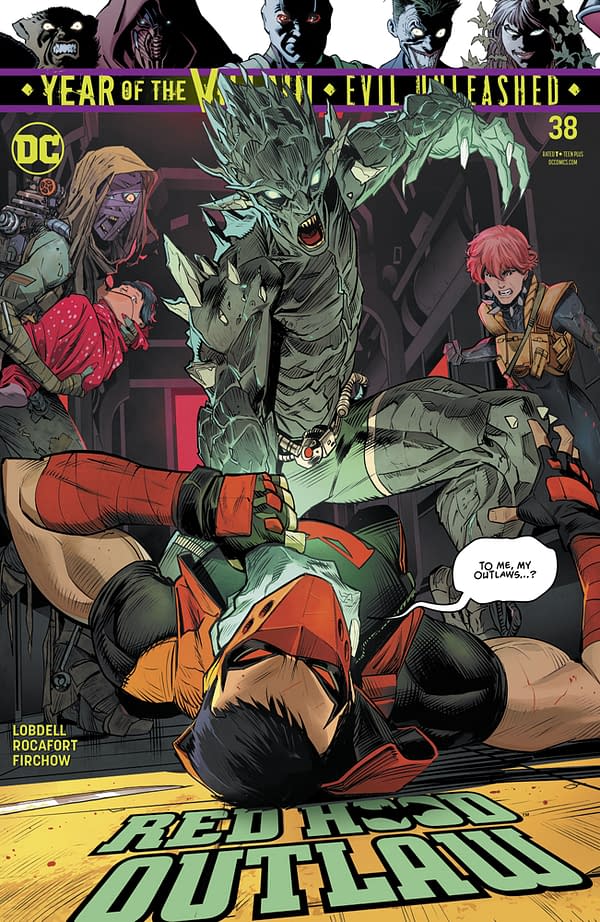 A phrase very familiar to mutant readers…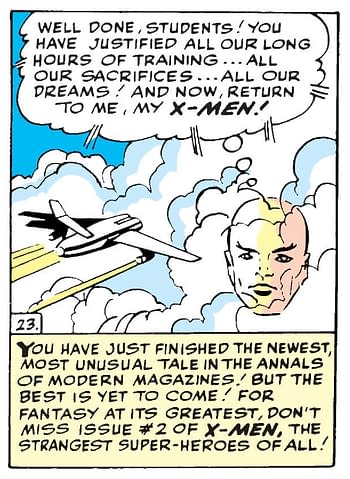 …used over and over…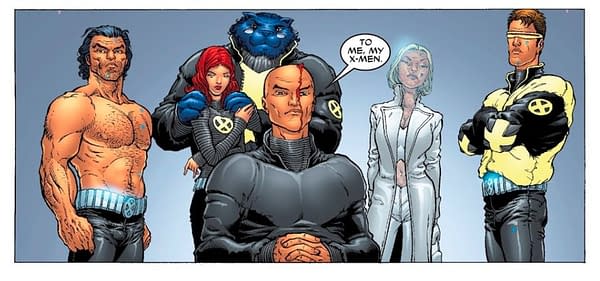 …and over and over…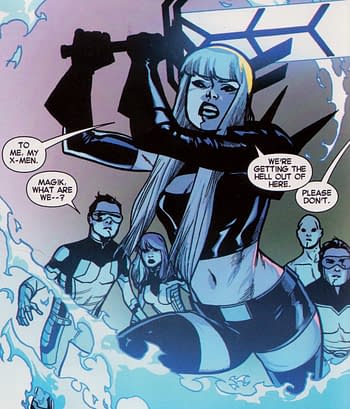 …including a version popping up with similar effect in House Of X #1.

The series has seen Jason Todd, the Red Hood, being used by Lex Luthor to train a number of new super-powered teenagers to use their powers… well, as responsibly as Jason Todd thinks they should. And it is getting rather Danger Room-like.
It wouldn't be the first time that writer Scott Lobdell has used his DC Comics team books to make reference to the X-Men comic books, Uncanny X-Men, Generation X and Age Of Apocalypse that he used to write back in the nineties and noughties. Even as Marvel Comics does their best to erase him from this history, such as in recent PR-approved interviews.
Nrama: Hickman mentioned in passing at San Diego Comic-Con that in addition to the three big eras of X-Men he looks back on, he also is taking a bit from Chris Bachalo's Generation X run. What say you to Bachalo's star turn there and the introduction of characters like Penance, M, Husk, and the others?

Cebulski: I was a huge fan of what Chris did on that series as well. Especially with the early "Age of Apocalypse" tie-ins, of all of those, has stood out for a lot of people. He incorporated a little manga and anime design, but also had a sense of storytelling.
Still, it's notable that DC Comics has, in recent years, tried to mirror classic Marvel titles, including publishing The Terrifics, a Fantastic Four-style book at a time when Marvel refused to publish one, as well as a Spider-Man-like Sideways, a Punisher-like Silencer and a Hulk-like Damage all part of the same line.
Could there be a DC teen-mutantish book in the offing? DC's current editor-in-chief Bob Harras is the same man who hired Lobdell for those Xbooks at Marvel after all.
Maybe Marvel should lock Chris Bachalo down – though Kenneth Rocafort does seem to embody the same spirit,
RED HOOD OUTLAW #38 YOTV
(W) Scott Lobdell (A) Kenneth Rocafort (CA) Dan Mora
This is the Year of the Villain, and Red Hood has been tasked by Lex Luthor with training the worst teens in the DC Universe to become the super-villains of tomorrow. But while these kids may think they're the future of villainy, they're about to learn they may already be doomed. Reiser is rampaging through a S.T.A.R. Labs facility, unleashed like never before. Can the Red Hood see DNA, Cloud Nine, Devour and the enigmatic Babe in Arms safely home, or is this one field trip no one should have gotten permission to go on? Plus, where in the world are Artemis and Bizarro now?In Shops: Sep 25, 2019
SRP: $3.99