Own a Piece of Americana with Playboy #1 from ComicConnect Playboy #1 is the issue that started it all. Featuring the iconic Marilyn Monroe as the "Sweetheart of the Month," this issue famously features the blonde bombshell in the nude. This is, without a doubt, one of the most important pieces of American pop culture, and would go on to inspire scores of other magazines in its wake. When this magazine hit newsstands, it sold out quickly. Due to a low circulation number of 55,000, this is one of the rarest and coveted Playboy magazines. The auction for this fantastic piece of pop culture history ends on May 21st.
This newsstand edition is simply beautiful. It boasts a CGC universal blue label 8.5 with off-white to white pages, this book presents exceptionally well. Less than 5% of all graded Playboy #1 newsstand editions have gotten an 8.5 or higher, making this even more collectible. And while I don't think that the announcement of Playboy becoming an all-digital magazine in 2020 will impact the price during this auction, it's still important to note that you are owning a piece of print history — one that would eventually be moved to all digital.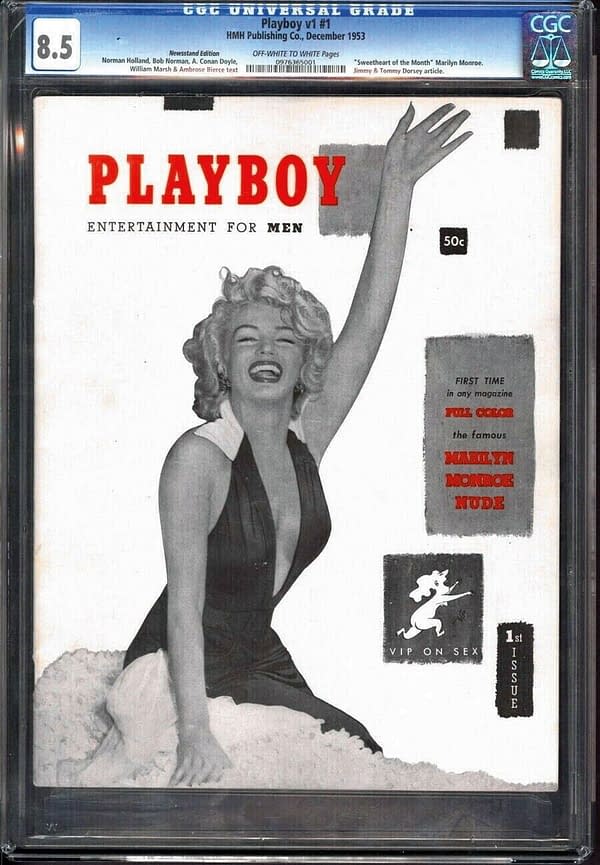 Prices for Playboy #1 tend to go high. This specific copy was last sold in January of 2017 for $19500. In March of 2019, another 8.5 sold for $23500. The highest graded copy in GPA — a CGC green label qualified 9.6 signed by Hugh Hefner, sold for $99000 in March of 2018. This book will only keep going up in value. This is still a somewhat affordable book, and regardless of what kind of comics you collect, you should absolutely take note of this. No one can deny the historical impact of this book, and finding one for sale is always a treat.
This auction for this piece of pop culture history ends on May 21st and is part of Session 4 of Event Auction #42. Are you interested in owning this piece of Americana? It can be yours, but only if you have a ComicConnect account! Accounts are totally free, and you never know what kind of comic goodies you'll find on their site. Good luck, and happy bidding!