Pestilence: A Story of Satan #2 Review – Thoroughly Unpleasant
[user_id]
[user_id]
Pope Price has been gathering the former infected as an excuse to sate his illicit desires. Satan has taken notice and uses this opportunity to make the Pope an offer. Elsewhere, Roderick and the Fiat Lux fight another horde of the eaters, and the devil confronts the knight here. He threatens Roderick's family, and he must save them before the eaters tear them apart.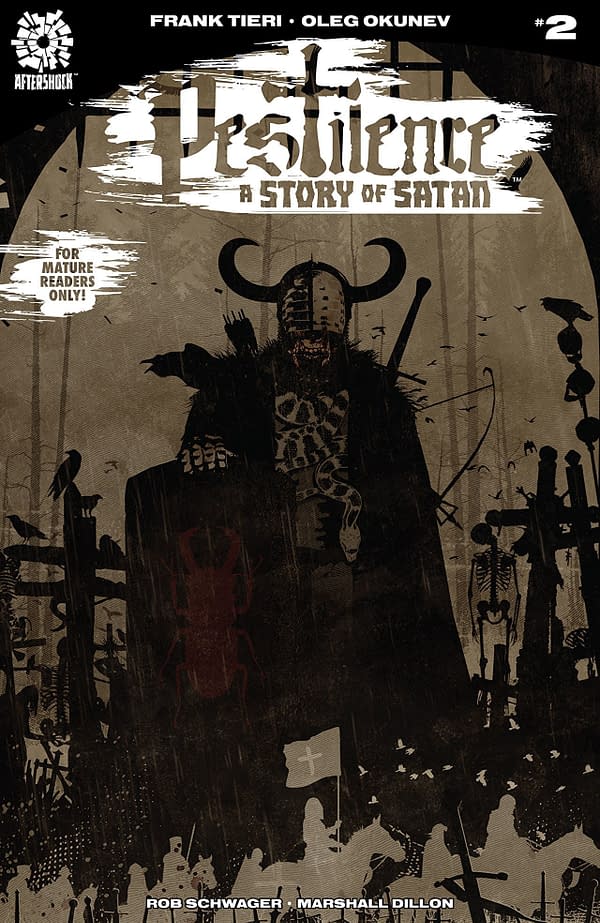 Pestilence: A Story of Satan collapses in on itself with this issue. I had issues with the opening installment of this volume, but none of them were so bad as to cause me to lose interest in the story.
That cannot be said for #2. It is an ugly, unpleasant, and frustrating read. Coincidentally, the character of Satan is the biggest problem weighing upon the comic. Pestilence wants a swearing, wise-cracking, and sadistic devil. It succeeds in crafting this version of Lucifer, but the drawbacks are great. He's not funny, seems a bit dull, and frequently uses idioms that won't be around for a few hundred years. Admittedly, he's not the only one to do that last one.
There's also a graphic rape scene, and the comic halfway plays it for laughs. That doesn't sit well with me, and I imagine most people would feel the same way.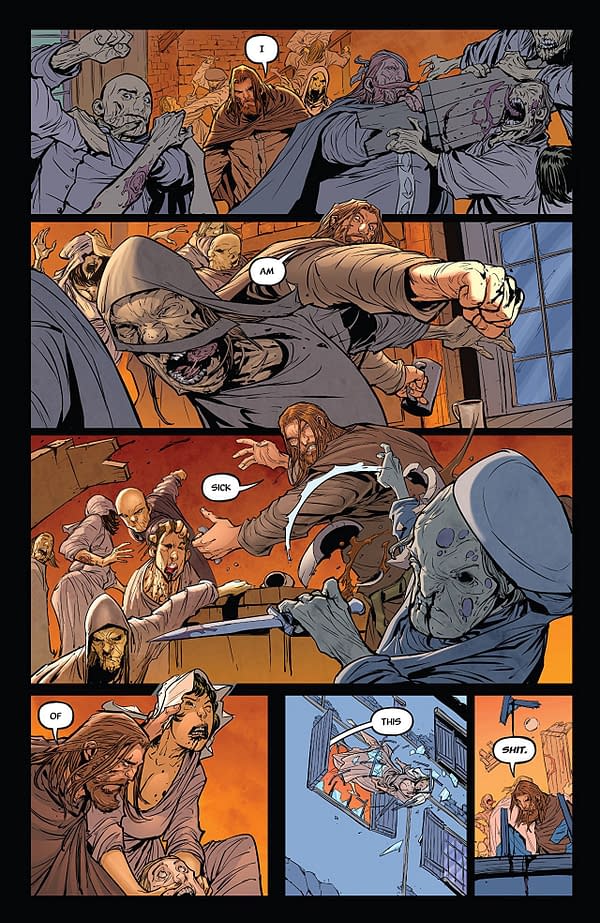 Oleg Okunev does what he can with this material, and many of the scenes are genuinely haunting and disquieting. That said, the amorphous and at-times cartoonish style doesn't do other panels justice. That said, as unpleasant as the story is, there isn't much the art could do to salvage it. The same goes for Rob Schwager's color art. It's fitting for the atmosphere and tone, but it can't salvage the story.
Pestilence: A Story of Satan could be good story, but the need to show the outright grotesque and horrific without understanding how to present such things makes the reading experience near-miserable. Steer clear of this one.