Plenty Of Comic Books Address The Election. But Which One Grab It By The Policy?
So yes, the last New Comics Day before next week's Presidential Election and plenty of comic books are addressing that fact.
Faith #5 puts Hillary Clinton on the cover. But how political is it?
Because the much-discussed story written by Louise Simonson with art by Pere Perez for Faith #5 is surprisingly…apolitical.
Clinton's appearance, which caused some controversy among Trump-supporting retailers, is not out to get reader's votes. You could even label Clinton's appearance in the issue as an extended cameo, with the presidential nominee only appearing in four of Faith #5's 48 pages.
And for those fearing that Valiant would have one of its flagship characters openly endorse a political candidate, there's little cause for concern. While Faith saves Clinton from impending doom, she never reveals an inch of support for Clinton or Donald Trump – instead she frets that elections have seemingly become "just another crazy form of entertainment". Politically speaking, the story is no more divisive than President Obama's appearance in Amazing Spider-Man. This time, we're just getting a selfie instead of a fist bump. Though given all the fervor around the US presidential election at the moment, could this appearance be enough to make Faith #5 back-issue speculator bait once the results are in next week?
Then there's Catwoman: Election Night Special. Which gives us a Trumpalike Penguin. As well as a final coda to the half-published series Prez, which doesn;t deal with elections at all, just the contradictions of American politics that sees guns defended and birth controlled condemned – or vice versa. And comes up with an entertaining and contagiously convincing solution.
Oh and hat guns.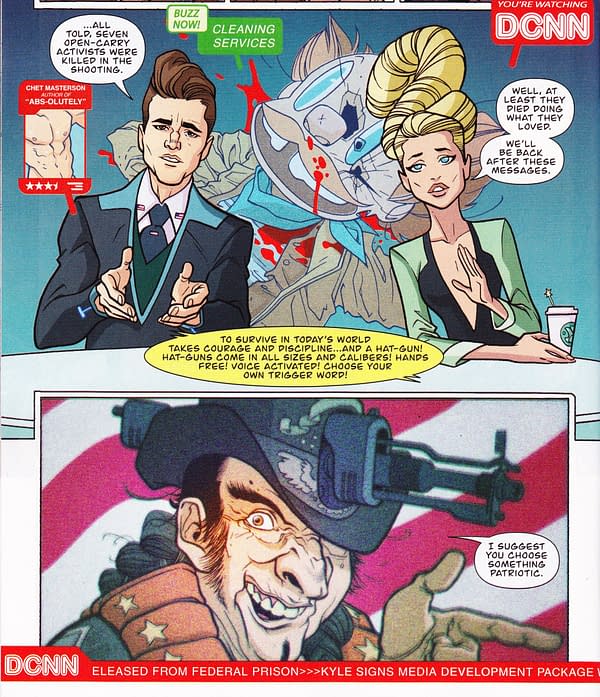 Russell gets another chance to talk about elections in todays' Flintstones. And again, it's clear who is being channeled here. While Hawkeye in the baiting title Occupy Avengers #1, looks at the issue of tackling any political problem with a superhero, and how policies kinda go out of the window. And indeed the conclusion of this comic underlines just how ridiculous such storylines tend to be. Except Occupy Avengers actually seems to be doing it on purpose.
There must be something in the air as the CBLDF Liberty Annual out today is telling stories of earlier civil rights struggles from the 19th century. With a more complex nuance than traditional, underlining desegregation on public transport in the 1880s… though how that began to change back. As well as figures less well known, but just as prominent then, such as Ida B Wells.
But it's Bitch Planet #9, taking the moment with this cover… But not addressing the current election per se, gives the author Kelly Sue DeConnick a change to speak directly in the back pages. And talking about the reaction to the the Trump/Billy Bush/Access Hollywood tapes, released as Kelly was putting this book together.
I have this thing I use when I'm talking about writing — the Sexy Lamp Test. "If you can replace a female character with a sexy lamp and the plot still functions, you need another draft." (As long as I'm being honest: I usually say, "then f-ck you," but I'm trying to master my tongue as well as my temper. It's a tall order, but I'm trying.)

"What if he spoke about your wife like that?" is the real-life equivalent of the Sexy Lamp. "What if that man disrespected something that belonged to YOU?!"

It's as though it was Nancy O'Dell's husband/father/brother who was wronged. It was Nancy O'Dell, you guys. It was her. Dudes: if you want to empathize with someone, empathize with her. It won't break your brain. You can do it. I believe in you.
You can read the whole thing… in Bitch Planet #9. Out today, along with all these other comic books.
Election in six days, folks. By the next New Comics Day, you will know one way or another.