PodCapers Podcast Parodies Flashpoint with a Musical
In what's getting to be an annual tradition, home decor themed comics website A Place to Hang Your Cape is releasing another musical PodCapers podcast, this time parodying Flashpoint, the DC Comics super-mega-crossover event that kicked off the Nu52.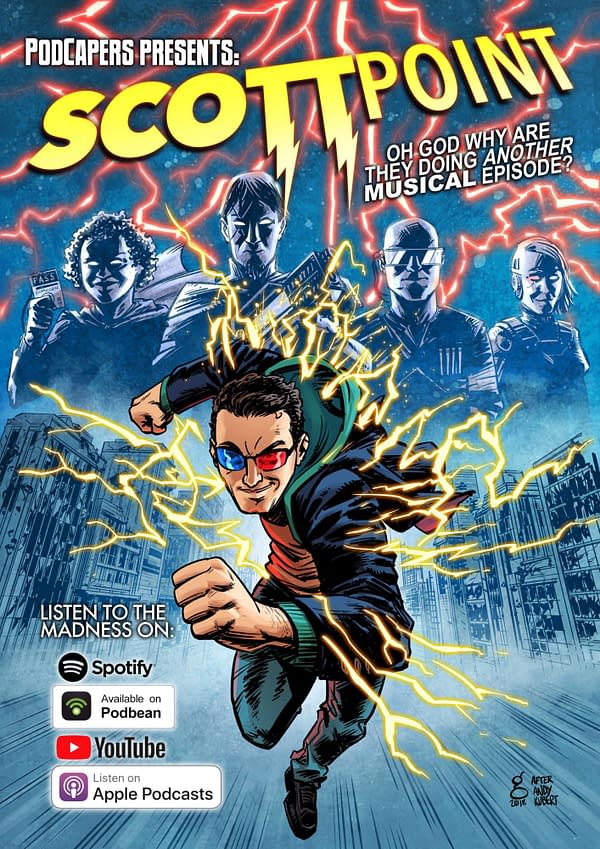 Will the podcast kick off several years of a bastardized version of the podcast that everyone hates, eventually resulting in PodCapers Rebirth? We can only assume it will. Check out the press release with more details below, and
That's right – we've only just gone and made another musical!

A Place To Hang Your Cape is celebrating its 8th anniversary with a brand-new musical on its podcast, PodCapers. "Scottpoint", a sequel to last year's "Scott's Adventures in Disney Land", finds intrepid PodCapers host Scott learning the hard way that nothing good comes from messing with time travel.

During a questionable journey to the past, Scott accidentally sets off a chain of events that puts the entirety of geek fandom in jeopardy. To put things right, Scott must go on a wild adventure through space and time – all set to an "original" Disney-inspired soundtrack.

"Scottpoint" is written, produced, and directed by Scott James Meridew, who also stars in the lead role. Scott's unique voice is sure to entertain in this hilarious new adventure.

Listeners to last year's musical will once again recognise the voices of the AP2HYC Senior Team – David Molofsky, Fred McNamara, Mark Russell, and Kit Horsley.

AP2HYC writer and former Sugar Red Drive lead singer Archit Tripathi is also lending his renowned vocal talents to bring the villainous Hater to life.

Rounding out the cast are friends from our extended #PodernFamily, including The Jock and Nerd Podcast and The Deleted Scene Podcast.

The AP2HYC team have a lot to celebrate this year. Early in the year, we started a new internship program, Capers XP, partnering with several universities to create an opportunity for students and graduates to get real world experience on a digital product. This summer, AP2HYC held its 4th annual TV Awards, which not only had over 14,000 votes from fans around the world, but also had several nominees join in to tweet about the various categories.

And of course, our podcast PodCapers has continued to grow!

While our 8th year may be drawing to a close, we still have some big ideas left for 2018 and beyond.

Join us on October 31st to celebrate 8 years of continued success for AP2HYC and listen to the madness that is "Scottpoint"!

All episodes of PodCapers – including "Scottpoint" – are available on Spotify, Apple Podcasts, YouTube, and your favourite podcast app.

"Scottpoint" is executive produced by Scott James Meridew, Mark Russell, and David Molofsky. Additional editing by Alexandra Mirabal. Cover art by Gavin Mitchell.