Pop Culture Hounding Adam P Knave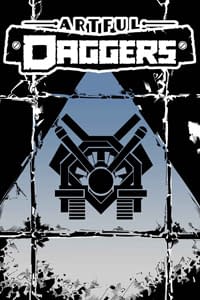 [audio:http://popculturehound.net/podpress_trac/web/2649/0/PCHPodcastEpisode59.mp3]
By Chris Thompson

After talking last week's discussion with Julie Maroh about Blue Is The Warmest Color (which you can listen to here) and my recent chat with Before Midnight's Graham Reynolds (which you can listen to here), we return to the comic trenches with writer Adam P. Knave (Artful Daggers, Amelia Cole).
We talk about his background as a writer (both in and out of comics), how he came to co-writing and joining the Monkeybrain brand, the differences in writing for comics and prose, piracy and the future of digital comics, and what he's working on next (with a few hints of things to come).
To get in touch, send feedback or submit projects for consideration, please email reviews@popculturehound.com. And if you missed last week's episode (or any others) you can find them right here or subscribe via iTunes.
You can also support the Pop Culture Hound podcast by clicking here to make a donation or pressing the DONATE button below. Your contributions are greatly appreciated and will help us maintain the site, get new equipment, and encourage us to keep going on those cold lonely nights.
Chris Thompson's Twitter: @popculturehound
Orbital Comics' website: www.orbitalcomics.com
Adam P. Knave's Twitter: @adampknave
Adam P. Knave's website: www.adampknave.com
Welcome to another exciting episode of The Orbiting Vod, the video companion to The Orbiting Pod! (Because you like seeing our wonderful faces, right?)
As per usual, we cast our gaze into the future, and let you know what stuff we're looking forward to in the final month of 2013: December!
(We are aware December is the final month of EVERY year).
Watch as we whittle done the 200+ tome that is Previews to our 3 group picks and individual selections.
Like the sound/look of the books? Why not preorder them? As always, be sure to let us know what you think! Are you going to trust us and pre-order? (remember: pre-order books to make sure they survive!)
Follow us on Twitter, drop us an email, or be our friend on Facebook!
…and remember to subscribe on iTunes!
[youtube]http://www.youtube.com/watch?v=iEHfHvTbQQM[/youtube]