Preparing For New Volume of America's Best-Selling Superhero Dog Man
Dav Pilkey is launching his latest Dog Man comic book Twenty Thousand Fleas Under the Sea. The previous volume was the bestselling book in the US in 2021.
---
Dav Pilkey is launching his latest Dog Man comic book in three weeks-and-change. On the 28th of March, Scholastic Graphix will release Dog Man: Twenty Thousand Fleas Under the Sea, the eleventh graphic novel in the series that already has more than 60 million copies in print. That's an average of six million copies for each volume, though most volumes sell around five million, and the first volume has sold ten million copies, making it the best-selling comic book in the English language by far. The previous volume, Dog Man: Mothering Heights was the bestselling book in all of the USA in 2021, and remained on the best-selling lists through 2022.
Scholastic has created thousands of event kits for public and school libraries hosting Dog Man Day events. Each kit contains such giveaways as Dive into Reading with Dog Man posters, materials for creating comics, and downloadable activities. While Scholastic Book Clubs in American schools will now, for the first time, be distributing Dog Man Day celebration kits in its Book Club boxes featuring Pilkey's characters. Shops and libraries can download copies themselves here, here, here and here.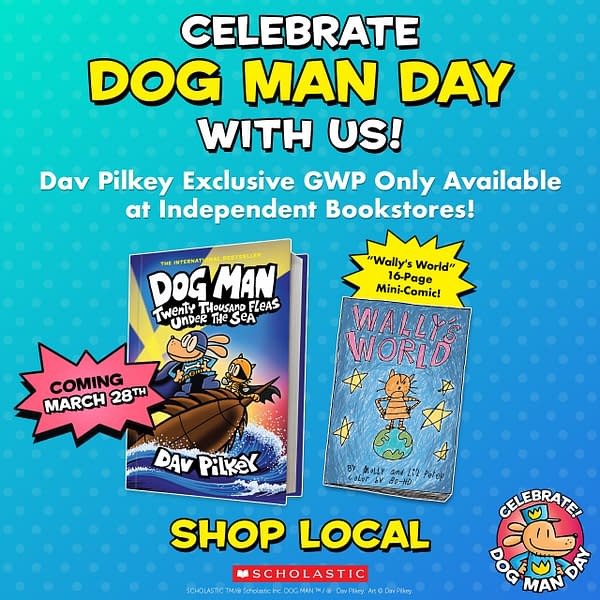 Dav Pilkey has written and drawn a 16-page original comic, available free at independent bookstores in the US, the UK and Canada. Target will offer exclusive editions of Dog Man: Twenty Thousand Fleas Under the Sea featuring free trading cards, while Barnes & Noble will offer exclusive copies with a colourable pull-out poster.
Scholastic Book Fairs were the places where Dog-Man and its spot-illustrated novel predecessor Captain Underpants first found its audience. And now they will distribute free copies of Dog Man: Twenty Thousand Fleas Under the Sea to 25,000 students and teachers in Title 1 schools. Those are schools in America, that qualify for a federal education programme that supports low-income students. Funds are distributed to high-poverty schools, as determined by the number of students who qualify for free or reduced lunch. The funds can be used to hire additional teachers or teaching assistants, to provide computers or software, to fund before, after and summer school programs, and to purchase additional materials or equipment. In the US, high schools are often funded by local property taxes, so schools in poorer areas get less funding. The Dog-Man giveaway is part of the Scripps Howard Fund's If You Give a Child a Book… literacy campaign.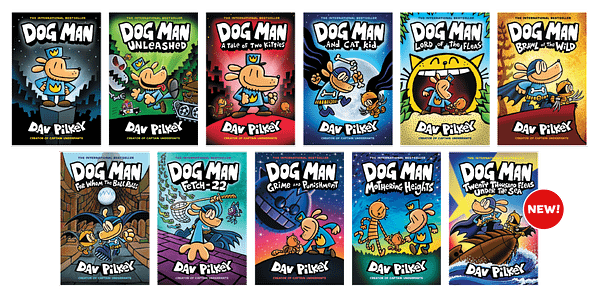 And comic book stores will give away free copies of a comic featuring characters Dog Man & The League Of Misfits, for Free Comic Book Day on the 6th of May. The characters will be featured in the Captain Underpants 25th Anniversary Edition, out this coming week.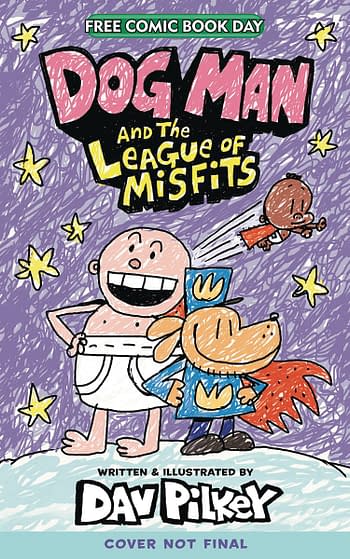 Dog Man also made a promotional appearance last month at New York City's Intrepid Sea, Air & Space Museum. And as of today will return to the stage until the 30th of April in Dog Man: The Musical at New World Stages in New York after closing down for the pandemic. On the 30th of March, there will also be a special performance and book giveaway for kids from New York Title 1 schools. The show will also launch in Australia in June. And yes, the film is on the way…
---
---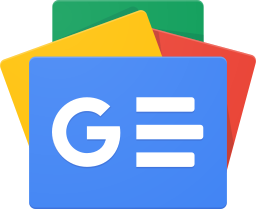 Stay up-to-date and support the site by following Bleeding Cool on Google News today!