Jook Joint is the new comic book series by Tee Franklin and Alitha E. Martinez out next month, a dark horror series, filled with blood and revenge.
Set in the Deep South, it introduces Mahalia, who runs the hottest spot in all of 1950s New Orleans—The Jook Joint.
Here she keeps the jazz popping, people bopping… and the women? The women are to die for. There's only one rule: "Keep your hands to yourself." But some men think rules don't apply to them, and Mahalia and her coven of slain women enjoy reminding them that they most certainly do…

American Horror Story meets Law & Order: SVU…
The #1 issue will also feature a special Cover B by Mike Hawthorne, the proceeds for which will be donated to Joyful Heart Foundation, a non-profit founded by Mariska Hargitay, which stands to transform society's response to sexual assault, domestic violence, and child abuse, support survivors' healing.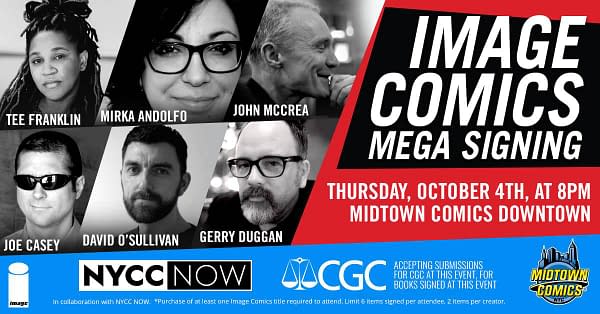 Jook Joint #1 is out the Wednesday before New York Comic Con and Franklin will appear at the show, and at nearby store Midtown Comics on Thursday, October 4th from 8-10 PM where she will be signing alongside Gerry Duggan, John McCrea, David O'Sullivan, Mirka Andolfo, and Joe Casey.
Enjoyed this article? Share it!