In an interview with the Mail On Sunday, Prime Minister of Great Britain and Northern Ireland, Boris Johnson MP, compared himself – and Britain – to the Incredible Hulk. In quite specifically geeky detail too.
'Banner might be bound in manacles, but when provoked he would explode out of them. Hulk always escaped, no matter how tightly bound in he seemed to be – and that is the case for this country. We will come out on October 31st and we will get it done.
And reminding us that 'The madder Hulk gets, the stronger Hulk gets'.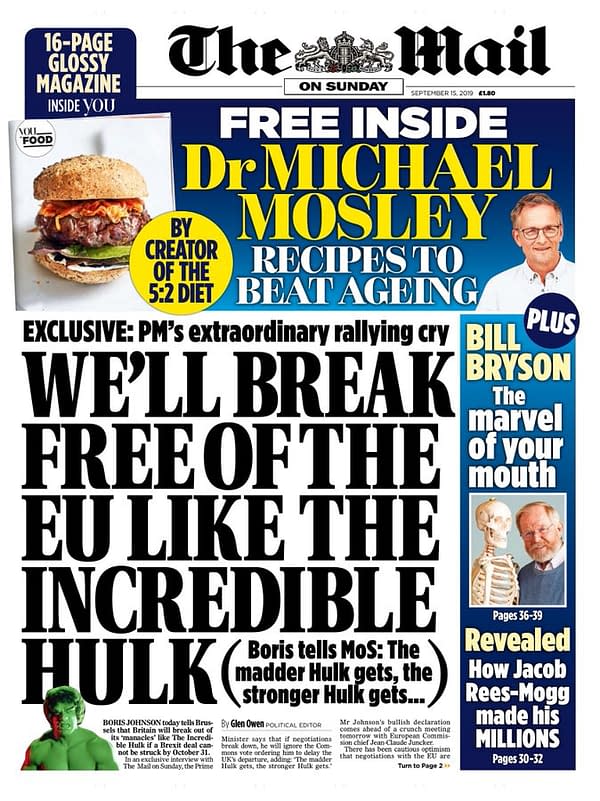 It was a rather deep dive, considering. And it gave the media something to obsess over. It also was designed to be published on the very same day that the Sunday Times newspaper was serialising former Prime Minister David Cameron's new biography, which painted a very unflattering take on Boris Johnson. And Boris does show he is rather good at distracting the media with something nice and shiny. He once got himself delibertaely 'stuck' on a zip line to distract from then-Prime Minister David Cameron's speech. And he's managed to do it all over again.
In his memoir, published this week, For The Record, Cameron states that Boris Johnson did not actually believe in Brexit during the referendum campaign and only backed Leave "because it would help his political career", purey concerned with what the "best outcome" would be for him. "Whichever senior Tory politician took the lead on the Brexit side – so loaded with images of patriotism, independence and romance – would become the darling of the party" so that "The conclusion I am left with is that he risked an outcome he didn't believe in because it would help his political career." That Boris Johnson privately raised the possibility of holding another referendum after fresh negotiations with the European Union, while publically stating that this was not a possibility and that Britain must leave the EU at the end of October. And as for the referendum campaign, "Boris rode the bus round the country, he left the truth at home." While describing Boris and fellow remainer and minister Michael Gove as "ambassadors for the expert-trashing, truth-twisting age of populism"
But the media only had eyes for the Hulk metaphor. Especially when Hulk actor Mark Ruffalo added his own take.
Boris Johnson forgets that the Hulk only fights for the good of the whole. Mad and strong can also be dense and destructive. The Hulk works best when he is in unison with a team, and is a disaster when he is alone. Plus…he's always got Dr. Banner with science and reason. pic.twitter.com/jN8BDzgpWl

— Mark Ruffalo (@MarkRuffalo) September 15, 2019
And when the EU gave their own responses, the media got to do their front pages again…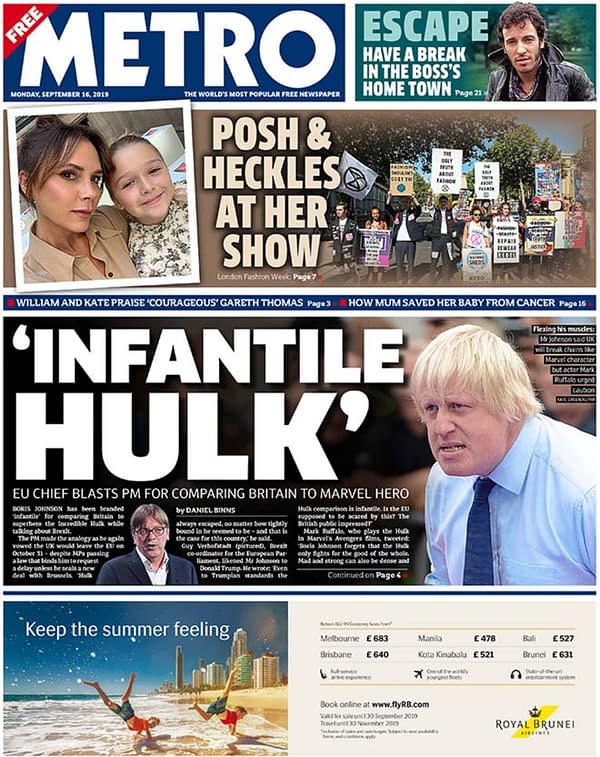 And all the other cartoonists dived in as well.
My @Independent @IndyVoices cartoon for tomorrow. The only thing strong about Boris is his ego. #BorisJohnson #hulk #finalsay #peoplesvote #BrexitChaos #beherenow pic.twitter.com/MsMshptOBe

— brian adcock (@briancartoon) September 15, 2019
Latest @guardian cartoon#HULK #BorisJohnson #Brexit pic.twitter.com/DjF5IgMcqi

— Ben Jennings (@BJennings90) September 15, 2019
My cartoon in this morning's @thetimes https://t.co/vARwVz1j6s pic.twitter.com/UNmWzcKDZP

— Morten Morland (@mortenmorland) September 16, 2019
Brexit and Boris Johnson's claim of 'huge progress'.

By Patrick Blower pic.twitter.com/KEyj9P9xSZ

— Xavi Ruiz 🇪🇺 (@xruiztru) September 16, 2019
Brighty: The muscles for Brussels? #BorisJohnson #prorogue #Proroguing #cartoon #DavidCameron #Hulk #stopboris #boris #BorisJohnson #NoDealBrexit #Parliament #Brexit #GeneralElection – political cartoon gallery in London https://t.co/dePcTdnXF6 pic.twitter.com/RlBngXfrRr

— Political Cartoon (@Cartoon4sale) September 16, 2019
Boris says "we'll break free of the EU like the Incredible Hulk" so a sad man, walking alone down a street to a heartbreaking theme tune, unable to talk to anyone because of his anger issues and terrible life choices. pic.twitter.com/5dVm8nnUTj

— HappyToast ★ (@IamHappyToast) September 15, 2019
Following his accidental exposure to gammon rays during the detonation of an experimental referendum, Boris Johnson became the Uncredible Hulk… pic.twitter.com/A9eXtcwoOD

— Bob the Dolphin 🐬 (@bobthe_dolphin) September 15, 2019
Boris The Hulk takes on the Muscles From Brussels in Brutal #Brexit Smackdown: https://t.co/m7ilU1ywz4 pic.twitter.com/MwRnJ7MVid

— fleetstreetfox (@fleetstreetfox) September 16, 2019
There are some leavers with other ideas…
Enjoyed this article? Share it!