PrintWatch: Heroes Reborn, Nocterra, Star Wars, Magic The Gathering
PrintWatch: Marvel Comics has a bunch of second prints coming through the pipeline. They include:
Beta Ray Bill #2
Heroes Reborn #1
Star Wars: Bounty Hunters: Alpha #1
The Marvels #1
Venom #34
Two of the books, Black Widow #6 and The Marvels #1 have additional second print tiered variants, at 1:25 ratios. No covers yet.
PrintWatch: From Boom Studios, Magic #2 and Proctor Valley Road #1 also get second printings for the 2nd of June. No covers yet.
PrintWatch: While Scott Snyder, Tony S. Daniel, and Tomeu Morey's Nocterra #2 gets a third printing and #3 gets a second printing from Image Comics. And, thankfully, covers for both,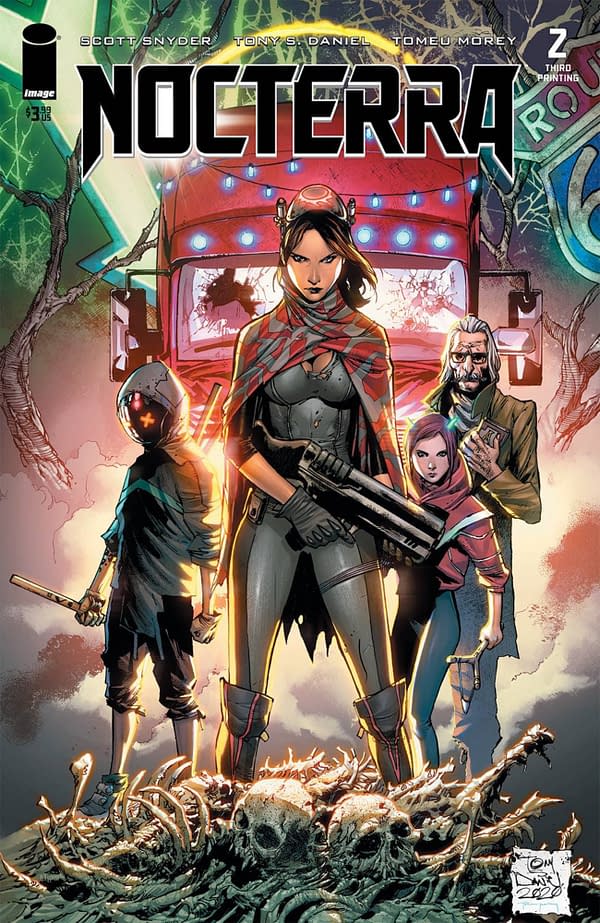 NOCTERRA #2 3RD PTG (MR)
IMAGE COMICS
APR218002
(W) Scott Snyder (A) Tomeu Morey (A/CA) Tony S. Daniel
"FULL THROTTLE DARK," Part Two-Val brings her passengers to their first truckstop – the Neon Grove! But with her brother getting worse by the minute, and dark forces in hot pursuit, our ferryman finds herself faced with a grave decision.In Shops: Jun 02, 2021
Final Orders Due: May 10, 2021 SRP: $3.99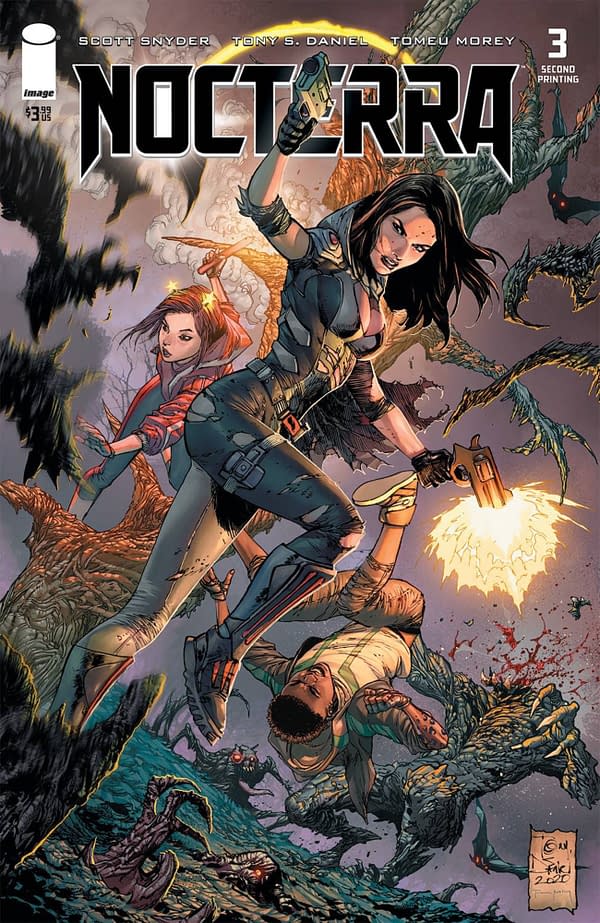 NOCTERRA #3 2ND PTG (MR)
IMAGE COMICS
APR218000
(W) Scott Snyder (A) Tomeu Morey (A/CA) Tony S. Daniel
"FULL THROTTLE DARK," Part Three-Know the signs: black gums, gnarled bones, and haunting yellow eyes. When you spot a human shade out there in the endless night…run.In Shops: Jun 02, 2021 Final Orders Due: May 10, 2021 SRP: $3.99

MAGIC THE GATHERING (MTG) #2 2ND PTG GUARA
BOOM! STUDIOS
MAR219132
(W) Jed MacKay (A/CA) Ig Guara
* A NEW ERA FOR MAGIC CONTINUES HERE!
* With their homes rocked by an attack – and Jace Beleren's life hanging in the balance – Planeswalkers Kaya, Ral and Vraska must discover who is behind it all.
* But as they begin to suspect one of Ravnica's biggest Guilds is behind the attack, it becomes clear their enemy may be plotting something even more destructive…In Shops: Jun 02, 2021
Final Orders Due: May 10, 2021
SRP: $4.99

PROCTOR VALLEY ROAD #1 (OF 5) 2ND PTG FRANQUIZ (MR)
BOOM! STUDIOS
MAR219133
(W) Alex Child, Grant Morrison (A/CA) Naomi Franquiz
Perfect for fans of Paper Girls and Die, visionary writer Grant Morrison (Klaus), Alex Child (BBC's Holby City) and Naomi Franquiz (Tales from Harrow County) present a chilling new horror series about the mysterious monsters that haunt Proctor Valley Road – and the four misfit teenagers who must stop them. August, Rylee, Cora & Jennie have organized a "Spook Tour" with their classmates on the most haunted, demon-infested stretch of road in America to fund attending the concert of their dreams. When their visit turns deadly, these four friends race to rescue the missing students… before the town tears them limb from limb. Now they must slay the evils roaming Proctor Valley Road… along with the monsters lurking in the hearts of 1970s America.In Shops: Jun 02, 2021 Final Orders Due: May 10, 2021 SRP: $3.99