Writer Rafer Roberts is hitting the road for his new series A&A: The Adventures of Archer & Armstrong. In an 11-date signing tour, Rafer will travel from New York to North Carolina to promote his new Valiant comic. The tour begins on March 16, the day A&A #1 is set to hit comic shops. The writer starts off in Maryland, hits C2E2 and then hits a few more stores, a couple more cons and wraps up on Free Comic Book Day.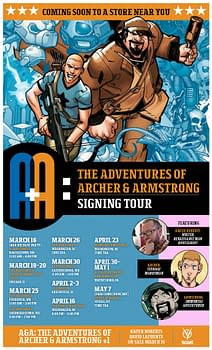 MARCH 16 (A&A RELEASE DAY!)
X-RAY COMICS
HAGERSTOWN, MD
11:00 AM – 6:00 PM ET
https://www.facebook.com/xraycomicshop/
MARCH 18 – 20
CHICAGO COMIC & ENTERTAINMENT EXPO (C2E2)
CHICAGO, IL
http://www.c2e2.com/
MARCH 25
BEYOND COMICS
FREDERICK, MD
11:00 AM – 2:00 PM ET
http://www.beyondcomics.com/
MARCH 25
BEYOND COMICS
SHEPHERDSTOWN, WV
3:00 PM – 7:00 PM ET
http://www.beyondcomics.com/
MARCH 26
FANTOM COMICS
WASHINGTON, DC
TIME TBA
http://www.fantomcomics.com/
MARCH 30
BEYOND COMICS
GAITHERSBURG, MD
11:00 AM – 1:00 PM
http://www.beyondcomics.com/
APRIL 2-3
SC COMICON
GREENVILLE, SC
http://sccomicon.com/
APRIL 16
THE COMIC BOOK SHOP
WILMINGTON, DE
4:00 PM – 11:00 PM
http://www.thecomicbookshop.com/
APRIL 23
MEMORY LANE COMICS
WILMINGTON, NC
TIME TBA
http://www.mlcshop.com/
APRIL 30 – MAY 1
4-STATE RETRO POP AND COMIC CON
WAYNESBORO, PA
https://www.facebook.com/events/511231459045006/
MAY 7 (FREE COMIC BOOK DAY 2016)
SOUND GO ROUND
VESTAL, NY
TIME TBA
http://soundgoroundny.com/
So why the tour? This is what Valiant says along with some preview pages:
Why the momentous occasion, you ask? Because on March 16th, Valiant's (somewhat) dynamic duo are beginning an all-out assault on the senses in A&A: THE ADVENTURES OF ARCHER & ARMSTRONG #1 – the FIRST ISSUE of an ALL-NEW ONGOING SERIES from rising star Rafer Roberts (Plastic Farm, Shutter) and superstar artist David Lafuente (Ultimate Spider-Man)! Valiant's next blockbuster series starts here in March with "IN THE BAG" – a insane rescue mission sending Archer into the depths of Armstrong's bottomless satchel to free his roguish partner from an ages-old enemy…but only if he can fight his way through a mind-bending maze of history's greatest lost treasures first!
Enjoyed this article? Share it!