Bleeding Cool has been talking about Bad Idea Comics, the new comics publisher from Dinesh Shamdasani, Hunter Gorinson, Warren Simons, Atom Freeman and Joshua Johns for what seems like ages now, spinning out of the buyout of Valiant by DMG, with a bunch of folk working out what they were going to do next. Last night, as part of their Button-based promotion, Bad Idea Comics released a page of artwork purporting to be by Ramon Villalobos to commemorate people having clicked The Button eighty million times. Villalobos has drawn a lot for Valiant, but also Age of Ultron, Original Sins, Secret Wars, Nighthawk although his WildCATS series was cancelled before publication. He is an artist who, at this point, no one knew was working for Bad Idea Comics.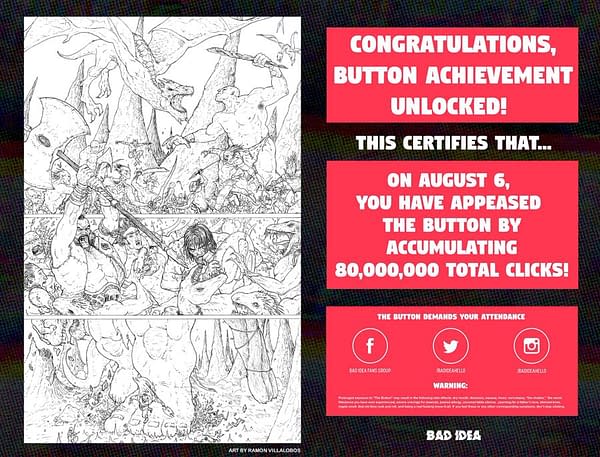 Including Ramon Villalobos himself. He posted in response to the news last night, expressing his bafflement.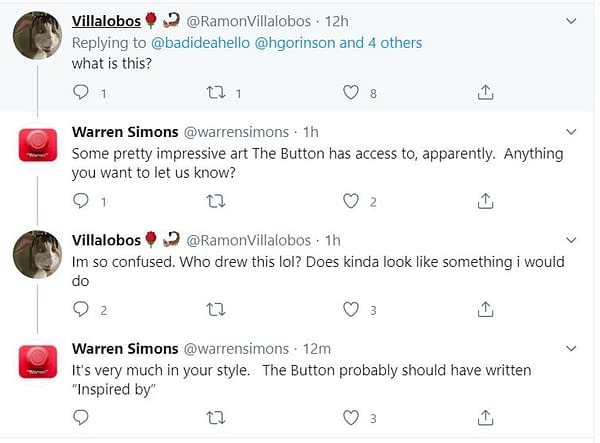 He has now posted the following video to this effect on Twitter, denying all knowledge of the artwork, of Bad Idea Comics and of any way that he could be involved with the publisher.
It's bollocks of course, it's all part of some kind of Mark Millar-style promotional campaign that has infested this Button nonsense. But some fans it seems have been taken in…
Yes, Chris, he really does. Who knew that Ramon could be such a convincing actor? It is indeed Ramon's artwork for an as-yet-unknown comic book from Bad Idea Comics… and his reaction is as fake as Atom Freeman being disappeared and then replaced by someone who is very different because he supposedly fell ouut of favour with the rest of Bad Idea and launched a competiting #StarveTheButton. It's all part of the Bad Idea Comics wrestling-style fun – with a bunch of other comic book art announcements as well… from Adam Pollina, Juan Jose Ryp, Tomas Giorello, Khari Evans, Lewis Larosa, David LaFuente and more…
Sorry Ramon… Serve The Button. Oh and how well did the promo go?
Time for another video…
About that last tweet i sent at @badideahello pic.twitter.com/nN4JH89607

— Villalobos🌹🦂 (@RamonVillalobos) August 7, 2020
And one more time in the shades…
For the last time people everything is *GREAT* with @badideahello pic.twitter.com/izTuvyo0gN

— mr. bad idea🌹🦂 (@RamonVillalobos) August 7, 2020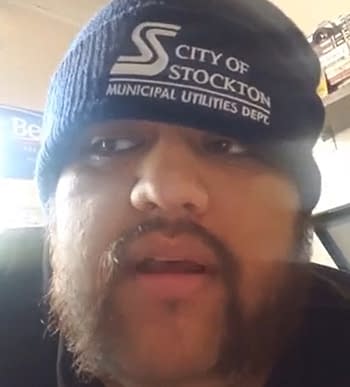 Enjoyed this article? Share it!