Read Battlestar Galactica Vol 3 #1, Part of the Dynamite/Comixology 50% off Sale
It's time to catch up on those comics you've wanted to read from Dynamite but haven't had a chance. The publisher is having a 50% off sale over at Comixology with everything released prior to December 12th, 2017 on sale. That means The Shadow vs Batman, Bettie Page, Dresden Files, James Bond, Agent 47 — and Battlestar Galactica Vol 3 #1 by writer Cullen Bunn and artist Alex Sanchez. This is based on the class Battlestar Galactica television series of the 1970s/1980s with Lorne Green, Dirk Benedict and Richard Hatch.
The Galactica's search for sanctuary takes them beyond the limits of known reality and into a cosmic mystery where the hunters become the hunted, ruin and despair dot the skies, and Adama goes where friend and family can't follow. Cullen Bunn (Sinestro Corps, The Sixth Gun, Deadpool & The Mercs for Money) and Alex Sanchez (Mad Max: Ride, 30 Days Of Night: Spreading the Disease, Katana) invite you on a journey unlike any in the annals of Battlestar Galactica!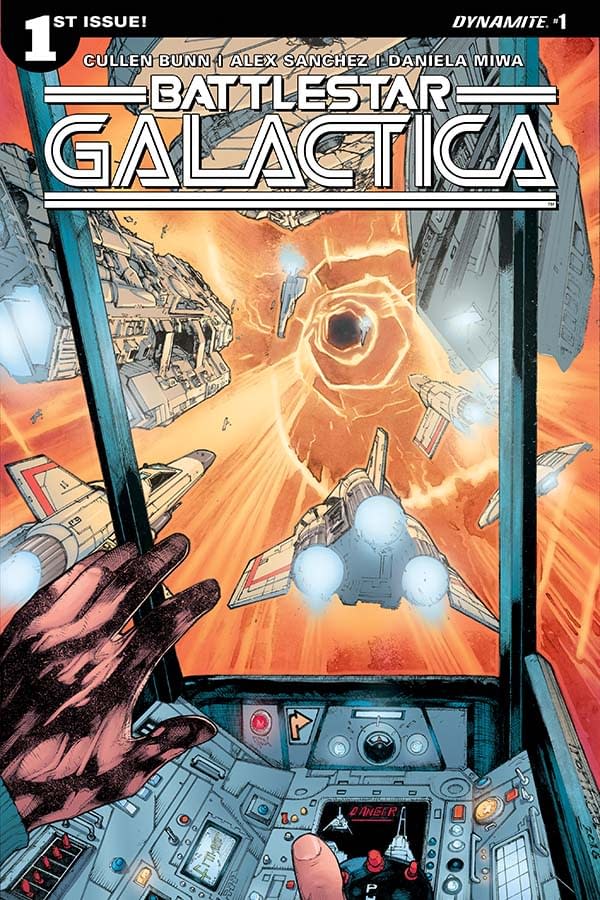 This issue has a cover by Alex Sanchez.