Real Science Adventures: The Nicodemus Job #1 Review – Almost Charming Enough to Work
[rwp-review-recap id="0"]
Nicolas Fardas is drinking himself into oblivion at a Constantinople dive when Archimedes Vasilakas arrives with an opportunity. Archimedes has had his property stolen by Terazin Berikos, the man who ruined Nicolas's life. This convinces Nicolas to help, and he puts together a team to get back at Berikos. This includes Sofana the face, Palatina the thief, Iskander the scribe, and Emir the soldier. They put together a plan to get the required documents from Berikos and expose the man as the criminal he is.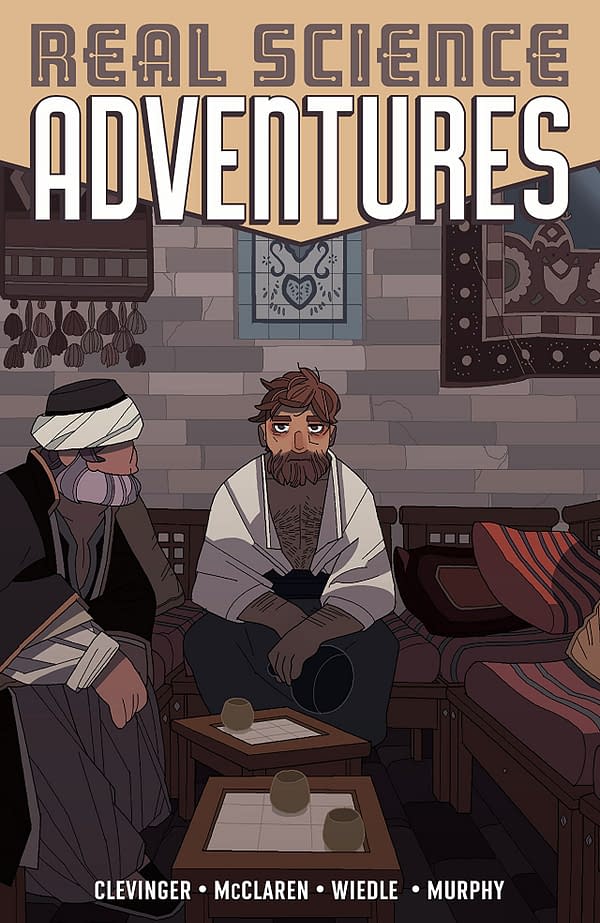 Real Science Adventures: The Nicodemus Job #1 is an interesting premise. It's a story of theft, corruption, and fraud in Constantinople, the seat of the Byzantine Empire, in the 1095 C.E.
The characters are well rounded. This Ocean's 11-style team has a drunk trying to put his life back together, a moralistic thief and warrior, an altruistic scribe, a skilled pickpocket, and a woman just trying to make the drunk and the pickpocket better.
Yet, I find myself not engaged. I think it may be because this comic is aiming to be educational and bogs itself down in explanations and historical factoids about the period. That's not a bad intent, but it does leave the comic quite dull in parts.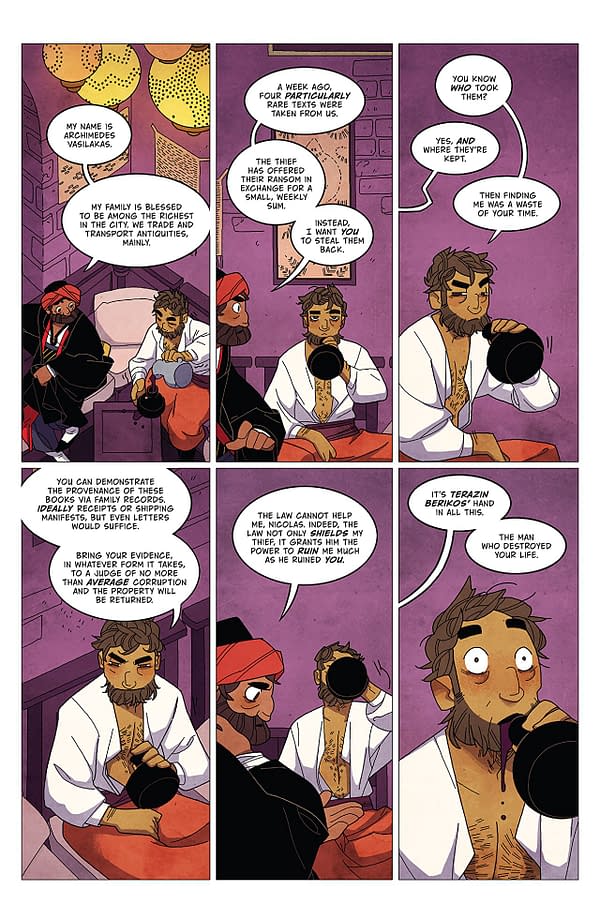 Meredith McClaren provides a cute and cartoony style with a charming look. Each of the characters have build and motif which sets them apart. The environment isn't as visually interesting as it could be, partly due to framing and location choices for scenes. The color palette is a little drab too, erring on the side of browns and grays that leave the visuals without invigoration.
Real Science Adventures: The Nicodemus Job #1 has some strong aspects, particularly the creativity behind the plot as well as the appealing characters. The visuals and pacing aren't great though, and I find myself just shy of being able to recommend this one.
[rwp-review-ratings id="0"]
[rwp-review-form id="0"]