American Gods Season 2: Major Cast Member Returns, NYCC Panel Confirmed With production finally under way on the eagerly anticipated second season of Starz's American Gods, the Neil Gaiman adaptation has had a bit of a bumpy pre-season with changes taking place both in front of and behind the cameras. Several new cast members were brought aboard — but after some intense and highly volatile contract negotiations, the cable network has announced that a major star will be returning to the American Gods universe. Betty, the 1966 Cadillac Fleetwood Brougham that served as a second home for Mr. Wednesday (Ian McShane) and Shadow (Ricky Whittle), will be returning for a second season. While the terms of the new contract are sealed, sources close to Betty say the deal includes a spinoff series on Netflix and a percentage on merchandising. Neither Starz not Betty's legal representatives would comment for this article.
Hopefully, she'll be able to join Gaiman and the rest of American Gods team at this year's New York Comic Con (NYCC) on Friday, October 5th, at 1:30 p.m. ET at the Hammerstein Ballroom (Manhattan Center):
With Hannibal's Jesse Alexander serving as its showrunner and an expected 2019 return, American Gods has some new players in play that will definitely complicate Shadow's journey of self and spiritual discovery. Dean Winters's brutally efficient and precise Mr. Town is tasked by Mr. World (Crispin Glover) to learn what Shadow knows about Wednesday's plan. First Nations actor Devery Jacobs is college student Sam Black Crow: a spiritually cynical young woman who lives her life with fierce confidence and openness, selling her chainsaw art by the roadside for extra money. Sakina Jaffrey's Hindu war goddess Mama-Ji is a waitress at the Motel America whose necklace of skulls, acerbic wit, and free spirit make her a match for any mighty god or man. Kahyun Kim's New Media is the goddess of global content: a cyberspace chameleon who's also a master manipulator.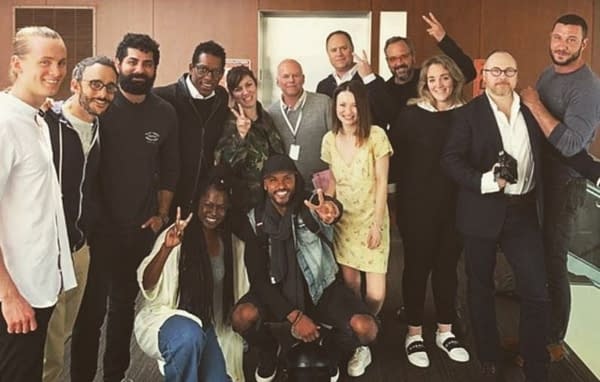 Gaiman, Alexander, McShane, FMNA's Stefanie Berk, Craig Cegielski, and Scott Hornbacher serve as series executive producers; with second-season premiere director Chris Byrne (Hannibal, Star Trek: Discovery) co-executive producing alongside Heather Bellson and Rodney Barnes. Lisa Kussner produces; with FremantleMedia North America serving as the production studio.