'American Gods' Cast Talks Season 2, New Gods, and Critical Cats [Dragon Con 2018]

This time we're getting some updates on the second season of American Gods straight from the "gods" themselves, as Ricky Whittle (Shadow Moon), Bruce Langley (Tech Boy), and Demore Barnes (Mr. Ibis) took to the stage at Dragon Con 2018 on Friday to talk anything and everything having to do with Starz's adaptation of Neil Gaiman's popular novel — with some serious second-season spoiler security in play.
Bleeding Cool's very own Mary Anne Butler was covering the panel, and here are some of her takeaways:
● When asked if there would more new gods introduced in the second season, Langley danced the "no spoiler" dance (which felt like an affirmative) before the three offered their opinions on new gods they'd like to see. Langley would like to see the god of fear, while Barnes is interested in seeing the god of trauma — though this god would heal trauma and nor cause it.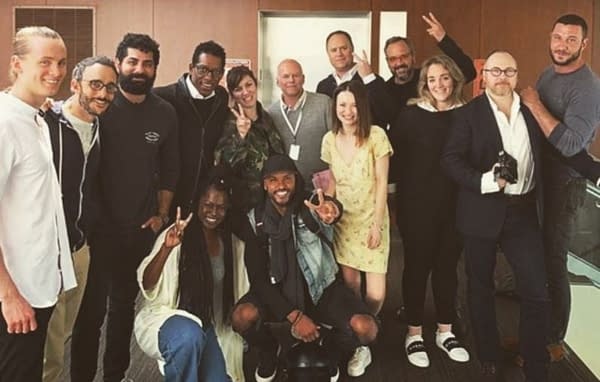 ● Before answering that he'd like to see the god of chocolate ("So I can rule the world!"), Whittle offered a very heartfelt and relevant reason why he'd like to see the god of beauty:
"Because I feel the world is so obsessed with beauty and appearance, since we can't even send a photo without slapping a filter on it. So I want to see a god of beauty. It'd probably have bunny ears, but I'd love to see that. We're so obsessed with our appearance, not showing our true selves. Would love to educate the world that we're all built differently, that we're all special in our own ways and we should embrace it. I would like to see that god. Would they be an old god or a new god? That'd be interesting." ● Old God/Egyptian goddess Bast (currently in feline form in Mr. Ibis and Jacquel's funeral home) will appear in season 2; and speaking of… everyone on set would get distracted by the cat, even missing lines when the cat would randomly leave the room in the middle of a scene (Barnes joked, "That damn cat was a critic.").
● When asked about Gaiman's invovlement with the upcoming season, Whittle answered that the author was "very involved" and had final say on casting and scripts.

Some additional recent updates have included: Whittle tweeting a very cool cast dinner pic – and a clue as to when we can expect more American Gods; an update from Starz programming president Carmi Zlotnik on the season 2 episodes the network's seen – and they really like them; and an interesting overview of the upcoming season.
So while it warms our hearts (we're Gallifreyan) to see our friends at American Gods getting along on set, we'd be remiss if we didn't turn our attention to the part at the end: "early 2019." Hmmm…thinking January 2019-April 2019, because after that it really becomes "mid 2019" unless Whittle doesn't play that "mid" game.
Ahhh love my #AmericanGods fam a cast that plays together stays together! Season2 coming at ya early 2019
One of the perks of being Starz's programming president is being able to see episodes of cool shows fresh out of the oven – and Zlotnik told IndieWire that the network really likes the episodes they've seen so far: "They look fantastic. It's very safe to say we will follow the tradition of Season 1 and produce some mindblowing television." He also shared that new showrunner Jesse Alexander (Star Trek: Discovery, Hannibal) has been working closely with American Gods author and executive producer Gaiman:
"Neil is very involved, he's intrinsically involved. Jesse Alexander probably talks to him every day, and we talk to him frequently. He has other responsibilities and another show he's doing, but Neil Gaiman is the heart and soul of 'American Gods,' so I can't imagine there's a version where he's not involved."
As for the look and feel of the new episodes, Zlotnick believes that fans of the first season will like what they see: "Jesse has worked with Bryan, and I feel like we're still in the Bryan Fuller school because Jesse was trained by Bryan and probably holds a lot of his DNA."
The battle between Old Gods and New Gods continues to brew as we join Mr. Wednesday (Ian McShane) just a few short hours after his declaration of war and the epic showdown that ensued at Easter's party. While Mr. World plans revenge for Wednesday's attack and Technical Boy searches for Media, Mr. Wednesday continues his quest to pitch the case for war to the Old Gods with Shadow (Ricky Whittle).

Laura and Mad Sweeney in tow, Shadow begins to understand this strange world of the gods and carve out a place in it as a believer, but it is far from a straight path. Change requires sacrifice, and when things don't go as planned at the House on the Rock, both Old and New Gods, and those they meet along the way, find themselves on journeys across America — all destined for a climactic showdown in Cairo, Illinois.