An Ending Of Things At DC Comics
Bleeding Cool has been banging on a bit about DC Comics giving their New 52 all zero issues in September, returning to regular numbering in October, to commemorate the one year anniversary of the reboot.
DC have not released all their August shipping details. To back up our thesis, we could do with a lot of books finishing arcs, or doing one shot stories, to clear the deck for September. Here's some that support the zero issue story… and some that don't.
If you put all of DC's solicitation copy for August into a wordcloud, this is how it looks.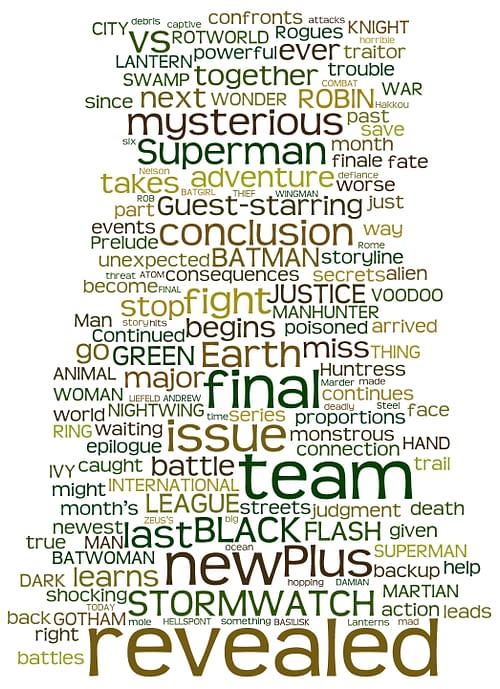 All very telling. Well, with lines such as the following…
• The final battle with LOBO by new writer/artist ROB LIEFELD!

• THE LEGION'S battle against THE DOMINATORS comes to an epic conclusion!

• NOT everyone will survive this fatal encounter.

• FINAL ISSUE

• Several members resign from the team – who will be left?

• Will this issue be the final adventure ever for JUSTICE LEAGUE INTERNATIONAL?

• The conclusion to "The Others"!

• This issue reaches from Earth to the edge of the universe and ends with a massive change in Captain Atom's status quo in the DC Universe.

• The finale of the fight with TERMINUS!

• The big finale is here, as CATWOMAN confronts DOLLHOUSE!

• "THE REPUBLIC OF TOMORROW, TODAY" concludes!

• The conclusion of "THE REVENGE OF BLACK HAND"!

• Everything changes here! EVERYTHING!

• The epilogue to "ALPHA WAR."

• The dust settles on the Corps' war with the Alpha Lanterns. John Stewart's final fate is revealed.

• The final judgment of INVICTUS!

• The conclusion of "SON OF SATAN'S RING"!

• Mitch meets the person who's been pulling the strings of his misfortunes since issue #1!

• It's the epilogue to "The Court of Owls"!
August seems a rather final month does it not? A time for rebirth.