BAT Cons – New Show Tulare Sci-Fi Con Has Lofty Goals For Charity Work
By B. Alex Thompson, reporting on his second show of 2014. You can find his first show report, 0n Wizard World Sacramento here. Convention season continues and I've returned to share more of my experiences concerning this year's shows with you! Over the last few weeks I've signed on to a few more shows, upping my original count. The next show was supposed to be WonderCon in a few weeks, but a smaller show slipped in ahead of it. That show is the inaugural Tulare Sci-Fi Con!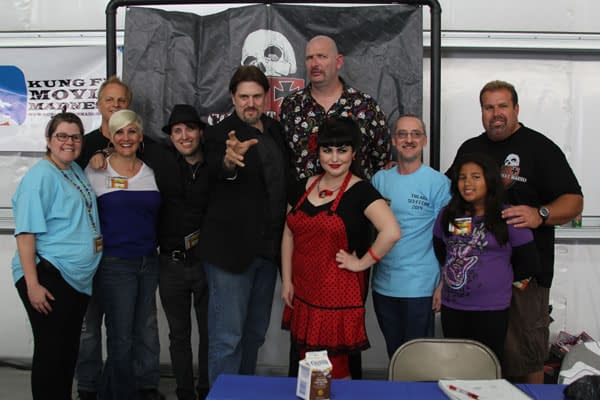 Before I get into my convention report, I took a few moments to interview Derek Mazer, Director of Exhibits.
B. Alex Thompson: Comic fans love a good origin story. What is the Tulare Sci-Fic Con and how did it begin?
Derek Mazer: Originally in October 2013, the Tulare Library Foundation approached The Twin Suns: Star Wars Club to do a Star Wars themed fundraiser for the Library Children's section. We of course said yes and assumed it would be at the library and we could bring in costumed characters and a few items to display. Then in a meeting with one of the directors: Crystal Boling, a few weeks later she mentioned it was going to be at the International Agri-Center in the 60,000 sq. facility.
BAT: Woah! That's a lot of space!
DM: My jaw dropped as you can imagine. I think I was out of breath for at least the next hour or so. So we began discussing what we could do in the facility. Due to its size, we thought, "what about a carnival" for the kids. But, quickly realized the cost would be too great and the idea is to raise money and spend as little as possible. So, I thought, "what could we do in that large a venue that would self-decorate?" I then said, "a convention." They took the idea back the foundation to see if that was something they would like us to attempt. BAT: And what did the foundation think of the idea?
DM: They where all for it! We formed a four person committee, one from the Tulare Library Foundation and three from The Twin Suns. We couldn't use Star Wars in the event so it's just "The Twin Suns – Tulare Sci-Fi Con" as the official title. And it's not a Star Wars themed event like it originally was going to be.
BAT: That's okay since the 501st Legion will be making an appearance to represent Star Wars and the original idea for the show.
The flyer bills the show as a place to find Horror, Anime, and Fantasy materials. Is this a good description of the genre of materials people will find at the show?
DM: Since this is my first convention, when designing the flyer our intent was to invite the various genre, which is why Anime, Horror and Fantasy are listed on the first version of the flyer. The second and final version also includes: Steampunk, Renaissance, Comic Books, Novelist and Artists. The idea was to try to invite any type of vendor / fan group / artist and so on regardless of interest. We didn't want to just be one thing, but something for everyone. BAT: Being all inclusive and diverse is something I can stand behind! Going back to the show's focus as a benefit to the Tulare Library Children's Section, can you tell us more about this endeavor and why it's so important to the show?
DM: The Twin Suns does a lot of charity events and that's basically what we're about. It was always about raising funds for the Tulare Library Children's section, it's just the event morphed into what it is now. If this event is successful, even just a little, we will do it again next year. Once we feel the library has the funds they need for a while, then each subsequent year, we will pick a new charity to raise funds for. The Tulare Sci-Fi Con will remain a non-profit and the proceeds (after all expenses are paid) will go to the charity selected. At least that's the goal.
BAT: That's a really great goal to have!
Many people take convention organizers for granted because they don't know how much work it takes behind the scenes to put events like this together. What are some of the nuts & bolts to convention organizing that might surprise people? What are some of the crazy things you wish people would know or understand about what you do?
DM: Again since this is our first year, we are starting from scratch and learning as we go. I looked at the larger (ComicCon, WonderCon) and a few smaller new ones (Long Beach Con, Comikazee) to see what they are doing and how and tried to model ours off the best of what I have seen at those. I had to create a website, Facebook, all the forms, maps, and hunt down retailers/concessions/artists/fan groups/non-profits in an effort to get them to attend our show.
BAT: Whew, that's a lot of hard work to start!
DM: I think I have sent out well over 1000 emails since January. Get it advertised as best as possible and all on a VERY SMALL budget. It's been extremely challenging and my worst fear is that no one shows up, or those that do attend are disappointed. One thing we didn't realize is we are competing with two other LARGE conventions on the same weekend. So the vendor pool got shorter and shorter as I was contacting them in an effort to get them to attend ours. Plus I have had many ask "Where is Tulare," and when they find out they appear not sure it's a worth wild trip being in such a small town. Then I try to explain where it's at and that Tulare has the largest farm show in the world in February (International Farm Show) and we are at the same facility. So far the biggest hurdle has been concessions (food) vendors and getting volunteers.
BAT: It's tough out there for all of us at any level of the entertainment industry. But perseverance pays off. What are the show's plans for this year's show?
DM: We have Ethan Dettenmaier from Combat Radio coming in from LA who will broadcast from the event and he plans to bring a Celebrity friend or two. We will have a raffle every 30 minutes giving away 14 prizes in all. The prizes are being donated threw the efforts of Philip Cable who is a local Director/Screenwriter who contacted me when he saw our flyer and asked if there was anything he could do to help. He has been a tremendous asset to our team. We have a stage with various things happening on it throughout the day. We also have three makeshift rooms, one for makeup demos being conducted by the local Horror fan group in Visalia and the other two will show various programming throughout the day. BAT: Sounds great! Any new goals, desires, or wishes for 2015?
DM: I would like to see it twice as big next year. If all goes well this show, we will announce the date a month after (May) for the 2015 show and being planning and contacting potential exhibitors.
BAT: Thank you, Derek for giving us a look behind the curtain of putting together a comic show!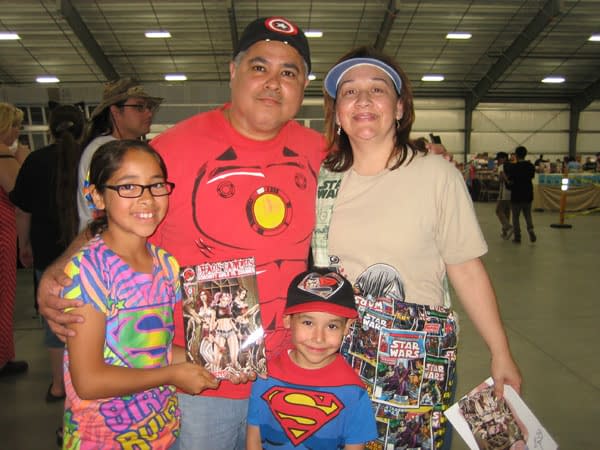 Now to tell you how the show itself went!
Tulare is only a 3 hour drive from where I live so to save on hotel fees Denise and I drove up, did the show, and drove back down all in the same day.
Going through the winding turns that led to the International Agri-Center I have to admit I was a bit worried if people would be able to find the venue and consider it worth the trip. Upon arrival, set up was easy (which was a nice omen of things to come). We were allowed temporary parking next to the loading door to haul everything inside. The actual parking was not much further away, so more points for convenience. Getting badges was a quick and easy process making set up as a whole a breeze. Before the doors opened we were able to do a quick once over of the show (which was pretty swift because of the small size of the show). I was instantly reminded of Comikaze's first year as they started off with pretty humble beginnings, too. We also took the opportunity to get to know our neighbors Crystal Appleton, Amber Hilton, and M. Todd Gallowglas before and after the show doors opened. Because it was a smaller show, my profit making expectations were turned way, way down. My game plan was mostly focused on promotion by being approachable, showing the quality of the books, and passing out flyers to spread the word. There was a lot more foot traffic than any of us expected and all of us ended up making a surprisingly good amount of cash. Another surprise was that most of my purchases came from people who wanted to make it to Wizard World Sacramento, but couldn't for various reasons or people who attended, but didn't make it to my booth. A few even mad advance plans to see me at Wondercon to pick up copies of the new books I'll have there. All in all, the inaugural Tulare show was a surprise success. It goes to show you how much a positive attitude, an open mind, and a spirit of adventure can pay off. If they do another show and invite me back, I would love to give it another go. And who knows, you never know how large a small show can grow!
Thank you again for following my convention and trade show musings. I'll see you in a few weeks for my experience with exhibiting at Wondercon Anaheim (Booth SP #94)! Be excellent to each other!
Los Angeles born and Midwest raised, B. Alex Thompson is a comic book writer, screenwriter, and letterer who has done work for Alias Enterprises, Approbation Comics, Arcana Studios, Lion Forge Comics, and Graphic Planet. Thompson is mostly known for his experimental humor/horror title Chaos Campus: Sorority Girls vs. Zombies which has over twenty-five issues released and more in the works. Discover more via www.AlexThompsonWriter.com and Tweet him directly @ApproBAT