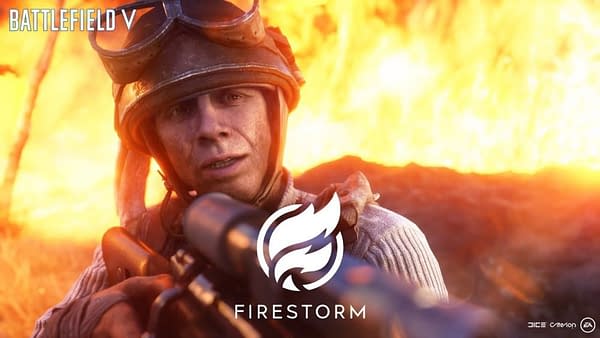 The third chapter of Battlefield V is available now. Called Trial by Fire, the chapter brings with it the game's battle royale mode Firestorm, a co-op experience named Combined Arms, and two new maps.
You can find more information in a dev Q&A on the EA Blog:
A new Chapter for Battlefield™ V* is imminent – and this one's flaming hot. Whether you're new to Battlefield V or a skilled veteran, Chapter 3: Trial by Fire is bringing plenty to be excited about – hence this first article in a series detailing how it will evolve the battlefield. With that, let's go through the most frequently asked Trial by Fire questions and see what the Chapter's first weeks will entail.

What is Chapter 3: Trial by Fire?
Continuing the evolution of Battlefield V, Trial by Fire is the third Chapter of the game. Delivered as free updates to Battlefield Vowners, Chapters bring several new ways to experience the game, through maps, modes, missions, and more – some exclusive to the duration of the Chapter, some permanent.

When does it take place?
Chapter 3: Trial by Fire starts on March 28 and will be active for 12 weeks. Firestorm – battle royale, reimagined for Battlefield – will, however, be playable earlier, on March 25. Check in to Battlefield V regularly during Chapter 3: Trial by Fire, as we'll add challenges and rewards on a weekly basis.

What new content and features are in Chapter 3?
In a nutshell: the climactic battle royale of Firestorm, the stunning Mercury map portraying the Battle of Greece, more co-op in a Combined Arms update, the strategic Outpost mode, and even more. That's a lot. Let's break it down.

What is Firestorm?
Free for all Battlefield V players, Firestorm lets you fight, scavenge, and survive as a deadly ring of fire encloses the largest Battlefield map ever. As mentioned, this is battle royale, reimagined for Battlefield. That means objectives to capture, combat vehicles to pilot, and Reinforcements to call in as you fight to become the last squad or soldier standing. If you want to learn more about all the different aspects of Firestorm, the Firestorm web page is a great start.

What's Combined Arms and what new updates are coming to it?
Combined Arms is the Battlefield V co-op experience, where you can improve your skills before taking on multiplayer by squading up and fighting AI troops. As Combined Arms gets updated in April, you'll get to enjoy matchmaking and two Fjell 652 map missions.
You can check out the Firestorm trailer below.
Enjoyed this article? Share it!