Better Off Dead: Just Give the Kid Two Dollars Already (Neon Cinema)
A suicidally depressed teen tries to win back his girlfriend by throwing himself off of a perfectly good mountain, ignoring the impossible cute French mechanic living across the street. Claymation hamburgers lip-sync to Van Halen, a pre-teen builds a ray gun, and Booger from Revenge of the Nerds wears lots of hats. Welcome to 1985, and the absurdly trippy magic of Savage Steve Holland's Better Off Dead.
John Cusack stars as Lane Meyer, who really, really loves his girlfriend of six months, Beth (Amanda Wyss). Lane has so many pictures of Beth in his room that it's bordering on disturbing. Every item of clothing in his walk-in closet is hanging on a clothes hanger with Beth's face on it. Unfortunately, Beth has the hots for Roy Stalin (Aaron Dozier), the apparently 35 year old captain of the high-school ski team.
Beth breaks up with Roy after a disastrous day of skiing, not realizing that she just dumped the future owner of a hot tub time machine. Roy spirals into a deep depression, which leads to multiple alarming suicide attempts. Each one fails, luckily, or this would have been an even weirder movie.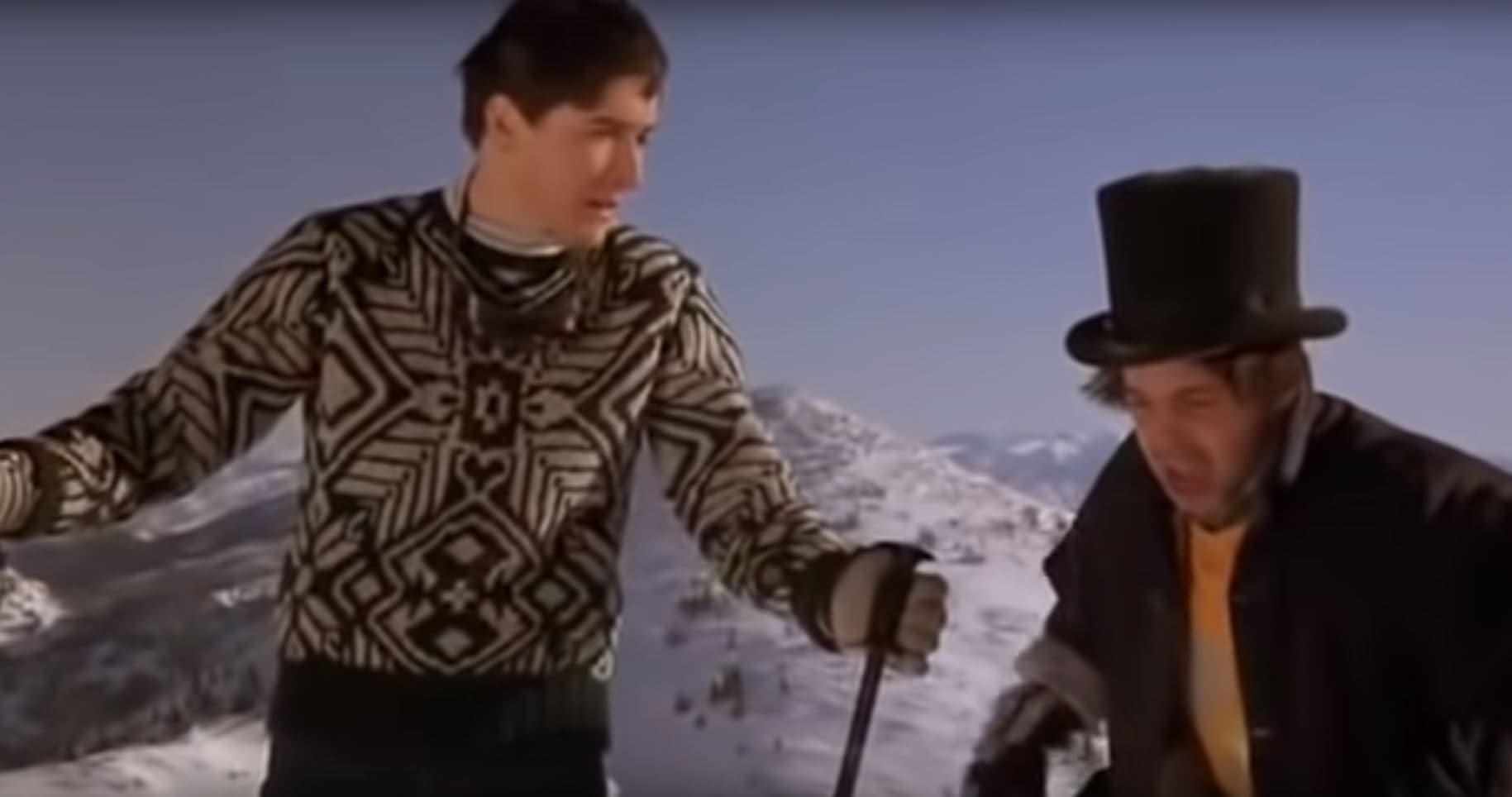 Better Off Dead is an incredibly weird little movie. Lane's 9 year old brother Badger (Scooter Stevens) is constantly building advanced science projects like ray guys and space shuttles. At one point Badger appears to hook up with a gaggle of "trashy" women on New Year's Eve. Lane imagines that a hamburger at his job serenades him to a Van Halen's Everybody Wants Some, and once you hear a hamburger squeal with David Lee Roth's voice, you might swear off fast food. Lane's best friend Charles (Curtis Armstrong) is so fixated with getting "big city" drugs that he snorts multiple things throughout the movie, including Jello and a bunch of snow. Lane's mom (Kim Darby) is a horrible cook, and keeps serving up green, gluey food, including something that "has raisins in it" that crawls off of a plate.
It's so off the rails bizarre. And endlessly entertaining.
Two Asian gentlemen (Yuji Okumoto and Brian Imada), both wearing the classic mustard yellow jackets of ABC Sports announcers, are constantly trying to race Lane. The driver doesn't appear to speak English, but the passenger does, but only through a flawless Howard Cosell impersonation.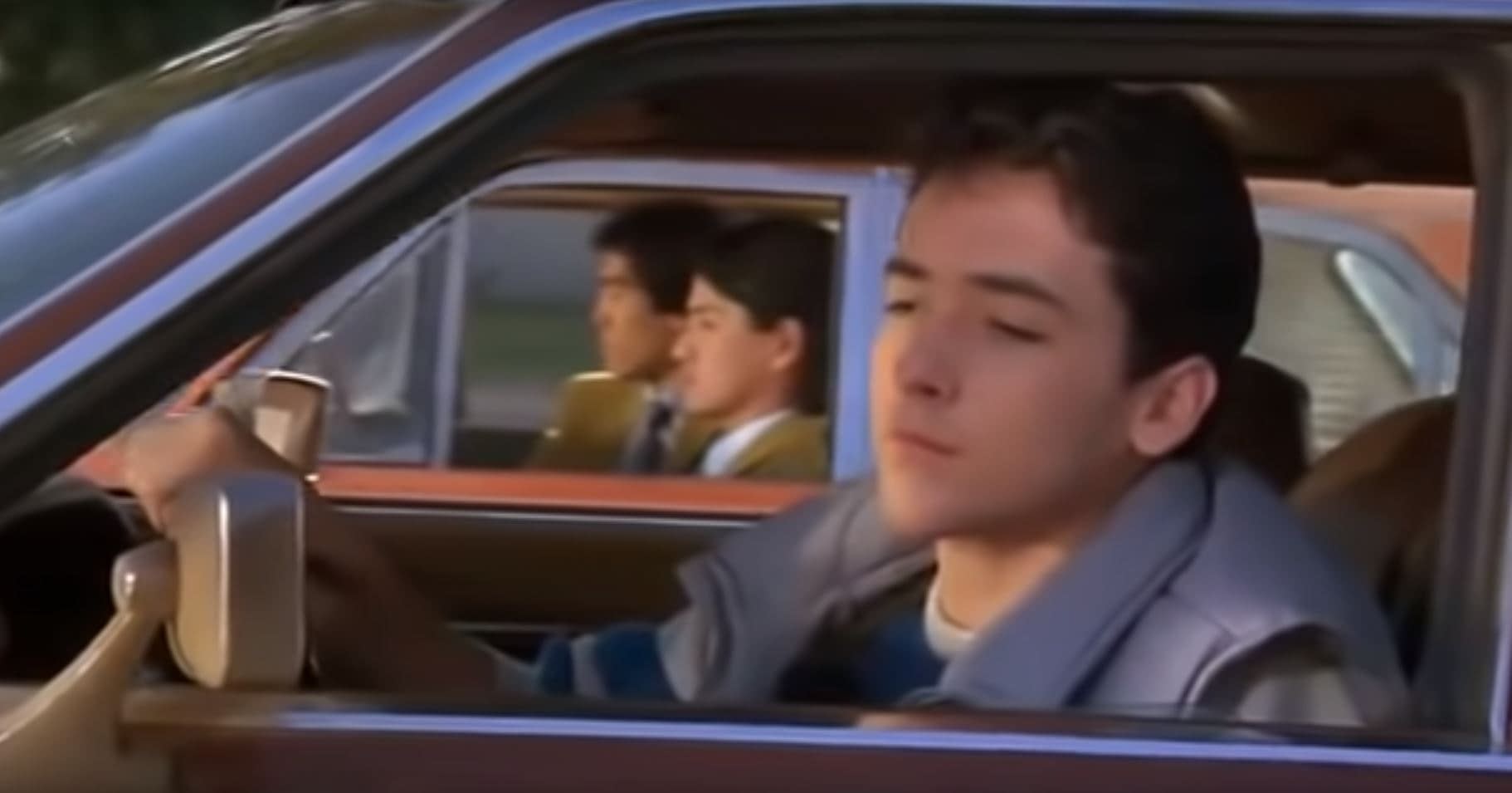 Lane's Dad, Al (David Ogden Stiers), just wants Lane to fix his busted down Camaro, and for the local paper-boy (Demian Slade) to stop breaking the windows in the garage. That paper-boy is a menace in many ways, though. Not only does he break windows, he'll go to any lengths to collect the money the Meyers family owes him, and becomes a persistent thorn in Lane's side.
How persistent? At one point, Johnny (the paperboy) ambushes Lane in the park after a school dance. He has back-up, too, and what looks to be several dozen paperboys chase Lane through the park.
Towards the end of the movie, Johnny shows up on a specially modified bike, just so he can chase Lane down the ski slopes, demanding his two dollars. He even gets pushed off a cliff, but keeps coming back. He's like The Terminator of paper boys, even chasing Lane to Los Angeles before the credits roll.
Why was Johnny chasing Lane down the ski slopes, you ask? Because of '80s logic, see. Lane lost Beth to Roy, mostly because Roy is such a hot ski guy, and holds the record on the most dangerous run on the mountain. That, and he appears to be about 35, and that has to be pretty hot, too.
So, using the powers of '80s logic, Lane challenges Roy to a race on the slopes. There's plenty of thrilling synthesizer music, and comedy courtesy of Johnny and his tricked out ski bike. Lane even makes the race on one ski, because he's suddenly found the Power of Believing in Himself.
That's a very special power that lots of main characters in '80s movies used to get, usually after a rousing training montage. Luckily, we don't have to suffer through one of those in Better Off Dead. Instead, we get treated to the incredibly rare Howard Jones Car Fixing Montage, courtesy of the Impossibly Cute French Exchange Student, Monique (Diane Franklin).
Just about any comedy set in a high school is going to have its share of problems, chief among them the, ahem, age of the students. Curtis Armstrong was already something of a legend having played Booger in the Revenge of the Nerds movies, and was pushing 30 when Better Off Dead was filmed. He was not the only unconvincing teen in the movie, either— as I've mentioned several times, Roy, the movie's antagonist, appears to be in his late 20's as well.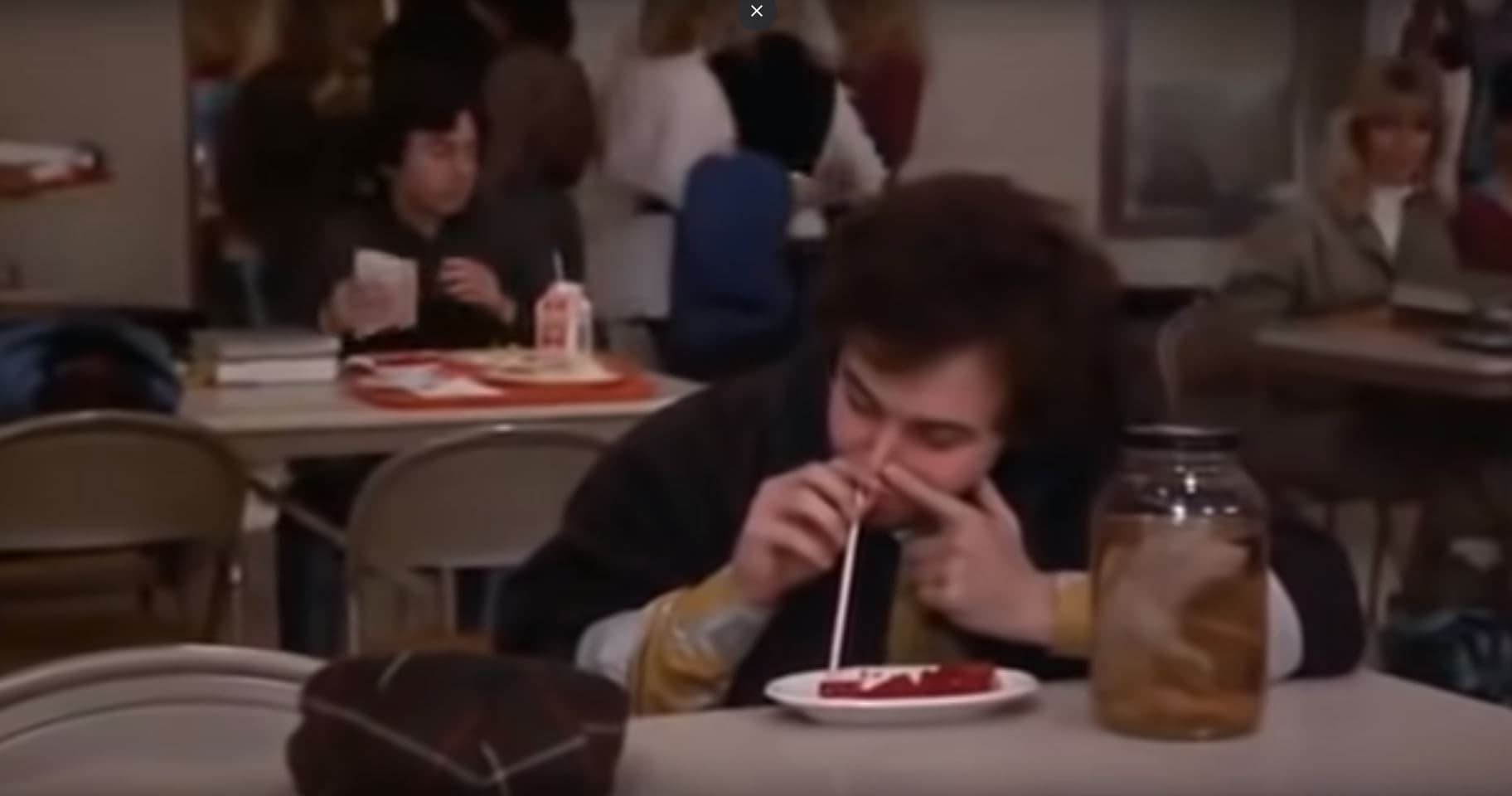 To be completely fair to Armstrong, though, at one point Charles does admit that he had been going to that high school for seven and a half years.
The rest of the cast is a bit more believable, especially Cusack and Franklin. Cusack was in his late teens when Better Off Dead was filmed, and Franklin looked pretty young despite being in her mid-twenties at the time.
Surprisingly, John Cusack's career was jump-started by Better Off Dead, and nearly destroyed by it as well. Holland had to fight to get Cusack cast as his lead, as the studio believed that Cusack lacked that "it" factor that would make him a leading man. Holland perservered, Cusack was cast, and the rest was movie history.
That history, of course, was that Better Off Dead bombed in theaters. The film made around $10 million in box office receipts, and Holland and Cusack's follow up movie, One Crazy Summer, didn't do much better. Savage Steve Holland was a Hollywood pariah, with Cusack reportedly despising both films.
Then Better Off Dead hit basic cable, and basic cable made Better Off Dead a hit. Once the film landed on cable, it never left. Soon, it became a cult classic. Video stores found that they had to keep re-purchasing the movie, because people weren't bringing it back. And once Cameron Crow directed him in 1989's Say Anything, Cusack was a box-office draw as a leading man.
The outcome for Holland wasn't so bad, either. He found himself pretty fed up with the Hollywood movie system, and went on to work in television. You've probably seen a lot of it, too: Holland worked on episodes of Kenan & Kel, Lizzie McGuire, and Sabrina: The Animated Series. In 2002 he co-created Eek! the Cat for Fox Kids, which ran for five seasons.
It's funny to look back on a time where Better Off Dead would be considered a failure. I first saw the movie in the summer of 1987, at an overnight party at a friend's house while in high school. We finished our first viewing at 9pm, and watched it five more times that night. The characters were so awkwardly real, even though the situations were so outlandishly not. We all knew a stoner burnout, an obnoxious yuppy bully, and a hopeless dreamer like Lane.
Watching the movie now, though, what I'm struck most with is how innocent Better Off Dead really was. After the boom of early '80s "teen" movies like Fast Times at Ridgemont High, Porky's, and Revenge of the Nerds, most of the movies that fell into that genre tried to keep up with a fair mix of profanity, raunchy situations, and nudity.
Not so with Better Off Dead. The movie barely has any profanity in it at all, and the relationships between the characters are decidedly chaste. Even Roy manages to be sleazy without really being crass, and the only time the movie gets even close to raunchy is when Monique mistakes the word "tentacles" with "testicles". All in all, Better Off Dead is a really tame movie, especially when compared to other movies of its kind at the time.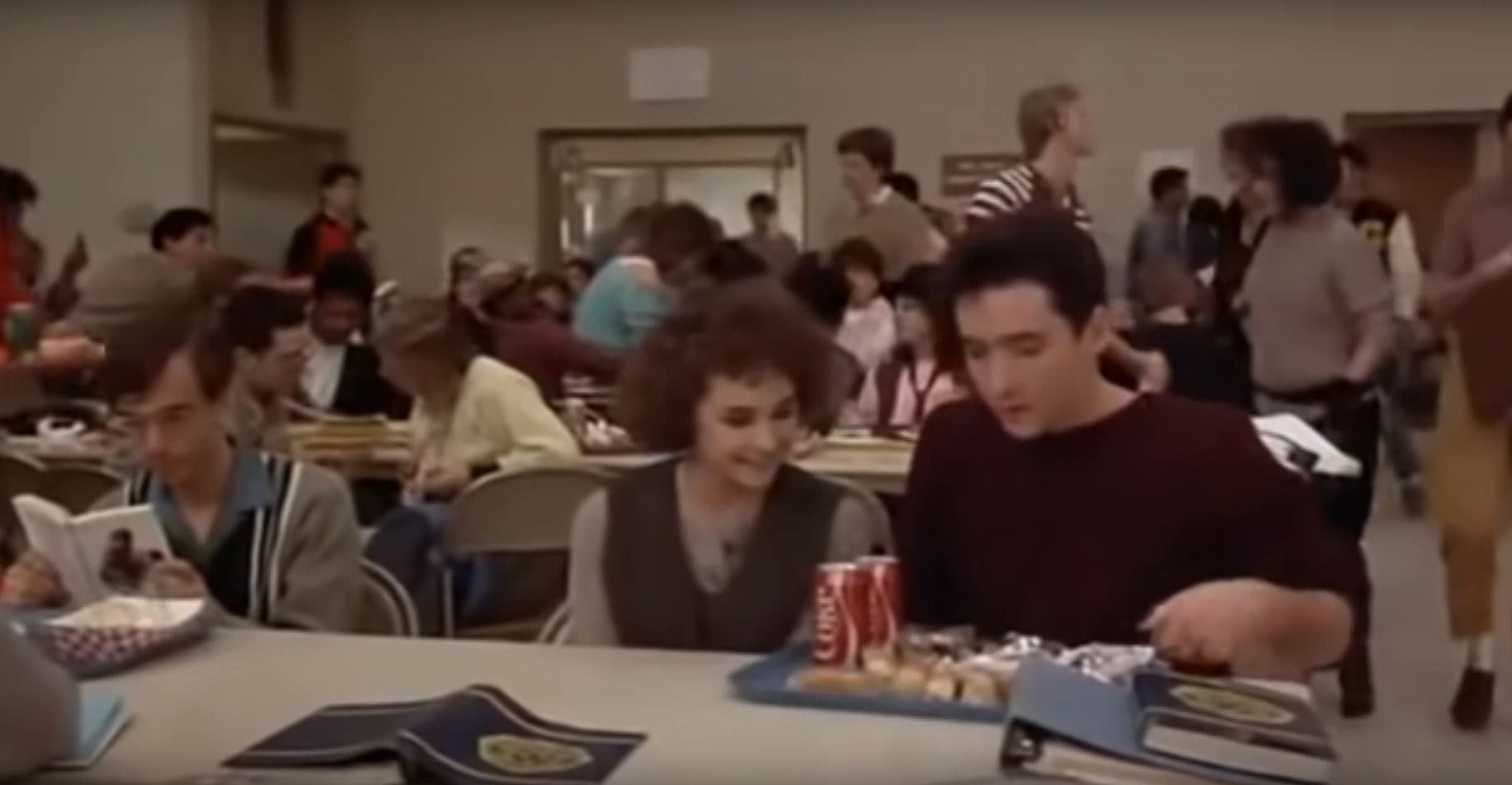 Part of what works so incredibly well about the film is how well it captures the absurdity of high school life, and if you think of the movie as being entirely from Lane's perspective, it all clicks into place. He's smart, imaginative, and hopelessly awkward. There is one awkwardly hilarious scene where he's called to the blackboard to work out a math problem, and literally everyone in the classroom is enraptured by the class— except for Lane. Who doesn't remember feeling hopelessly lost in a class, and thinking that everyone was getting it but you? There is something about Lane Meyer that just captures the depressing loneliness of youth, even when he's spacing out on some flight of fancy. There is a hopelessness woven into adolescence, and that is displayed to wonderfully comedic effect in Better Off Dead.
Oddly, though, I don't think Better Off Dead would be made today, even with as tame as it is. Would a studio feel bold enough to poke fun at a suicidal character? Would modern audiences be able to handle the intensity of a climactic ski race? And what about that hamburger's Van Halen routine?
Neon Cinema is a weekly column at Bleeding Cool that aims to explore the hits and misses of one of the most unique eras of cinematic history, the 1980's. Well be exploring the hits, the misses, and everything in between. Here are the other segments, just in case you missed them: