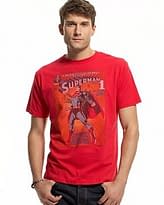 Bloomingdale's have signed a deal with DC Comics to market and sell a line of DC Comics superhero-inspired clothing.
As part of DC's 75th Anniversary Celebrations, everything from cuff links to T-shirts will be available, aimed at the "holiday" market.
The line has been designed by Converse, Psycho Bunny, Jack Spade and more. And in November, Bloomingdale's will fill their Third Avenue store windows with DC Comics imagery to promote the new lines.
Have a gander at some of the $60-plus T-shirts… while I just pop to Threadless.
Hang on, how did that guy at the end get in? That's the DC Bear folks, star of many a DC T-shirt catalogue in the past, it seems he's been retired for these new Bloomingdale studs. It's the end of an era folks.
Anyway, this Wednesday from 5pm-8pm, stores across the country will be using their regular New York Nights sale to launch the line with comic-book memorabilia, creator signings and up to 30% off purchases.
James Robinson will be appearing at the San Francisco Bloomingdale's alongside a number of Batman movie costumes. Your job will be to tell which is the costume… and which is James Robinson.
Enjoyed this article? Share it!