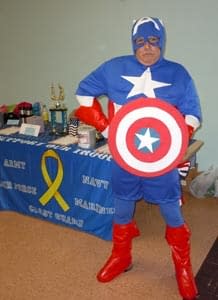 In the small town of Los Molinos in Chico, California, the position of mayor is a purely honourable one. And rather than being voted for, it is given to the citizen who raises the most money to help put on the annual Fourth of July events.
Which, in Kevin Benson Sr's case, means dressing up as Captain America.
He's up against Sabrina Fritz, a pharmacy technician, who even sounds like a Captain America villain, and Rick Singer who is raising money through poker tournaments.
Benson says "I instruct school kids on the value of veterans… One year, a teacher said I was so patriotic I was like Captain America." He's raising money with softball and horseshoe tournaments and a barbecue.
Some people have criticised the comic book Captain America for being politically involved. Here, the corruption seems to go to the very top!
Enjoyed this article? Share it!