ComiXology Bestseller List, 14th June 2019 – Event Leviathan #1 Tops The Chart
Matthew Snyder has no time for this Graphite Comics nonsense. He's all in for the ComiXology numbers, checking in every week to see which of the comics are topping the charts this week… that people actually have to pay for as well.
Welcome to the ComiXology Bestseller list, your guide to see how well your favorite titles are selling digitally. Every week I'll post the ranking of every new title, plus a ranking of the best selling volumes & graphic novels. As always, I hope you find it interesting and informative.
This week, a prominent member of the comic industry shocked everyone by predicting the collapse of DC Comics. 85 years of comic innovation gone, just like that.
And to my readers, I must apologize. I have failed you. I should've seen this coming in my position of digital sales tracker, but I didn't. I must tender my resignation immediately and hope for your forgiveness.
But what will happen to all of DC's heroes? I suppose Superman will rent out the Fortress of Solitude for corporate events. Wonder Woman will sell Wonder Knives on late night tv. Batman will… well he's a billionaire, he'll be fine. But Aquaman will have to take that offer and become the spokesman of Long John Silver's. (Are they still even in business?)
I shudder to even look at the Top 10 score this week. Surely DC was demolished in a bloodbath…..
Oh. Never mind then. Rich, feel free to ignore that resignation.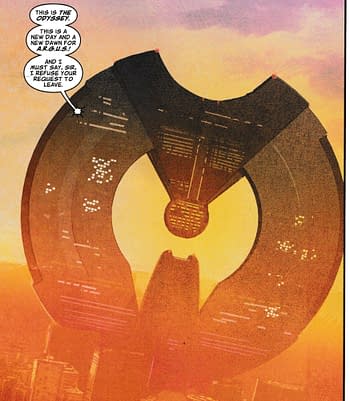 So DC is on top again, although with which book may be a bit of a surprise. The Superman Event Leviathan Special barely cracked the Top 10 two weeks ago. but Event Leviathan has debuted at No. 1, edging out The Batman Who Laughs for the top spot. It's another victory for Brian Michael Bendis, whose decision to come to DC looks better each week. Even Supergirl got a nice boost thanks a crossover with Bendis's current Superman arc.
But I'm not going to give DC a completely healthy diagnosis just yet. While DC still dominates at the top, some of their once promising books have fallen hard recently. In just one month, Hawkman fell 9 spots in the New Issue Rankings. And Wonder Twins and Catwoman are both at all time lows, landing at No. 28 and No. 30. Batman and Superman may carry this company, but DC needs to rebuild a healthy stable of mid-tier titles.
I wonder what Animal Man is up to these days?
#bringbackblade
#savesantaclaritadiet
Top 25 Overall:
Event Leviathan #1
The Batman Who Laughs #6
Superman #12
Detective Comics #1005
Amazing Spider-Man #23
Immortal Hulk #19
The Flash #72
Spider-Man: Life Story #4
Wonder Woman #72
Batman & The Outsiders #2
Silver Surfer: Black #1
Star Wars: Vader- Dark Visions #5
Justice League: Odyssey #10
Supergirl #31
DCeased #2
Age of X-Man: The Marvelous X-Men #5
Friendly Neighborhood Spider-Man #7
Venom #15
X-Force #9
Superior Spider-Man #7
Red Hood: Outlaw #35
The Walking Dead #192
Champions #6
Umbrella Academy: Hotel Oblivion #7
Invaders #6
New Issue Rankings:
Event Leviathan #1
The Batman Who Laughs #6
Superman #12
Detective Comics #1005
Amazing Spider-Man #23
Immortal Hulk #19
The Flash #72
Spider-Man: Life Story #4
Wonder Woman #72
Batman & The Outsiders #2
Silver Surfer: Black #1
Star Wars: Vader- Dark Visions #5
Justice League: Odyssey #10
Supergirl #31
Age of X-Man: The Marvelous X-Men #5
Friendly Neighborhood Spider-Man #7
Venom #15
X-Force #9
Superior Spider-Man #7
Red Hood: Outlaw #35
Champions #6
Umbrella Academy: Hotel Oblivion #7
Invaders #6
Hawkman #13
Age of X-Man: Apocalypse and the X-Tracts #4
Asgardians of the Galaxy #10
The Unbeatable Squirrel Girl #45
Wonder Twins #5
Ironheart #7
Catwoman #12
Oblivion Song #16
Prodigy. #6
The Punisher #12
Giant Man #3
Symbiote Spider-Man #3
Major X #5
Archie #705
Star Trek: The Q Conflict #5
Robotech #21
House of Whispers #10
Outer Darkness #7
Unnatural #10
Age Of Conan: Belit, Queen Of The Black Coast #4
James Bond: Origin #10
Five Years #2
Sonata #1
The Life and Death of Toyo Harada #4
Red Sonja: Birth of the She-Devil #1
Infinite Dark #7
Jughead's Time Police #1
By Night #12
Elvira: Mistress of The Dark #6
Trust Fall #1
Xena: Warrior Princess #3
The Ride: Burning Desire #1
Joe Golem: Occult Detective–The Conjurors #1
She Could Fly: The Lost Pilot #3
Spencer & Locke 2 #3
Amber Blake #4
GLOW #2
League of Legends: Lux #2
Banjax #1
Calamity Kate #4
The Empty Man #8
Robyn Hood: Outlaw #5
Gunning For Hits #6
Goblin Slayer Side Story: Year One #25
Morning in America #4
Dead Mount Death Play #31
Teen Titans Go! #65 (99-cent digital first)
Gogor #2
The Oddballs #1
DC Super Hero Girls: Weird Science #11 (99-cent digital first)
Carson of Venus: Warlord of Mars #1
Orphan Age #3
Final Fantasy Lost Stranger #20
Hellchild #3
Bronze Age Boogie #3
Jim Henson's The Storyteller: Sirens #3
Grumble #7
Princeless Book 8: Princesses #4
Goosebumps: Horrors of the Witch House #2
Old Issue Rankings:
DCeased #2
The Walking Dead #192
War of the Realms #5
Justice League #25
Batman #72
Uncanny X-Men #19
Savage Avengers #2
Batman: The Last Knight on Earth #1
Young Justice #6
The Green Lantern #8
Shazam! #6
DCeased #1
The Walking Dead #191
Guardians of the Galaxy Annual #1
Incredible Hulk: Last Call #1
Best Selling Collections & Graphic Novels:
X-Men: The Dark Phoenix Saga (65% off)
X-Men: Grand Design – Second Genesis (50% off)
X-Men: Red Vol. 2: Wagering Peace (64% off)
Die Vol. 1: Fantasy Heartbreaker (50% off)
New X-Men by Grant Morrison Vol. 1: E is for Extinction (67% off)
Avengers: No Road Home
X-Men: Phoenix Endsong (67% off)
New X-Men By Grant Morrison Vol. 4: Riot at Xavier's (67% off)
New X-Men By Grant Morrison Vol. 3: New Worlds (62% off)
JSA by Geoff Johns Book One (24% off)
Avengers by Jason Aaron Vol. 3: War of the Vampires
X-Men: Phoenix In Darkness by Grant Morrison (65% off)
Oblivion Song by Kirkman & De Felici Vol. 1 (63% off)
X-Men Red Vol. 1: The Hate Machine (64% off)
X-Men: Phoenix Rising (57% off)
Batman: Earth One Vol. 1 (37% off)
New X-Men By Grant Morrison Vol. 2: Imperial (60% off)
Crisis on Infinite Earths (75% off)
Oblivion Song by Kirkman & De Felici Vol. 2 (64% off)
All-New X-Men Vol. 6: The Ultimate Adventure (64% off)
New X-Men By Grant Morrison Vol. 5: Assault on Weapon Plus (62% off)
All-New X-Men Vol. 5: One Down (64% off)
All-New X-Men Vol. 7: The Utopians (67% off)
Batman: Earth One Vol. 2 (44% off)
Umbrella Academy Vol. 1: Apocalypse Suite
Annihilation: The Complete Collection Vol. 1 (60% off)
New X-Men By Grant Morrison Vol. 6: Planet X (67% off)
Black Hammer Vol. 3: Age of Doom
X-Men: Days of Future Past (64% off)
All-New X-Men Vol. 2: Here to Stay (67% off)
New X-Men By Grant Morrison Vol. 7: Here Comes Tomorrow (57% off)
Annihilation: The Complete Collection Vol. 2 (60% off)
All-New X-Men Vol. 1: Yesterday's X-Men (67% off)
Batman: Troika (54% off)
Blackest Night (54% off)
Nova by Abnett & Lanning: The Complete Collection Vol. 1 (60% off)
X-Men: The Adamantium Collection (70% off)
Dark Nights: Metal: Deluxe Edition (70% off)
All-New X-Men Vol. 4: All-Different (67% off)
All-New X-Men Vol. 3: Out of Their Depth (67% off)
Flashpoint (62% off)
Astonishing X-Men (2004) Vol. 1: Gifted (64% off)
Nova by Abnett & Lanning: The Complete Collection Vol. 2 (60% off)
Avengers vs. X-Men: Collected Edition (67% off)
Batman: Knightquest: The Search (53% off)
Spawn Origins Collection Vol. 1 (50% off)
Immortal Hulk Vol. 3: Hulk in Hell
Phoenix Resurrection: The Return of Jean Grey (67% off)
DC Universe: Rebirth Deluxe Edition (62% off)
Vampironica Vol. 1 (50% off)