By Devon Sanders
Washington DC's Awesome Con hosted some of comics' best working creative and Bleeding Cool checked in with them and to see what cool things they're working on presently and in the future.
So, yeah, throw your money at the screen because good stuff is coming your way in 2014.

Steve Niles (30 Days Of Night, Criminal Macabre) Army Of Darkness! I'm doing a 12 issue arc featuring the wedding of Ash and Sheila which I'm sure will really end well.

I'm also finishing up Monster & Madman, the story of Jack The Ripper and Frankenstein's Monster. There's a symmetry here where Jack wants nothing more than to dismember women and The Monster wants nothing more than a woman of his own.

What I'm most excited about is starting this Fall, I'm doing a new ongoing series with at IDW called October Faction with Monster & Madman artist Damien Worm who I love!
It's about a retired monster hunter trying to keep his family together. He has 40 years of enemies and they're looking for him. He's in hiding and his family's coming apart at the seams. He's trying to save them while bringing them together. It's going to be a fun trip!

And yes, Chin Music, my Image series with artist Tony Harris, will wrap up this year.
It doesn't sound like it but I'm trying to do less this year.
Andrew Carl (Writer/editor of Dark Horse's Once Upon A Time Machine) Working hard on Locust Moon Press' upcoming anthology, Little Nemo: Dream Another Dream. Really excited; we've got so many great contributors on this one: J.H. Williams III, Paul Pope, Bill Sienkiewicz, Brandom Graham, Peter Bagge, JG JonesMike Allred, the Shutter team of writer Joe Keatinge and artist Leila del Duca and more.

Release date is late September or October, with a more exact debut date to once the Kickstarter launches in May.
Justin Jordan (Dead Body Road)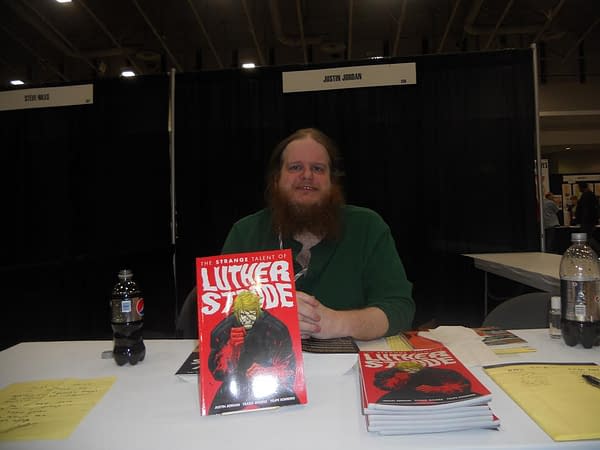 I'm still doing Green Lantern: New Guardians for DC Comics and we have some really exciting things planned for that part of the universe.
I'm also working on the next Luther Strode book, The Legacy of Luther Strode with artist Tradd Moore. It'll be the final installment in the Luther trilogy.

I've a new Image ongoing called Spread with sensational artist Kyle Strom. It's basically Lone Wolf & Cub in a world where John Carpenter's The Thing ate half of North America. And then be on the lookout for a new creator owned series from Avatar called Red Shift.

Also, doing an arc of Crossed for Avatar that starts right after Garth Ennis' Patient Zero so look for that in July or August.

Nathan Edmondson (Where Is Jake Ellis?) Continuing work on The Punisher and Black Widow at Marvel. Punisher artist Mitch Gerads and I have got some more of our Image book, The Activity coming your way.

Doing a little Deathlok for Marvel and we'll have some more announcements about upcoming work for them soon.

Be sure to look out for the Splinter Cell graphic novel from Ubisoft at Dynamite Comics with artist Marc Laming.

I'm also doing some new TV and movie stuff. There's a Where Is Jake Ellis show written by screenwriter Seth Lochhead of the movie, Hanna. Issue four of Where is Jake Ellis is being worked on as we speak by series artist Tonci Zonjic and an oversized issue five should follow soon after.

The whole "Jake Ellis" machine is burning hot.
The author of this piece, Devon Sanders, would like it known that he's in no way related to Deion Sanders. He just needed to say that. Again. He can be found on Twitter at @devonsanders.
Enjoyed this article? Share it!