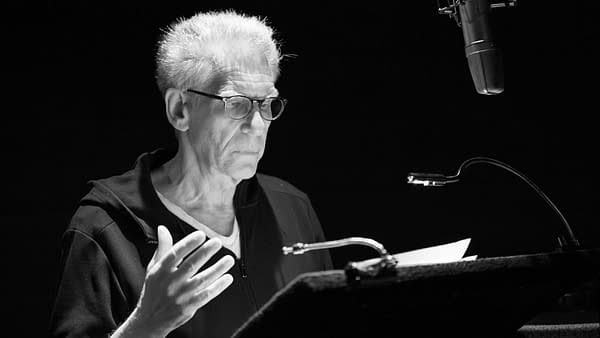 Filmmaker David Cronenberg, the creative mind behind such diverse films as Scanners, Dead Ringers, and A History of Violence, announced at this year's Venice Film Festival that he is in the early stages of developing a series for television. Though he was unable to discuss any of the series' specifics (stating he "can't talk about it yet"), the project would mark Cronenberg's freshman effort at creating an episodic series. The news came during the director's appearance during a panel on the future of cinema at the fest, where he was being honored with a lifetime achievement award.
Also during that panel, Cronenberg stood by his comments he made recently that painted a bleakly fatal outlook for the future of the "community theater-going" experience and how "he doesn't care," but emphasized that he doesn't have that same outlook for the movie-making process itself.
The director sees the entire movie-making and movie-consuming process as "just evolving," adding: "Today TV screens are getting bigger and bigger and therefore the difference between theatre and domestic viewing has become really flimsy." More and more filmmakers are noticing the changes in viewing habits, and it's reflected in how they approach filming for television and film: "The rule used to be that closeup shots were only done for TV, and not for movies. But today that's no longer the case."

Though the series would mark Cronenberg's first full series development project, the filmmaker has directed single television episodes in the past – including this excellent episode from the first season of the righteously under-rated Friday the 13th: The Series, 'Faith Healer':
Friday the 13th: The Series s01e12 'Faith Healer': A debunked faith-healer acquires real healing-powers, but gets debunked again, and worse, by one of Jack's peculiar old friends (Robert A. Silverman).
Glad to see that Cronenberg's views on the television viewing experience have evolved quite a bit since 1983's Videodrome:
As Adult Swim's Rick & Morty has already shown us, that's a path none of us wants to go down: