Focus on David Mack at SDCC: Inkpot, Jessica Jones, Autism, and Me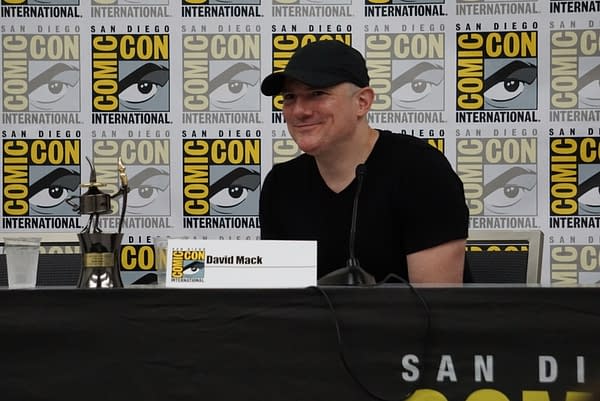 The panel kicked off with a well-deserved awarding of Comic-Con International's Inkpot Award to David Mack for his contributions to comics, television, film, and humanity. Next the panel moderator Wendy Browne from Women Write About Comics. kicked off the panel by showing a music video that Mack did for Amanda Palmer's song 'Pulp Fiction' that was released about three weeks ago. The video was done using stop-motion animation. Mack said the each second of the video used six to eight frames, and being that the video was over six minutes long, it was quite a lot of work for Mack to get done.
At the same time he was working on the video last year, Mack was also working on Jessica Jones season 2. Mack's work is heavily featured throughout season 2, and he also did the opening titles for season 1. In season 2, every piece of his work that was used had six to seven alternate pieces for the show to choose from. Mack said he could have had gallery show just from these pieces. Mack had also done the main titles a few years ago for Captain America: The Winter Soldier.
Next Mack talked about the Kabuki television show. Kabuki was the comic he did for his senior thesis in college that he was also publishing at the same time. Over the last couple of years Dark Horse has been collecting the series into large omnibuses and has published nearly 1700 pages of Mack's Kabuki work. His writing of the first Kabuki book led to Marvel inviting Mack to write Daredevil. Kabuki has been optioned at many studios over the years, but most recently it is at Sony with Chris Parnell who is the President of Sony Television.
Mack has also done significant humanitarian work. He has worked with Visionaries + Voices, working with kids with disabilities, especially autistic kids, on helping to teach them art. Mack said he has seen a lot of nonverbal autistic kids come out of their shells working on their art. He has also worked for the State Department going to North Africa, specifically Tunisia, and former Soviet bloc countries to work with at-risk youth and try to incline them to a positive direction. Mack also has gone into prisons to teach kids and schools in Georgia refugee camps. Some of the kids Mack taught in Georgia had lived their whole lives up to that point in a refugee camp. Mack stressed that this work began under the last President, not the current regime.
Mack is currently providing covers for each issue of Neil Gaiman's American Gods through Dark Horse, similar to what he did for Fight Club 2. He is also currently working on a new creator-owned series with Brian Michael Bendis called Cover, which is due in September.
After that it was time for questions. I was selected first, and as it turned out I was also the only one able to ask something. So I am going to open up a bit about myself here, as I did when I stood up in front of the people attending the panel and as Mack did when he responded. When Mack had discussed working with autistic children, it immediately added to my appreciation and respect for Mack as an artist and as a person. I have been a fan of Mack's art for years, but I am also a father of two autistic boys, so anyone who works to help the lives of autistic children and understand that they can make difference, well, that lights up my heart.
So I decided I wanted to thank Mack for his work and say how much it means to me, but I said it over and over in my head because I wanted to prepare myself so I did not have my voice break or cry. Well, as is said, "The best-laid plans of mice and men often go awry." I stood up, got through a few sentences out, and my heart tightened in my chest, my throat started to close, and my eyes started watering. I pushed through and also asked Mack to talk about the current Kickstarter he has with Allan Amato and Riley Reid (not necessarily for the whole family) called The Alchemy of Collaboration, which as of my writing this still has five days left to fund. Mack talked about working with Amato, and that at times Amato would invite Mack to do live drawings when Amato was doing photography sessions. Amato would also have Mack remarque the photos that he printed, and this was a large part of Mack's involvement on Amato's previous Kickstarters for photo books called Seraph and Slip (also not for the whole family.)
Mack then thanked me for mentioning my personnel connection what he had talked about. Mack brought up a short story in his art book Dream Logic — the first story in the book — and talked about his dad (who was on the spectrum) and Mack's own Autistic characteristics that he had growing up. Mack discusses, both in the panel and in the book — which I have and highly recommend to any fans of Mack — how comics, both reading them and writing them, helped him better read people and communicate with them within societal norms.
After the panel two people came up to thank me for speaking and talk to me about my children, their own, and autism. This, of course, made me very uncomfortable because it was not my intention, but then it wasn't my intention to share my personal life when I walked into the room 45 minutes earlier. After that I went up to Brown and Mack to apologize for kind of derailing the last part of the panel, but they said no apology was necessary, and Mack even gave me a hug.
For further musings from Joshua Stone, follow him on the Twitter @1NerdyOne