The Deadliest Of Pillow Fights and More Throuples in Today's Dawn Of X (Five Of Them) Comics (Spoilers)
Today sees the release of five, count 'em, five new Marvel X-Men comic books. Seriously now. Five. That's twenty bucks. Just saying, okay? Five. Right then. How essential are these – if at all – to following the story of Krakoa? We have X-Force, New Mutants, Fallen Angels, Excalibur and Marauders, all with their fourth issues.
Excalibur dives into Captain Britain lore with a Parliamentary act defining the difference between Britain and Otherworld, the magical dimension that the Braddocks came from, which all feels a bit like Bros Johnson's last-minute deal to exit the Europen Union.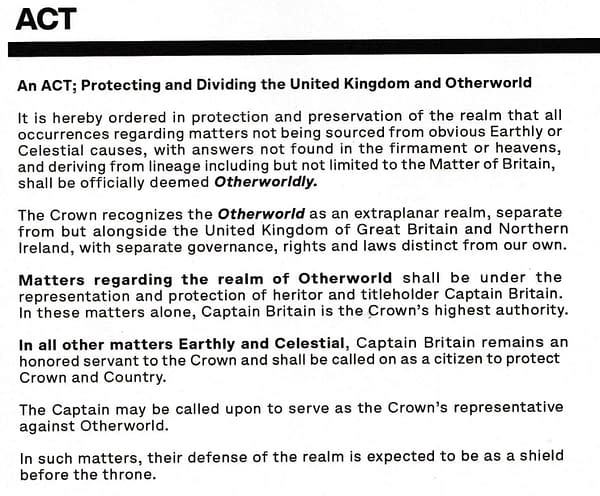 But will there be a hard border across the dimensions and what will the leprechauns have to say about that? Jamie Braddock has obviously been reading the Bar Sinister gossip rag about a certain mutant throuple, Cyclops, Wolverine and Jean Grey.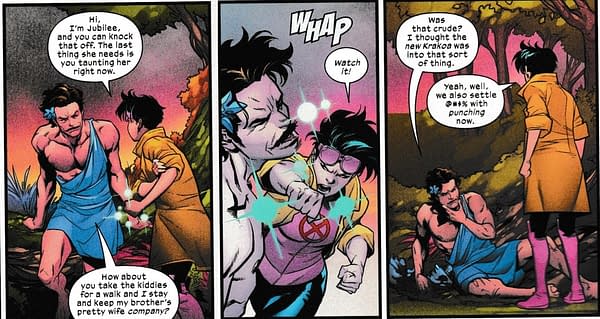 Anyway, the new Captain Britain, Betsy Braddock seems to ignore Parliament entirely and parley with Queen Elizabeth II herself.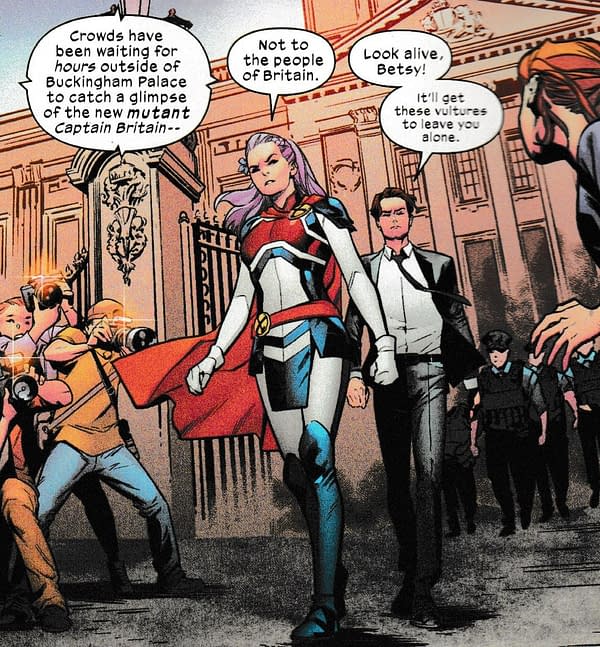 How very Gloriana of her. And now that she's met the Queen, like any true Brit, she isn't going to let anyone forget it. Whether friend…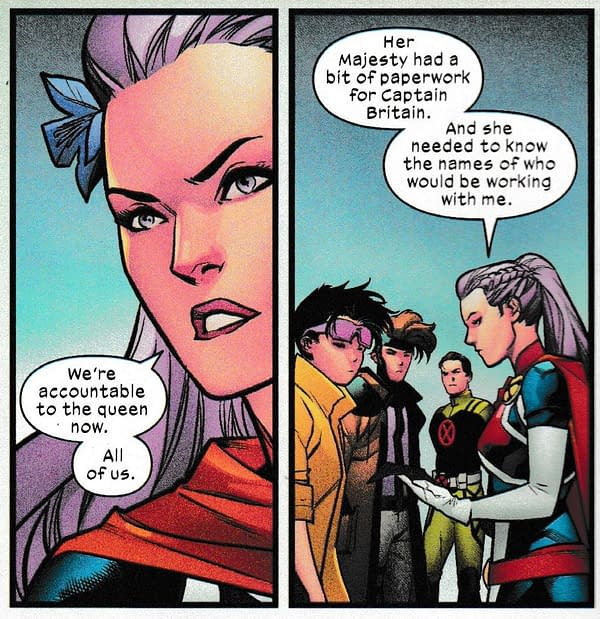 … or foe…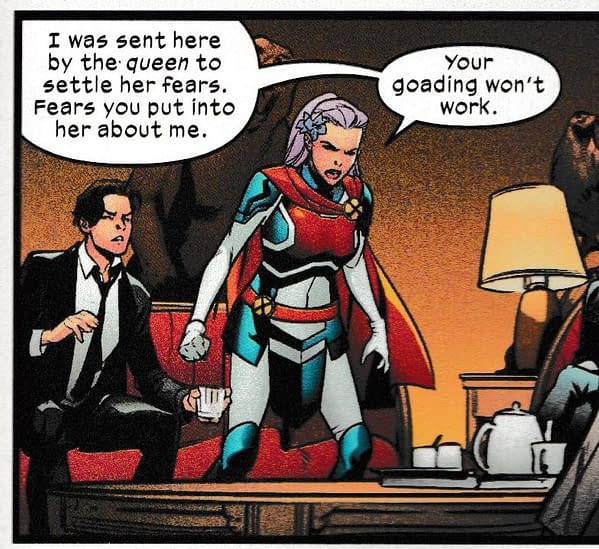 Well, his goading will get you to mention the Queen again. But someone won't want to speak to Betsy Braddock, Queen or no Queen.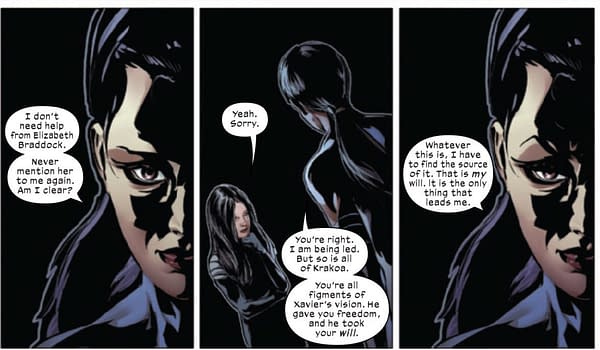 That's Kwannon, the new/old Psyclocke in Fallen Angels. And this early rant done, this comic need not bother the citizens of Krakoa one jot…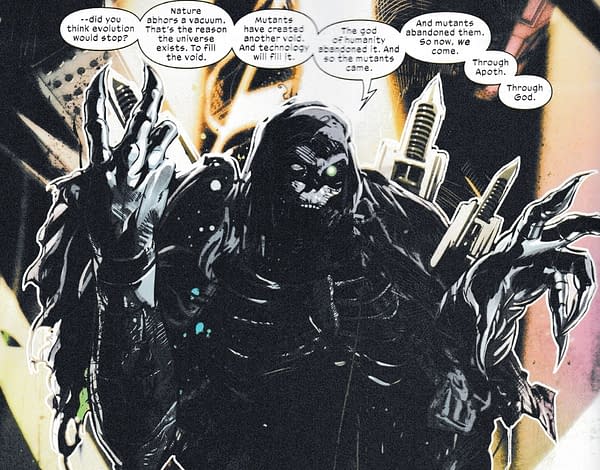 …not right now, anyway. While X-Force answers the question about how Wolverine can keep his adamantium bones when he reborn and brought back from the dead by the Five…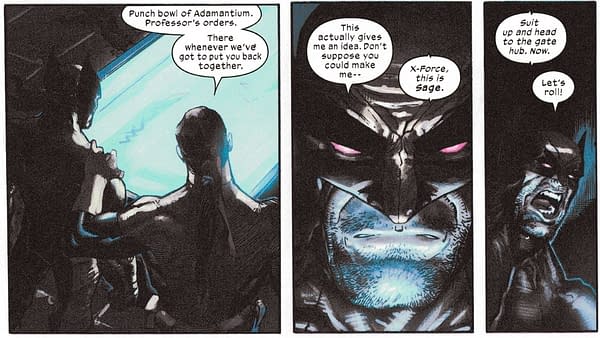 …with a bath full of adamantium. Still it appears that investigations into Krakoa have been woeful.
That's right, Professor Charles Xavier's secret was investing in a company called Xavier PharmaXeuticals. Is that hiding in plain sight. That was always Ninja Kate Pryde's trick but these days, she resorts to simple pillow fights in Marauders.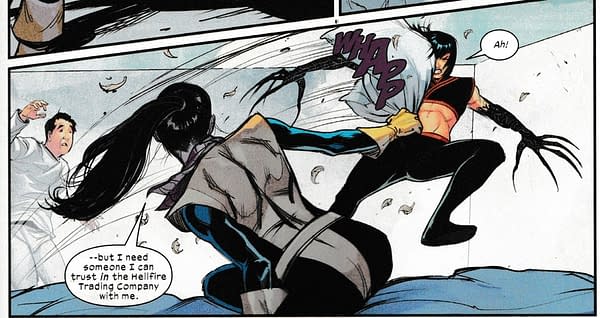 Pillow fights that maim.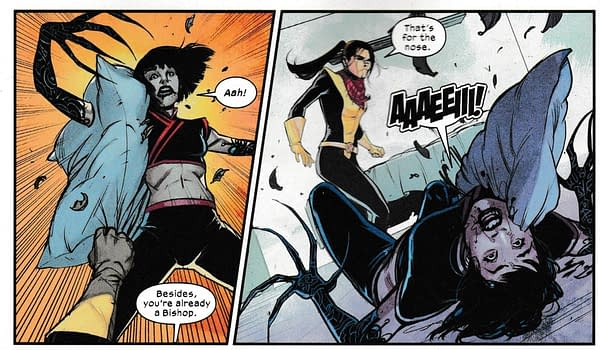 While New Mutants tackles how the rest of the world sees mutants and Krakoa with some celebrity gossip.
And talking of celebrities, Marauders has another mutant to mention.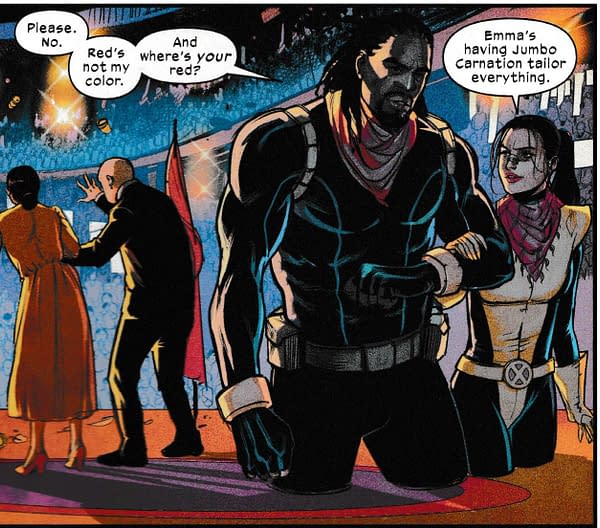 Jumbo Carnation, remember what the Bar Sinister gossip sheet said?
INISTER SECRET #2 And speaking of fashion, the whisper network has turned into a roar regarding the return of this trendsetting mutant who was cut down in his prime. Will someone please tell all these mutants to stop wearing human clothes and join the stampede across their island full of flowers to the flower that's the fullest?
Jumbo Carnation, the eccentric mutant fashion designer from Morrison's New X-Men run. It's implying that he's among the many mutants back from the dead on Krakoa. And now, thanks to Kate Pryde, we know…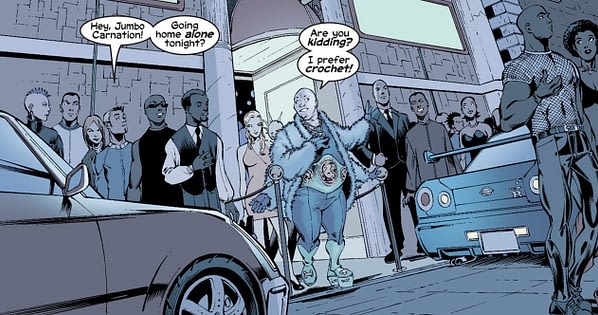 X-FORCE #4 DX
(W) Ben Percy (A) Joshua Cassara (CA) Dustin Weaver
THE BEST DEFENSE…
TARGET: ALL ENEMIES OF MUTANTKIND!
First, the new team strikes back against the humans who took one of their own. Then, with its orders established, the new X-Force hits the ground running, taking on deadly threats targeting mutantkind's rightful place in the world…
Parental AdvisoryIn Shops: Dec 18, 2019
SRP: $3.99

NEW MUTANTS #4 DX
(W) Ed Brisson (A) Marco Failla (CA) Rod Reis
When Armor and her team set off to bring their friends home to Krakoa, they thought it'd be an easy sell and a quick trip. Then everything went sideways, and now they're in serious trouble-looks like it's time to call in the cavalry. But will that be enough to turn the tide?In Shops: Dec 18, 2019
SRP: $3.99

MARAUDERS #4 DX
(W) Gerry Duggan (A) Lucas Werneck (CA) Russell Dauterman
SALT WATER & HELLFIRE! THE NEW BLACK BISHOP OF THE HELLFIRE CLUB!
Sebastian Shaw recruits a new Black Bishop continuing with his machinations against the two Queens of the Hellfire Club! Meanwhile, Captain Kate and her Marauders wreak havoc on the high seas from the Atlantic to the Pacific in the name of the mutant cause!
Rated T+In Shops: Dec 18, 2019
SRP: $3.99

EXCALIBUR #4 DX
(W) Tini Howard (A) Marcus To (CA) Mahmud Asrar
THE GREEN EARTH TREMBLES!
THE HARD TRUTH OF THE CAPTAINS BRITAIN!
Captain Britain must face the truth about her brother and choose her path forward as MI-13 and the agents of the crown become aware of her ascension. As the lighthouse grows, Apocalypse and Rictor must master the earth beneath their feet.
Rated T+In Shops: Dec 18, 2019
SRP: $3.99

FALLEN ANGELS #4 DX
(W) Bryan Edward Hill (A) Szymon Kudranski (CA) David Nakayama
APOTH APPROACHES! PSYLOCKE'S PAST THREATENS HER NEW TEAM!
Psylocke's past continues to haunt her as she molds her companions into a fighting force… But can they take on the children of Apoth?
Rated T+In Shops: Dec 18, 2019
SRP: $3.99
X-Force, New Mutants, Fallen Angels, Excalibur and Marauders #4 are all published today from Marvel Comics. I bought mine from Piranha Comics in Kingston-Upon-Thames. Piranha Comics is a small south London comic store chain with a small south-east store in Kingston-Upon Thames's market centre, which runs Magic The Gathering nights on Fridays, and a larger south-west store in Bromley, which also runs Magic nights and has an extensive back issue collection and online store. If you are in the neighbourhood, check them out.