Diamond Drops Marvel UK Titles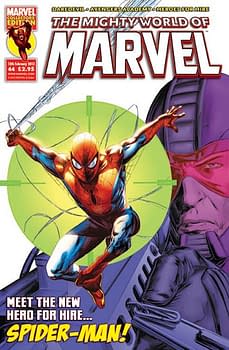 My first superhero comic book I remember buying was a copy of the Fantastic Four weekly in the early eighties, reprinting Lee and Kirby Fantastic Four in black and white, published by Marvel UK and sold at my local newsagent. It would be another eight years until I would discover the existence of a comic shop.
Today, Marvel UK is still a newsagent brand, running compilations of a number of Marvel comic books in one card covered issue, with several titles on the stand in any one time.
It's also been a cheaper option for comic readers over here to buy their comics – a few months late but often less than half the individual American price would be. Three of four comics for £2.95 ($4) can be a real deal. And in these times of economic austerity, comic shops have been selling them as well to their hard-strapped customers.
But not enough it seems.
As of April, Diamond Comic Distributors UK are no longer offering the likes of Essential X-Men, Mighty World Of Marvel, Astonishing Spider-Man, Wolverine And Deadpool, Incredible Hulks, Avengers Assemble and Marvel Legends to UK comic stores due to low sales, apparently. Shops are free to order them on a returnable basis by setting up a contract with a magazine distributor, but that can make them less profitable…