And for a look at a different view on the world in September, more thoughtful, less franchise and license-heavy, and less inclined to have a zombie gnawing on your entrails… from Dan Clowes to Robert Crumb to Hunt Emerson to Chris Ware…
DRAWN & QUARTERLY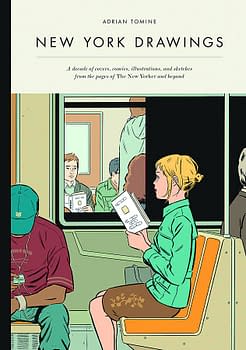 NEW YORK DRAWINGS: ADRIAN TOMINE HC
(W/A/CA) Adrian Tomine
A collection of illustrations from the New Yorker cover artist and award-winning cartoonist.
Adrian Tomine's illustrations and comics have been appearing for more than a decade in the pages (and on the cover) of The New Yorker. Instantly recognizable for their deceptively simple and evocative style, these images have garnered the attention of The New Yorker's readership and the approbation of such venerable institutions as the Art Directors Club and American Illustration. New York Drawings is a loving homage to the city that Tomine, a West Coast transplant, has called home for the past seven years. This lavish, beautifully designed volume collects every cover, comic, and illustration that he has produced for The New Yorker to date, along with an assortment of other rare and uncollected illustrations and sketches inspired by the city. Complete with notes and annotations by the author, New York Drawings will also feature a new introductory comic focusing on Tomine's experiences as a New York illustrator. (STK472070) (C: 0-0-1)
HC, 8×11, 176pgs, FC $29.95
FANTAGRAPHICS BOOKS
GODDAMN THIS WAR!
by Jacques Tardi and Jean-Pierre Verney
$24.99 / HC / 152 pgs / FC /
7.25 x 10.5
A perfect companion piece to Tardi's It Was the War of the Trenches, Goddamn This War! is a new, full-color graphic novel-length exploration of World War I that is broken down in a more chronological, historical way than its double Eisner Award-winning precursor (although it shares Trenches' sense of outrage, gallows humor, and scrupulous historical exactitude) compounded by an extensive historical text section in the back, stuffed with spectacular, fascinating, and horrific period photographs.
THE HYPO: THE MELANCHOLIC YOUNG LINCOLN
by Noah Van Sciver
$24.99 / HC / 192 pgs / BW / 7 x 9
The Hypo is a completely original account of a man driven by an irrepressible desire to pull himself up by his bootstraps, overcome depression and become the person he strives to be. All the while unknowingly laying the foundation of character he would use as one of America's greatest presidents, Abraham Lincoln.
PRINCE VALIANT VOL. 6: 1947-1948
by Hal Foster;
introduction by Brian M. Kane
$35.00 / HC / 112 pgs / FC / 10.25 x 14
As Hal Foster's masterpiece enters its second decade, Valiant and Aleta journey to the "New World." Also included are essays and Foster's map of Val's voyage to/from the New World. As always, this volume is shot directly from Foster's personal collection of syndicate proofs, their glorious colors restored to create a sumptuous reading experience.
THE CRUMB COMPENDIUM
by Carl Richter
$29.99 / SC / 320 pgs / BW / 7 x 9
The most comprehensive R. Crumb resource ever compiled! Carl Richter has spent the last 30 years cataloguing and indexing everything ever written and/ or drawn by R. Crumb, and the result is the long-awaited Crumb Compendium. This essential reference guide lists every comic, newspaper, periodical, book, record, poster, t-shirt, interview, merchandise and just about anything else you can think of that has featured or referenced Crumb in some way. Illustrated with many exceptionally rare pieces catalogued in the book, this is a must-have for Crumb scholars and collectors.
BLACKLUNG
by Chris Wright
$24.99 / HC / 128 pgs / BW / 9 x 12
One part Melville, one part Peckinpah, Blacklung is a sweeping and visually startling tale of a man determined to commit as many acts of evil as possible in order to ensure reuniting with his dead wife in hell. It is a story of violence, amorality, fortitude, and redemption and is unquestionably one of the most impressive graphic novel debuts in recent years.
CASTLE WAITING VOL. II #18
by Linda Medley
$3.95 / Comic / 24 pgs / 6.5 x 10
This issue brings Volume 2 to a close. The castle folk prepare for winter as Dr. Fell surprises everyone with a previously hidden talent, and the exasperated poltersprittes move to claim the Keep as their own.
THE DANIEL CLOWES READER: GHOST WORLD, NINE SHORT STORIES AND CRITICAL MATERIALS—COMICS ABOUT ART, ADOLESCENCE AND REAL LIFE
by Ken Parille
$24.99 / SC / 250 pgs / PC / 7.25 x 10.5
This landmark collection features ten of Clowes's most influential stories, along with interviews in which he talks about his career and creative process, and twelve thought-provoking essays by contemporary scholars and critics. A wide-ranging introduction to the work of one of the most important living cartoonists, the book features Ghost World and several other stories — some reprinted for the first time — about boys and girls coming of age, troubled superheroes, and the place of artists and critics in popular culture.
YOU'LL NEVER KNOW BOOK THREE: "SOLDIER'S HEART"
by Carol Tyler
$24.99 / HC / 128 pgs / FC /
12.25 x 10.25
In the devastating yet ultimately healing concluding chapter of her magnificent, sprawling memoir — which Booklist called "a work that ranks in quality with the graphic memoirs of Alison Bechdel (Fun Home) and Marjane Satrapi (Persepolis)" — Carol Tyler continues to dig into her father's war experiences, even as she copes with her own family problems (including the inevitable deterioration of her parents' health).
THE GRAMMAR OF ROCK: ART AND ARTLESSNESS
by Alexander Theroux;
cover by R. Crumb
$19.99 / HC / 192 pgs / Prose / 6 x 9
A comprehensive look at the colorful language of pop lyrics and rock music in general. This is a book of discernment and wit that evaluates the nature of pop songs, both the sublime and the ridiculous, and explores why one song over another has an effect on the listener. Winner of two 2011 Eisner Awards!
:01 FIRST SECOND
ADVENTURES IN CARTOONING: CHRISTMAS SPECIAL
(W/A/CA) Andrew Arnold & Various
Christmas is coming! The Magic Cartooning Elf and his friend the Knight join forces to make a Christmas comic for Santa to give to all the boys and girls in the world. Adventures in Cartooning: Christmas Special is a zany adventure story seamlessly integrated with nuggets of practical cartooning tips: how to write, illustrate, print, and distribute comics! It's a terrific holiday gift, and after reading it, kids will be inspired to make more gifts with comics! (STK471230) (C: 0-1-1)
SC, 10×7.5, 64pgs, FC $9.99
LEGENDS OF ZITA THE SPACEGIRL GN
(W/A/CA) Ben Hatke
Zita's exploits from her first adventure have made her an intergallactic megastar! But she's about to find out that fame doesn't come without a price. And who can you trust when your true self is being eclipsed by your public persona, and you've got a robot doppelganger wreaking havoc while wearing your face? Still, if anyone can find their way through this intractable mess of mistaken identity and alien invaders, it's the indomitable Zita. (STK471217) (C: 0-1-1)
SC, 6×9, 224pgs, FC $12.99
KNOCKABOUT COMICS
DANTE'S INFERNO GN
(W) Kevin Jackson (A/CA) Hunt Emerson
Written in the 14th-century, Dante's Divine Comedy has long since been acknowledged as the greatest single poem of the last 2 millennia. It is a true epic, which tells the story of how a lost soul is led by a spirit guide through Hell and Purgatory and finally to the highest realms of Heaven, where he is re-united with his lost love, the beautiful Beatrice. It has just one obvious weakness: Not enough good jokes. Now, after more than half a millennium, one comic artist has finally come forward to put matters right: Hunt Emerson. While remaining faithful to the narrative, the characters, and the philosophy of Dante's original, Emerson has dreamed up a brilliantly inventive series of comic variations on the poem. (STK471753) (C: 0-0-1)
SC, 7×10, 80pgs $18.99
PANTHEON BOOKS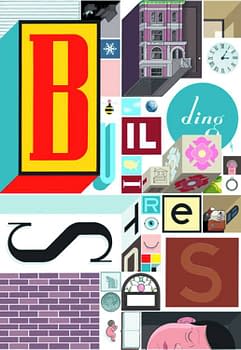 CHRIS WARE: BUILDING STORIES HC
(W/A/CA) Chris Ware
Building Stories follows the inhabitants of a three-flat Chicago apartment house: a 30-year-old woman who has yet to find someone with whom to spend the rest of her life; a couple (possibly married) who wonder if they can bear each other's company for another minute; and finally, an elderly woman who never married and is the building's landlady. The scope, the ambition, the artistry and emotional heft of this project are beyond anything we have yet seen from this artist or in this medium. (STK471147) (C: 1-1-2)
Box Set/, HC, 224pgs, FC $50.00
ONI PRESS
BAD MEDICINE #5
(W) Nunzio DeFilippis, Christina Weir (A/C) Christopher Mitten
Killing Moon: Part 3 (of 3)–Doctor Randal Horne and Detective Joely Huffman
race to solve Deer Falls' werewolf problem before anyone else gets hurt. But are
the citizens of Deer Falls with them or against them?
MATURE THEMES
32pgs, FC $3.99
STUMPTOWN VOL. 2 #1: THE CASE OF THE BABY IN THE VELVET CASE
(W) Greg Rucka (A/C) Matt Southworth, Rico Renzi
From Eisner Award-winning writer Greg Rucka and acclaimed artist Matthew Southworth comes a new STUMPTOWN mystery! When Mim Bracca, guitar player for the Portland-based rock group Tailhook, returns home from a long tour, she finds not everything made it back with her. Can P.I. Dex Parios track down her missing baby?
MATURE THEMES
32pgs, FC $3.99
THE SIXTH GUN #25
(W) Cullen Bunn (A/C) Brian Hurtt, Bill Crabtree
Winter Wolves: Part 2–Caught in the heart of a supernatural cold snap, Drake and Becky fight off a vicious creature intent on ripping them to shreds. Even the otherworldly powers of the Six seem ineffectual against a creature that can become one with the blizzard. Meanwhile, as Gord Cantrell hurries to find his friends, he encounters an old enemy—Kirby Hale.
32pgs, FC $3.99
THE SIXTH GUN VOLUME 4 TP
(W) Cullen Bunn (A/C) Brian Hurtt, Bill Crabtree
The Six. A set of cursed pistols with the power to reshape the world. The Knights of Solomon will stop at nothing to possess this power. Captured, isolated, and tortured, Drake Sinclair is offered a choice: join the Knights' quest… or die. Meanwhile, Becky Montcrief's search for Drake brings her to the town of Penance — a mysterious place populated by a host of twisted townsfolk. All the while, the Sixth Gun schemes, and the secrets it holds will shake the very foundations of reality.
SC, 7×10, 120pgs, FC $19.99
TOP SHELF PRODUCTIONS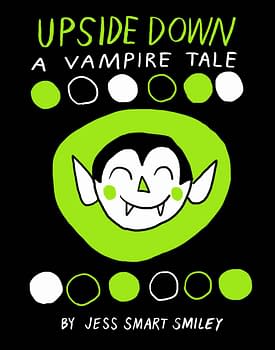 UPSIDE DOWN: A VAMPIRE TALE HC
(W/A/CA) Jess Smart Smiley
Harold is a friendly young vampire — but he loves candy so much, the dentist might have to pull his teeth! Now, what if he and the dentist, plus a couple friendly bats, all get caught up in the evil plots of the local witch? It's a wild magical romp for all ages, just in time for Halloween. Upside Down is a spooky fun tale for all-ages and tweens, colored in black, white and Halloween green! (STK470988)
HC, 6×9, 144pgs, FC $9.95
Enjoyed this article? Share it!