Everybody Wants A Go – Catching Up On Tom Hooper's Les Miserables Casting Process
Rebecca Lewis writes for Bleeding Cool.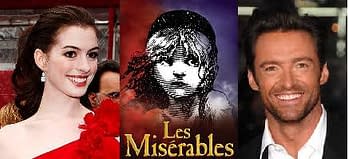 Les Miserables is the longest running, and one of the most successful, musicals in the world so of course it was only a matter of time before someone decided to adapt it for the big screen.
And that someone is Tom Hooper, the man who won this year's best director Oscar for The King's Speech.
The story is set in the 19th century and follows reformed convict Jean Valjean, who goes on the run after breaking parole. Along the way, he fends off the relentless Inspector Javert, takes the young girl Cosette under his wing and watches as she comes of age and falls in love with Marius, a revolutionary.
Hollywood heavyweights Hugh Jackman and Russell Crowe have already been cast for the two lead roles of Valjean and Javert respectively, and for several months now we've heard rumours that Hollywood darling and one time Oscar presenter Anne Hathaway may be in the running for the role of Fantine, Cosette's mother.
The casting of Hathaway was supported by Jackman who memorably romanced Hathaway during the 2010 Oscar broadcast and although Fantine may be a supporting character, she sings one of most famous musical numbers, I Dreamed A Dream, a tragic lament of a life gone wrong.
Deadline recently confirmed that Hathaway's deal has been closed and it would seem with Fantine cast, Hooper is now on the lookout for Cosette, Fantine's daughter.
After speculation of Emma Watson's involvement was quashed, open casting calls for the role are being held, with one today in New York City and the requirements tell us that producers are clearly looking for somebody with vocal talent for this film –
18-22 (the younger the better) … delicate, elegant, vulnerable and beautiful … Soprano (to high C)- a light, young "floating" sound, without heavy vibrato. STRONG SOPRANO VOICE VERY IMPORTANT"
Meanwhile, the NY Post have this week claimed that Scarlett Johansson, Taylor Swift, Lea Michele and Evan Rachel Wood were all vying for the role of Eponine, a pivotal character and singer of perhaps the most famous song of the musical, On My Own.
Sources claim all bought something different to the auditioning table – Wood "brings her indie cred"; Michele "knocked it out of the park"; and Johansson "brings acting ability, and she can really sing" – but we did wonder if all could bring the necessary acting talent.
Rumour has it however that several of these actresses may have passed on the project, so it may be back to open calls for Eponine too.
Another confirmed piece of casting news though comes again from Deadline, who reported that rising British star Eddie Redmayne has been cast in the role of Marius, the boyish and ideological revolutionary.
Redmayne recently starred in My Week With Marilyn and is an extremely underated actor so we're pleased to see him firming up roles in Hollywood, and this is definitely a surprising but welcome choice of casting.
The Daily Mail say that Marius's best friend Enjolras, the charasmatic leader of the revolutionaries, will be played Aaron Tveit, a veteran of Broadway. Tveit is an unknown in Hollywood but brings some solid musical credibilty to Hooper's production that has so far been lacking.
And an unconventional way to announce news, but one that has been followed up and officially confirmed by the Daily Mail came this week from Matt Lucas's Twitter account, as he congratulated our very own Ali G, Sacha Baren Cohen, on landing the role of Thenardier.
A greedy innkeeper, Thenardier is a character that Lucas bought to life in the West End, but rumours persist around Helena Bonham Carter and the character of Madame Thenardier, who along with her husband provide the laughs.
Filming is due to start in the new year ready for a release date set for December 7th 2012, but with our two female leads still to cast, expect more rumours to abound before final casting is announced.