Fear the Walking Dead Season 4 Rewind: Our Thoughts on the Season's First Half

With the mid-summer break officially coming to an end for the cast and crew of AMC's Fear the Walking Dead, we wanted to give you a chance to catch up on Bleeding Cool's reviews of the first half of the series' fourth season. After you're done, make sure to join us online Sunday night at 9 p.m. ET as we live-blog FTWD's mid-season premiere 'People Like Us' (with an extended episode of the mid-season finale 'No One's Gone' airing prior).
Enjoy!
Fear the Walking Dead s04e01 'What's Your Story?': A lone traveler's wearying journey is interrupted by new acquaintances, some who become friend, others who become foe.
Fear the Walking Dead s04e02 'Another Day at the Diamond': A troubled survivor finds allies in an unexpected place; the life Madison has fought to build comes under threat.
Fear the Walking Dead s04e03 'Good Out Here': Madison and Morgan try to help Nick find inner peace; a quest for revenge exacts its toll on the group.
Fear the Walking Dead s04e04 'Buried': Al's questioning uncovers some surprising truths about the group's past; John Dorie receives unexpected news.
Fear the Walking Dead s04e05 'Laura': The arrival of a wounded visitor in John Dorie's life forces him to change his ways.
Fear the Walking Dead s04e06 'Just in Case': Strand wrestles with Madison's decisions; things take an unexpected turn at the Stadium.
Fear the Walking Dead s04e07 'The Wrong Side of Where You Are Now': Madison's decision to help an adversary has unintended consequences; John Dorie's life hangs in the balance.
Fear the Walking Dead s04e08 'No One's Gone': Madison fights to preserve the life she worked so hard to build; Morgan tries to do the right thing.

Fear the Walking Dead s04e09 – 'People Like Us': Morgan tries to help Alicia and the fractured group of survivors as a storm brews.

Fear the Walking Dead s04e10 – 'Close Your Eyes': Alicia's forced to reckon with an agonizing past while seeking refuge from a storm.

Fear the Walking Dead s04e11 – 'The Code': Morgan's journey is derailed by some new acquaintances.

Fear the Walking Dead s04e12 – 'Weak': June helps when Al's health deteriorates; Morgan searches for friends lost in the storm.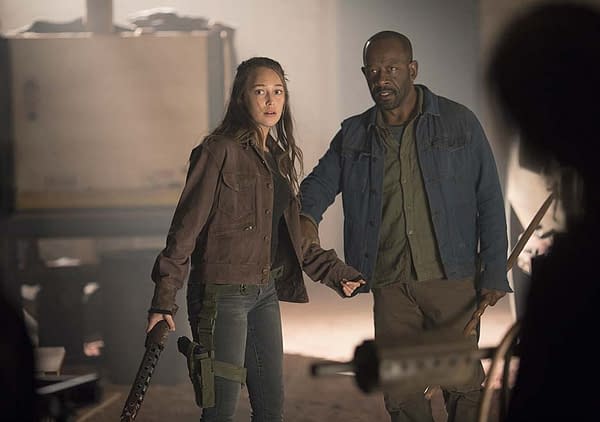 Fear the Walking Dead s04e13 – 'Blackjack': Strand and Dorie are marooned; Luciana aids a man in need; the group's efforts to help a stranger put everyone in danger.

Fear the Walking Dead s04e14 – 'MM 54': Difficult decisions lead the group into uncertainty; Alicia delivers on a promise to Charlie.

Fear the Walking Dead s04e15 – 'I Lose People…': The group's hope falters as they seek a way out; Alicia and Charlie reunite with friends.

Fear the Walking Dead s04e16 – '…I Lose Myself': Morgan struggles to find the strength to help friends in dire need before it's too late.
The first half of season four began with one figure huddled around a campfire, and ended with nine. Characters who started their journeys in isolation collided with each other in unexpected ways and found themselves in one of the last places they ever expected to be…together. In the back half of the season they will explore who they are now – as individuals and as part of the greater group – and how they will forge ahead. They will find themselves pitted against new adversaries – human, walker, and even nature itself. Theirs will be a journey wrought with danger, love, heartbreak, loss, and ultimately, hope.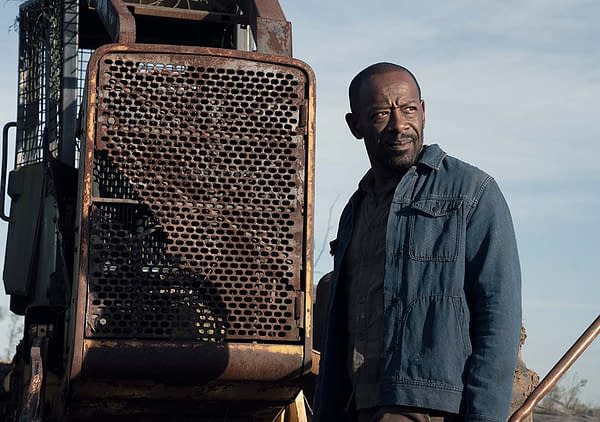 Fear the Walking Dead is executive produced by Scott M. Gimple, co-showrunners Andrew Chambliss and Ian Goldberg, as well as Robert Kirkman, David Alpert, Gale Anne Hurd and Greg Nicotero, and produced by AMC Studios. The series stars Lennie James, Alycia Debnam-Carey, Colman Domingo, Danay Garcia, Garret Dillahunt, Maggie Grace, Jenna Elfman, Alexa Nisenson, Mo Collins, Daryl "Chill" Mitchell, Aaron Stanford, Tonya Pinkins, and Stephen Henderson.