Female Lead Titles Top Advance Reorders – Silk, Leia, Jem, Red One, Batgirl, Squirrel Girl, Lazarus And Giant Days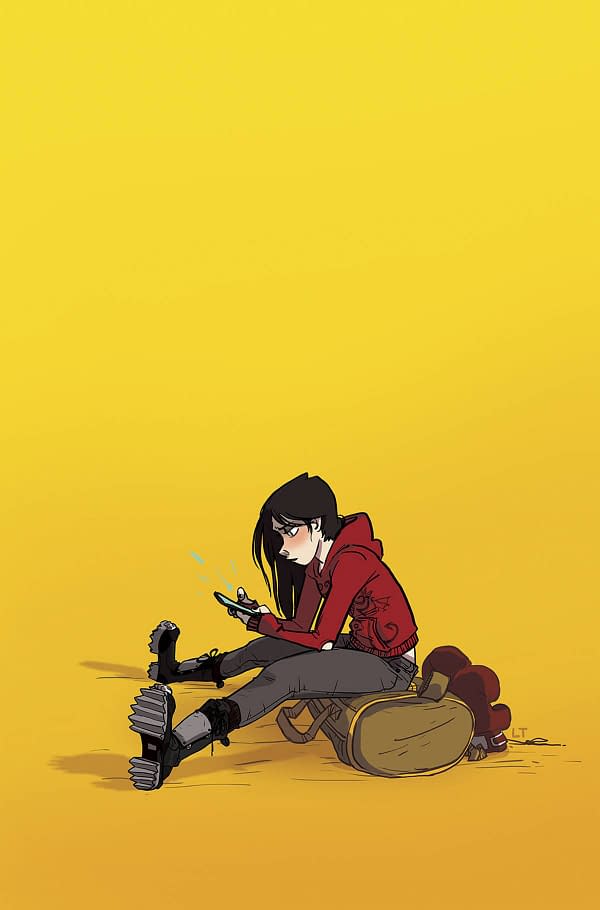 Greetings from the coal face of the direct comics market. Where retailers try to increase their orders of certain comics ahead of sale. Where supply and demand and most accurately reflected, where you can see which books are hot, where new orders are coming in and how retailers are reacting to new, unanticipated desire!
If you needed any more proof of the burgeoning of female-lead titles in the comics industry right now, Silk, Princess Leia and Jem & The Holograms take the top five of the advance reorder charts, and with Unbeatable Squirrel Girl, Red One, Batgirl, Lazarus and Giant Days have female lead titles taking twelve of the top twenty-five.
A good day for the Bleeding Cool Magazine Female Heroes issue to come out, no?
TOP 25 ADVANCE REORDER COMICS/GRAPHIC NOVELS/TPs (RETAIL)
| | | |
| --- | --- | --- |
| Product | Price | Publisher |
| SILK #2 | $3.99 | MAR |
| PRINCESS LEIA #2 (OF 5) | $3.99 | MAR |
| SILK #1 JOHNSON 2ND PTG VAR | $3.99 | MAR |
| JEM & THE HOLOGRAMS #1 PLUGGED IN ED | $3.99 | IDW |
| EDGE OF SPIDER-VERSE #2 (OF 5) 5TH PTG RODRIGUEZ VAR | $3.99 | MAR |
| GOTG AND X-MEN BLACK VORTEX ALPHA #1 2ND PTG VAR BV | $4.99 | MAR |
| MULTIVERSITY ULTRA COMICS #1 | $4.99 | DC |
| GUARDIANS TEAM-UP #3 BV | $3.99 | MAR |
| DEADLY CLASS TP VOL 02 KIDS OF THE BLACK HOLE (MR) | $14.99 | IMA |
| ANT-MAN #2 BROOKS SCANT PTG VAR | $3.99 | MAR |
| CONVERGENCE #0 | $4.99 | DC |
| AMAZING SPIDER-MAN #16.1 BIANCHI VAR | $3.99 | MAR |
| CHRONONAUTS #1 CVR A MURPHY & HOLLINGSWORTH (MR) | $3.50 | IMA |
| BIG THUNDER MOUNTAIN RAILROAD #1 (OF 5) | $3.99 | MAR |
| RED ONE #1 (MR) | $2.99 | IMA |
| UNBEATABLE SQUIRREL GIRL #2 HENDERSON 2ND PTG VAR | $3.99 | MAR |
| LAZARUS TP VOL 03 CONCLAVE (MR) | $14.99 | IMA |
| GIANT DAYS #1 | $3.99 | BOO |
| BATGIRL ENDGAME #1 | $2.99 | DC |
| JUSTICE LEAGUE #40 | $3.99 | DC |
| DIVINITY #2 (OF 4) CVR A KEVIC-DJURDJEVIC (NEXT) | $3.99 | VAL |
| ALL NEW X-MEN #39 BV | $3.99 | MAR |
| BOBS BURGERS TP VOL 01 | $17.99 | DYN |
| MOON KNIGHT TP VOL 02 DEAD WILL RISE | $17.99 | MAR |
| JEM & THE HOLOGRAMS #1 | $3.99 | IDW |
TOP 25 REORDER COMICS/GRAPHIC NOVELS/TPs (RETAIL)
| | | |
| --- | --- | --- |
| Publisher | Price | Publisher |
| DARTH VADER #1 | $4.99 | MAR |
| INFINITY GAUNTLET OMNIBUS HC PEREZ CVR | $125.00 | MAR |
| SAGA TP VOL 04 (MR) | $14.99 | IMA |
| CIVIL WAR TP | $24.99 | MAR |
| DEATH NOTE BOX SET (CURR PTG) | $114.99 | VIZ |
| SUPERMAN EARTH ONE HC VOL 03 | $22.99 | DC |
| DISNEY FROZEN CINESTORY | $14.99 | JOE |
| FLASH TP VOL 01 MOVE FORWARD (N52) | $16.99 | DC |
| DEATH NOTE BLACK ED TP VOL 01 | $14.99 | VIZ |
| SCULPTOR HC GN (MR) | $29.99 | ST. |
| BATMAN TP VOL 04 ZERO YEAR SECRET CITY (N52) | $16.99 | DC |
| SAGA TP VOL 03 (MR) | $14.99 | IMA |
| SAGA TP VOL 02 (MR) | $14.99 | IMA |
| WALKING DEAD COMPENDIUM TP VOL 01 (MR) | $59.99 | IMA |
| AGE OF ULTRON TP | $34.99 | MAR |
| WALKING DEAD TP VOL 01 DAYS GONE BYE | $14.99 | IMA |
| BATMAN THE KILLING JOKE SPECIAL ED HC | $17.99 | DC |
| BATMAN TP VOL 01 THE COURT OF OWLS (N52) | $16.99 | DC |
| DC THE NEW FRONTIER DELUXE ED HC | $49.99 | DC |
| MS MARVEL TP VOL 01 NO NORMAL | $15.99 | MAR |
| THOR #5 | $3.99 | MAR |
| HARLEY QUINN VALENTINES DAY SPECIAL #1 VAR ED | $4.99 | DC |
| INFINITY GAUNTLET TP | $24.99 | MAR |
| MY LITTLE PONY FRIENDS FOREVER TP VOL 01 | $17.99 | IDW |
| EAST OF WEST TP VOL 02 WE ARE ALL ONE | $14.99 | IMA |