First Two Chapters Of The Thrill Electric Go Live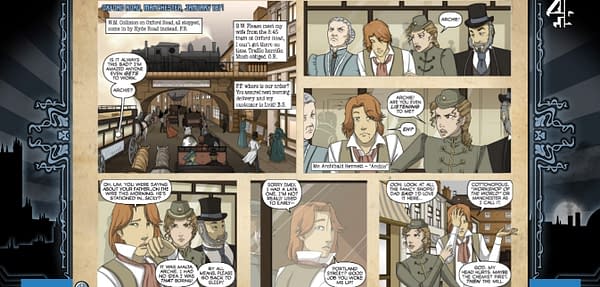 The Workshop Of The World and Industry And Idleness are the first two chapters of The Thrill Electric, the Victorian "enhanced" digital comic about the industrialisation of the Electric Telegraph in Manchester, England. Chosen for its paralles with the world of today, we see a new technology creating and enhancing both business and social communication, with all the petty foibles inherent in the human condition, in a world beset with drugs, sex, violence and, rather unusually, an equality of treatment between the genders, even the classes, at work, with an emsemble cast that's comparable to the likes of The West Wing or Mad Men.
Created by Leah Moore, John Reppion, Emma Vieceli, The Windflower Studio, Littleloud, Hat Trick and Channel 4, this fiction intends to inform, educate and entertain – and do some rather fun things with comics. Each page exits on a number of planes, and as the "guided view" moves from panel to panel, so the perspective shifts, giving a three dimensional feeling of space on the page. Here's an example of that at work from the first chapter, with sound effects giving flavour but not oppressing the comic book nature of the work. And a rather wonderful use of visual morse code to illustrate the working environment at The Mill.
[youtube]http://www.youtube.com/watch?v=Mz_leWE59sQ[/youtube]
There is also animation used as asides, that can be triggered or ignored, depending.
[youtube]http://www.youtube.com/watch?v=-RjTT5g5FBM[/youtube]
And in the second chapter, using a "zooming out" effect to create different panels,
[youtube]http://www.youtube.com/watch?v=dZoZyd3mQPk[/youtube]
This is an impressive first work in the digital comics medium. And with eight more weeks and eight more chapters to view. I'll be at the panel at the London MCM Expo tomorrow, if you can, you should try and make it. Shame they won't have anything to sign afterwards…