Five Ghosts' Frank Barbiere Turns Buzzkill's Donny Cates Into A Pirate?
Twitter sometimes reaches new heights of strangeness on weekends. Today, Frank Barbiere, writer on Image's Five Ghosts and IRL friend Donny Cates, co-writer on Dark Horse's Buzzkill were taunting each other about the pirate plots of the new Five Ghosts storyline "Lost Coastlines". Barbiere asserted that Cates is this salty-language prone pirate (drawn by Five Ghosts series artist Chris Mooneyham).
But wait, just kidding, or is he? Apparently there is some Cates piracy in the works…
Here's the piratical conversation:
Now, when we consider Cates' recent incarnation in his surly Batman pajamas over Thanksgiving (as posted on Twitter), he does seem like a strong candidate for a pirate cameo: Can we expect Cates to turn up in the coming issues of Five Ghosts in its pirate arc? Here's the cover for #9 coming in January, for instance. Watch out for a pirate with a penchant for the f-bomb…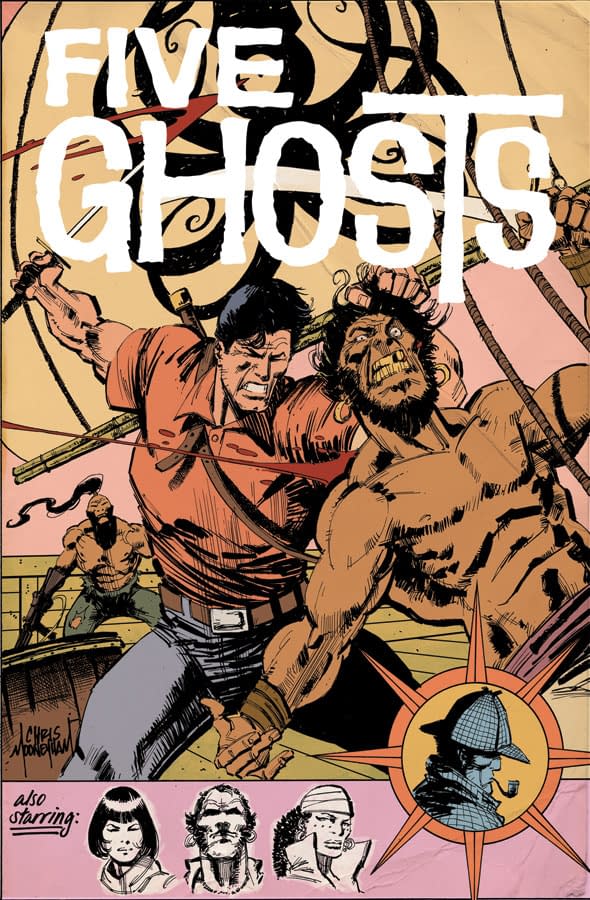 UPDATE:
Hannah Means-Shannon is Senior New York Correspondent at Bleeding Cool, writes and blogs about comics for TRIP CITY and Sequart.org, and is currently working on books about Neil Gaiman and Alan Moore for Sequart. She is @hannahmenzies on Twitter and hannahmenziesblog on WordPress. Find her bio here.