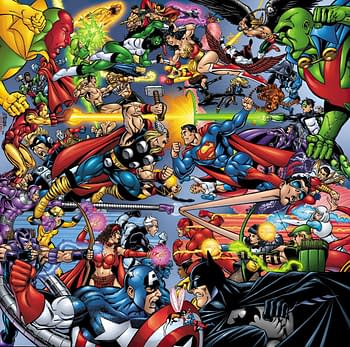 I like the contrast of today's top two stories: Marvel vs DC in the marketplace, Marvel vs DC in the comics. And of course, there's a fair bit of talk about Marvel vs DC at the box office this summer. Come to think of it, Marvel vs DC in a movie would probably break the world in half. Until then…
Most-Read Comic Stories Today:
Marvel Still Acting Like Marvel…
However, unlike the online listings, pretty much every full page solicitation for a comic has a star splash emphasing the issue number. "Still #669! Still #17!" And in Uncanny X-Men's case "Still 543!" even though in a couple of issues it will have to be "Now #1!"…
DC To Publish DC/Marvel Crossover Omnibus
DC will publish the DC/Marvel Crossover Classics Omnibus Vol. 1 at 512 pages, that's a lot of crossovers over the years to collect. And emphasis on the Vol 1… will Marvel get the rights to publish Vol 2? Out in February.
Top Five Ways The Lois / Clark Marriage Could End
Bleeding Cool ran the story yesterday that Dan DiDio has seemingly rung the death knell for the marriage of Lois Lane and Superman. But how will it happen? Here are a few suggestions.
Most-Read TV/Film Stories Today:
The Missing Names From The Green Lantern Movie
When watching Green Lantern, and we know many of you will, waiting for the extra scene during the credits, make a note of what isn't there.
Eleven Doctors And A Master, South Park Style
By Howard A Treesing from the DakkaDakka forums…
Doctor Who: Day Of The Moon Revisited
Spoilers for those of you who haven't seen the mid-season finale of this year's series of Doctor Who. But if that is you, why did you click on this story in the first place? Never mind, never mind, let's get on with this.
Most-Clicked Pics Today: Enjoyed this article? Share it!