The Power of Danny McBride, John Goodman Compels HBO to Order Televangelist Comedy Pilot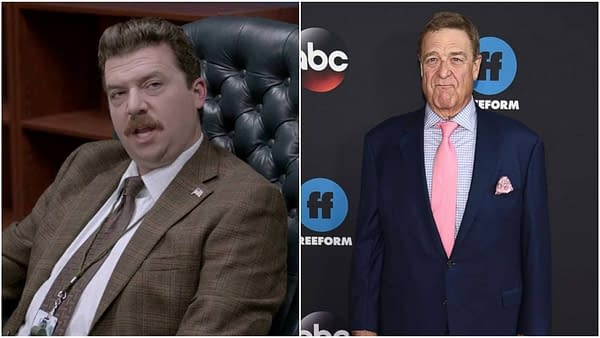 HBO has found a little bit of that "old time religion" with a pilot order for a half-hour comedy series from creator Danny McBride (Vice Principals) based in and around the the world of televangelism. Written, directed, starring, and executive produced by McBride, The Righteous Gemstones co-stars John Goodman (The Big Lebowski, The Connors) and tells the story of the world famous Gemstone televangelist family; which has a long tradition of deviance, greed, and charitable work, all in the name of the Lord Jesus Christ. Jody Hill and David Gordon Green are also set to executive produce the project.
Goodman's Eli Gemstone id the patriarch of the Gemstone family, described as "unbending and a force in the Ministry game. He's known the world over for his aggressive salvation techniques, his worldwide ministries, and his award winning weekly television program. His light is fading, but he takes no guff. He is obeyed, unquestioned."
McBride stars as Jesse Gemstone, eldest son and "heir to the throne" who "walks in his father's shadow while simultaneously blazing his own path." Like his father Eli, Jesse "demands loyalty from those in his circle, and surrounds himself by those that will follow him." Looking to take the family business to new heights, Jesse "fancies himself a maverick in the ministry game, taking what Eli has built and expanding it for a more modern audience."
HBO is hoping the third time's the charm, with The Righteous Gemstones marking the cable giants third collaboration with McBride, Hill, and Green. Having recently ended its two-season run, comedy series Vice Principals also starred McBride. Prior to that, the trio worked on baseball comedy series Eastbound & Down; which aired for four seasons and wrapped up in 2013.
On the film side of his career, McBride is best known for his work in films like Pineapple Express, This Is the End, and Tropic Thunder; and co-wrote the screenplay for a new Halloween film. Goodman recently returned to his role as Dan Conner in ABC's Roseanne (soon to be The Conners); and has appeared in films such as Barton Fink, 10 Cloverfield Lane, and O Brother, Where Art Thou?.