Getting A Feel For Comic Arts Brooklyn – Through Books And Pictures Comic Arts Brooklyn ran for one day, Saturday November 9th, though there were related gallery shows and events leading up to the big day. It also ran panels at The Knitting Factory down the street, which played host to Paul Auster, Art Spiegelman, Jeff Smith, and many more. I believe the final tally for the day was 4000 attendees, which was quite significant given that it's a mid-sized festival and not a large, mainstream con. Tables were arranged on two levels of the Mt. Carmel church hall, and as the day progressed, both rooms became shoulder-to-shoulder crowded while people perused self-published work and small press releases. Here are my photos of the events, with the books I picked up. Plenty to keep me busy reading as cold weather sets in here on the East Coast… The free 'zine Smoke Signals and the event guide.
Cartoonist Jennifer Hayden appearing at Top Shelf booth, who publishes her book, Underwire. But Hayden also recently released a collection of her webcomic diary Rushes. I am not sure why there are psychedelically colored manga-like characters cut out to stand on the hall stage every year, but they do lend a surreal atmosphere to the event. Seth Kushner and Dean Haspiel with their brand-spanking-new banner for Hang Dai Editions, a self-published imprint with fellow studio mate Gregory Benton. They debuted their first three titles at CAB, including Psychotronic Comics from Haspiel, Schmuck from Kushner, and Force of Nature from Benton.
Here are the Hang Dai Editions which I got a sneaky head-start on procuring… A more posed picture of Hang Dai on their victory launch day.
Gregory Benton had a particularly triumphant day as his hardback, large format graphic novel B+F not only debuted from Adhouse Books, but sold out. It was a busy day of sketching for Benton to personalize the books. Tucker Stone at the Nobrow Booth. Nobrow recently added offices in New York to become international. Tucker and I spoke about this recent book, In Pieces, and the fact that the very young cartoonist was working on another book that would hopefully come out from Nobrow once translated from the French. Michel Fiffe celebrates the release of the third collection of his celebrated comics Copra at the Bergen Street Comics booth. Bergen Street Comics are the publishing partner with Fiffe for Copra. The Bergen Street Comics booth. I made a delightful discovery in Sean P. Ford, a Brooklyn local whose prints alone were making me drool. But Sean also had his minis of his work Shadow Hills available, a mystery story with great line-work and an interestingly tense atmosphere. Bernard Stiegler, a Baltimore area native, was up in Brooklyn with his Xeric Award grant-winning book The Reptile Mind. Molly Ostertag, Dave Kelly, and Lara Antal were tabling with their self-published books Journey Into The Valley of Whispers and Tales of the Night Watchman.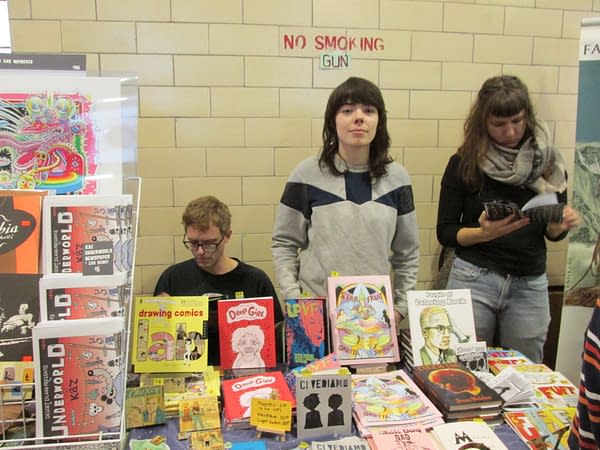 Hazel Newlevent was selling two of her minis this year, including Ci Vediamo. Ci Vendiamo is intriguing: read "forwards" you see a series of seemingly unrelated images. Read "backwards", the images appear in tissue-paper overlay to create a wordless narrative of poetic intensity.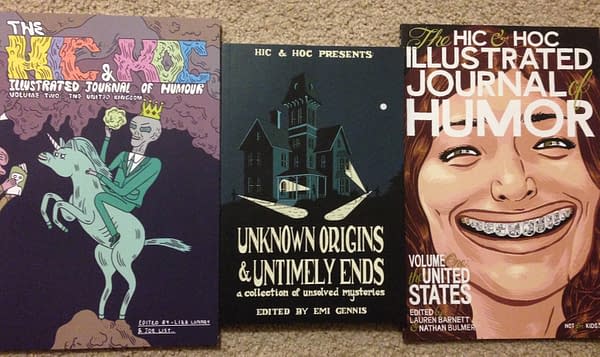 I stopped by the Hic and Hoc table to check out their new release of a Humor title, but also found the first installment in the series and an "unsolved mysteries" book, Unknown Origins & Untimely Ends. I was late to the party with Battling Boy from Paul Pope via First Second, since it came out earlier this autumn, but sometimes disorganization pays off because getting it at Comic Arts Brooklyn meant I was just in time to get Pope to sign the last hardcover for me. I also found a copy of a book highly recommended to me by friends but not easily available in the USA, Yesterday's Tomorrows, a collection of the comics of Rian Hughes, who also designed the book. It is a thing of beauty. Dean Haspiel gets a feel for Comic Arts Brooklyn with some gay manga that he fell in love with (yes, the title of the article was designed purely for this image). Sadly, I had to edit the photo because of decency rules here on the site, but if you contact Dean, I'm sure he'd be willing to tell you more about the book's attractive qualities. There is a lot of nudity involved.
Hannah Means-Shannon is Senior New York Correspondent at Bleeding Cool, writes and blogs about comics for TRIP CITY and Sequart.org, and is currently working on books about Neil Gaiman and Alan Moore for Sequart. She is @hannahmenzies on Twitter and hannahmenziesblog on WordPress. Find her bio here.