Grayson #7: Manhood, Midnighter, Watchmen And A Happy Ending?
By Shawn Perry
'Sup Bleeders,
It has been too long since I waxed eloquent about my favorite superhero sans-super-powers so I am going to get right to the point: Grayson #7 by Tim Seeley and Tom King was the most effortlessly brilliant issue of the run. Once again Mikel Janin and Jeremy Cox prove capable of creating the aura of a big-budget action movie that is at the same time both simple and complex while suiting the needs of the story at all times. In particular, Cox really brings it during the hypnos scenes and the designs of the characters come to life in every panel.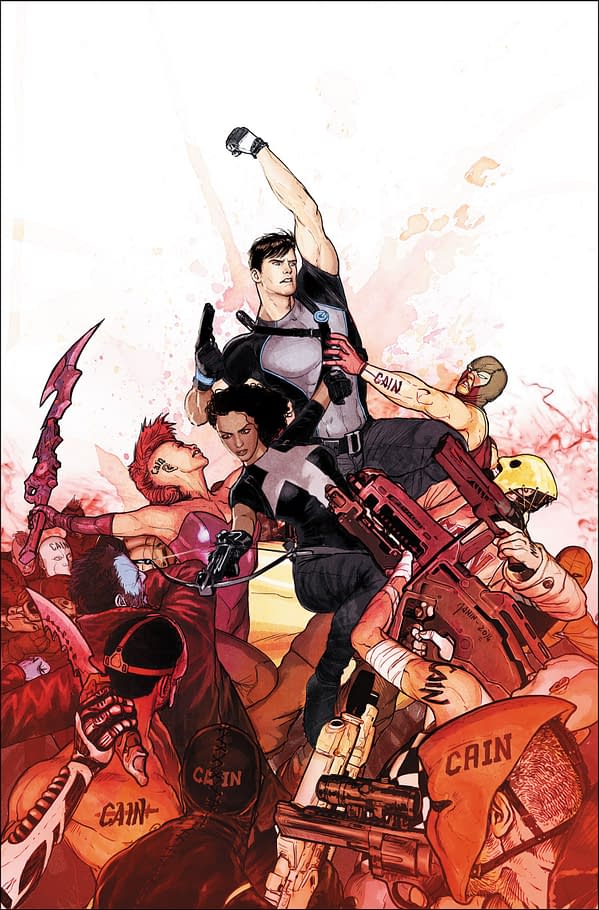 The story brings the Fist of Cain storyline to a close – which is best summarized by this reviewer since I have been pulling a Stephanie Brown as of late – but the layman's synopsis is that Dick escapes the clutches of the morally-ambiguous and Batman-lookalike Midnighter and overcomes insurmountable odds to stop a terrorist attack at a foreign music festival. The book has many flashes of humor, I especially enjoyed the Lady Gaga reference by Minos although I felt bad about liking it after her great turn at the Grammy's this week, which work for the story without taking away from the focus. Grayson has rarely been so relatable as when he is lamenting the loss of tracks on his workout playlist after discovering that the band he likes has secretly been agents of the insane Fist of Cain organization. Displaced fans of Blink-182 can probably relate right now.
The First of Cain's fascinating terrorist attack at the center of this issue involves, essentially: an evil super-brain engineered to send out a psychic pulse to all of the concertgoers at a festival feeding off their negative emotions while manipulating them into killing one another in order to make some classic super-villain statement about the black metal heart of man thus causing society to crumble under the weight of such a jarring heart of darkness-themed news report and have the mass public and governments surrender to their will because of this and that and some crazy other jibbah-jabbah and so on… but the pulse is a very interesting plot point and is essentially what Adrian Veidt was doing at the end of Watchmen (without the clear consequentialist altruism) which also happened to take place at a rock concert so this was likely an homage of sorts.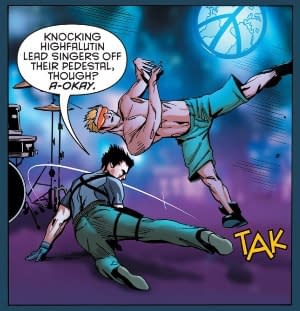 Grayson saves the day the way only he can: clean one-liners, aerobic ass kicking, a strict no-killing policy and his super-powered endowment of human kindness that essentially breaks the evil brain by being incorruptibly kind. In the middle of all this noise is Midnighter who has been enjoying a star-making turn as a supporting character in this series as a deontological doppelganger to Dick's goodhearted do-gooding who happens to a)- look a lot like Batman, b)- shares a sense of humor that is similar to Dick, c)- has an actual crush on Dick, d)- despises hypocrisy and lastly e)- unlike Dick has no problem killing people. Sheesh, does that sound like some twisted fan-fiction to anyone else? This should be an very interesting on-going series…kind of like if the Punisher happened to be gay but that wasn't what defined him because he was a self-appointed vigilante executioner in black leather with a meta-human physical capacities for foresight so that means he probably possesses super-human gaydar but, again, it's 2015 so who cares right?

This whole storyine rests upon a hero/anti-hero/villain dichotomy reminiscent of the Joker/Two-Face/Batman storyline in The Dark Knight and I mean that in the most positive way possible. Like the Bruce Wayne who hung up his suit to lead a normal life with a reformed Catwoman, Grayson is an emotionally healthy hero trying to provide "a safety net" for innocence in gratitude for what he was given as a child…but his lack of superpowers and easy-going sense of humor reminds readers that he is ultimately a person capable of leading a normal life.
My theory? I think that could very well be where this story is leading him as he seems to be growing more accustomed to saving the world without a costume and is also becoming much closer with his partner, Helena Bertinelli. Personally, I would be very interested to see Grayson being pulled between his two worlds with the blossom of love dangling in the middle even though he (and I) am still a little hung-up on a certain redhead from his past but as her world seems a lot more Girls than revisionist super-hero right now it is not crazy that he would choose his new world over the old one…at least until his cover is (inevitably) blown if it the people at Spyral haven't caught wind of his late-night phone calls to Matches 'Bats' Malone already…
In closing, to paraphrase the Dark Knight trilogy; this book is not necessarily the Grayson we need right now – with the mainstream marketability of the character on the line in a big way with both the Teen Titans series starring Nightwing on its way as well as his rumored appearance in the upcoming Superman vs. Batman movie this summer — but it's the book we deserve as long-time fans of the character.
Later Bleeders!
Shawn Perry is a proud geek striving to be here now. He currently resides in East Hartford, Connecticut. Tweet him @thesperry and email him at Shawn.Perry88@gmail.com.