Hyperbole Theater: GameStop – Celebrating The World's Greatest Games Retailer
By Jared Cornelius
It's 12 PM on a Tuesday and I enter the parking lot of a dilapidated strip mall with only one thing on my mind, video games. I park near a row of cars with stick figure families proudly displayed in every back window and begin my trek to the most wonderful of stores. A place where only the most discerning shopper goes, where you'll find only the highest quality products. I see the stores beautiful visage, windows covered in posters for games that won't come out for half a year. Offers for incredible savings, including the pre-order bonus that includes golden gun DLC and think, "I'm home."
I walk in to what I can only describe as a magical setting, it's a place of wonder and excitement. The walls are covered in beautiful video game cases, the television plays only the most informative advertisements, and with such a robust selection of PC games my heart flutters at the sight. Yes dear reader I'm talking about the wonderful and magical retailer GameStop, to quote Belinda Carlisle, "ohh heaven is a place on Earth" and its name is GameStop. I'm assaulted by a sea of video games, every wall decorated in a shrine to used merchandise. But that's fine, because these used games are just as good as new ones, that's why they only knock $2 off the price of a used game, because they're just as good! I pick up a copy of the latest Call of Duty game, and notice it looks like the case has been chewed on by a large dog, rubbed in the sewer, and stepped on for good measure. It's ok though, I'm sure the owner took great care of the disk. The state of the game case is in no way any indication that it was treated like a shiny Frisbee by some 10 year old, GameStop wouldn't take it unless it was good. It doesn't matter that the box and cover are also plastered with price-tags and stickers like it was decorated by a kindergarten class.
It's that kind of care that's lead me to shopping at GameStop, because they're as concerned with value as I am. I mean who needs a new video game, when this used copy is just as good. I can't buy a new copy anyway because the game I want is 6 months old and they don't have a new copy. But who needs new with my rewards card? I'll get an extra 10% off, so I save $4 dollars instead of $2! All I have to do is opt into an aggressive e-mail campaign that assaults my unread box with weekly surveys, advertisements, and exclusive pre-order offers. Who wouldn't want that kind of service?
As I'm deciding what chewed game case to bring to the counter my ears perk up over the sound of the 15 screaming elementary school children, which is curious because there's only one other adults in the store. The charming sound of children screaming is nearly silenced by the informative commercials on GameStop's proprietary television channel, GameStop TV. The delightful hosts are telling me about all the hot new games I can buy at GameStop, and I think, "This is so convenient, I'm already here I might as well give GameStop more money, please tell me what to buy!" I felt great about this because I'm incapable of making my own opinions and decisions about my purchases, so GameStop TV was a real life saver.
I mean there's no way I could save that money till the game came out, I wouldn't get the pre-order bonus! I gawk in amazement that GameStop put this much production value into their TV channel, it's like I should be paying them to watch it, and I'll never find out about the newest characters in Skylanders Trap Team if I don't watch. When they told me about the exclusive Harley Quinn DLC for Batman: Arkham Knight I almost lost bowel control. I'd save $10 on buying that completely unnecessary DLC if I preordered the game, I wondered how GameStop made a profit being so generous with its customers.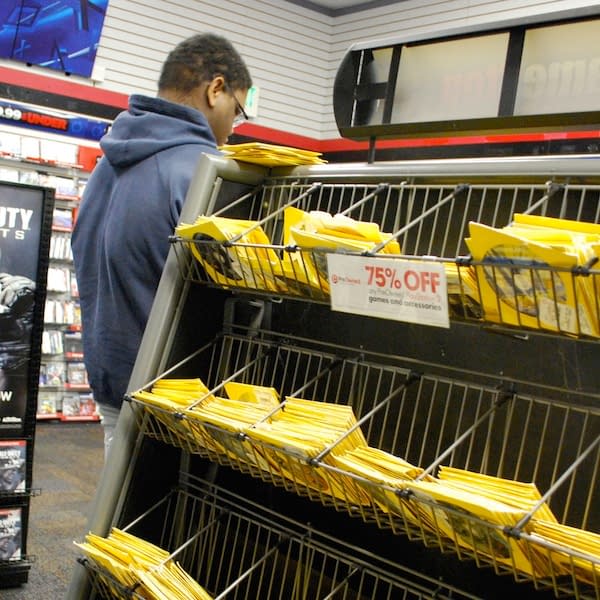 As I prepared to make my purchase I marveled at their robust selection of PC games. There had to be over five games to choose from it was incredible! StarCraft II, World of Warcraft, World of Warcraft expansion, StarCraft expansion they were all there! It's so lucky that GameStop cares about the PC gamer, where else would you get PC games? I don't trust that Steam service, they'll never give you a clearly opened product and call it new.
As I reach the checkout, my jaw dropped at the sight of physical cards for downloadable content. What a great idea, virtual currency that can only be used to purchase one specific thing, that's forward thinking. Why stay at home and conveniently download something when you can drive to the store and buy a physical card, drive home and input a 50 digit code via a gamepad? If you stay at home you risk people you don't know or don't care about you thinking you're a shut-in and that's not good.
It takes a while for me to make it to the cash register, the gentleman in front of me looks a little disheveled like he hasn't slept and has presented the clerk with a pillowcase full of video games. It's a bit odd–he's got a sack full of games and a systems, and there appears to be some jewelry in there as well as silverware. I'm sure everything is ok, he must be bringing those thing to get appraised. While the gentleman in front of me argues about getting an extra $6 dollars, I can see the back room with another employee who doesn't care there's a line of 5 people waiting, he must have important work to do cataloging their vast selection of used games and waiting in line just gives me more time to watch GameStop TV!
When I reached the cash register I remembered one of GameStop TV's helpful tips and avoided a critical social error. I learned that the 17 year old clerk with snake bite piercings and swept over black hair was no ordinary clerk, but a Game Advisor! The helpful Game Advisor scoffed at my game. I think it was because he wasn't trying to show bias. Ever so helpful, he asked for my rewards card, if I wanted to pre-order anything, told me to take a survey on the receipt, sold me the two year protection plan, and offered to sign me up for another 1000 years of Game Informer.
The most helpful part of the trip was being reminded I could trade in my used video games. My helpful Games Advisor showed me the current trade in list and I was awestruck when I found out I could trade in games that I'd paid $60 for for pennies on the dollar. I mean 10 cent's for last years copy of Madden is a downright steal, and $1 dollar for Bioshock, I'd be crazy to pass that up. Who wants to keep a beloved classic around anyway? Besides if I ever want to play it again all I have to do is go back to my local GameStop where they'll sell me a beaten and inferior quality version for 10 times more than they paid for it.
It's with a stride that I leave GameStop with my used copy that cost almost as much as a new one. I made money by pre-ordering a game and getting a digital code that I'll probably lose before the title launches. All I can do is think about my next trip to GameStop, your friendly local video game retailer.
Jared Cornelius is some guy from New Jersey's coast who's performing on the stage of the internet. If you'd like to perform anything from Rush's seminal 1981 album Exit…Stage Left, contact him on Twitter @John_Laryngitis
---
---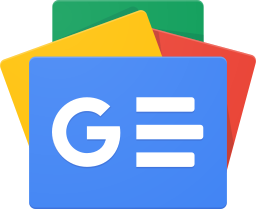 Stay up-to-date and support the site by following Bleeding Cool on Google News today!