Jennifer Lopez and Maluma Recorded Soundtrack For Upcoming Comic-Book-Adaption "Marry Me"
Marry Me is the upcoming Jennifer Lopez movie based on comic book of the same name. Directed by Kat Coiro, written by John Rogers, Tami Sagher and Harper Dill, and based on Marry Me by Bobby Crosby and Remy "Eisu" Mokhtar, the movie also stars Owen Wilson, Sarah Silverman, John Bradley, Michelle Buteau, Chloe Coleman, Maluma and Jimmy Fallon (playing himself).
A romantic comedy, it's the kind of film that many may not suspect was adapted from a comic, but I understand that the movie will replicate comic book aspects within the movie that might make its origins more clear. In an interview on Jimmy Fallon last week, Lopez confirmed that the movie would be accompanied by a soundtrack by Lopez and Maluma, which would comprise of 10-11 songs.
Originally published as a webcomic, it was collected as a black-and-white graphic novel in 2010 by Keenspot Entertainment, then serialised in print in colour in ten issues in 2018. Marry Me tells the story of, Stasia Tyler, your everyday, ordinary, world-famous pop star, frustrated with her love life and on the verge of a nervous breakdown. One night at a concert in Oklahoma she shocks the world by accepting the proposal of a random audience member holding a "Marry Me" sign, forever changing the life of a high school guidance counselor named Guy.
A few name changes, Stasia Tyler, played by J-Lo is now Kat Valdez, and Guym played by Owen Wilson is now a maths teacher called Charlie Gilbert. Original copies of the graphic novel sell for a fraction of the cover price online, and the colour reprint Marry Me #1 only goes for a couple of bucks. When the movie gets close to release, a few speculators may want to jump on this series – there's even a colour preview and a few exclusive covers to track down too.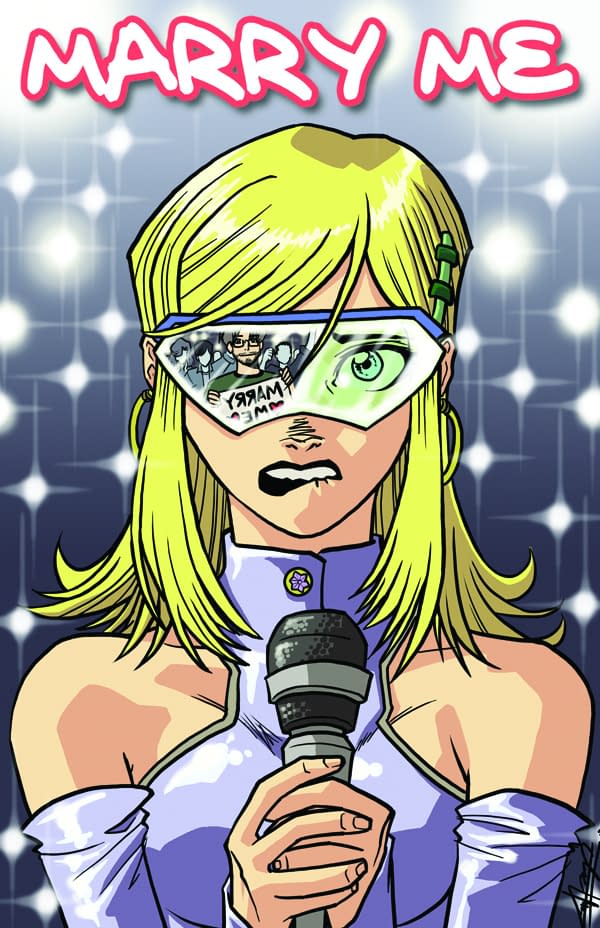 MARRY ME #1 CVR A MAIN
(W) Bobby Crosby (A/CA) Remy Eisu Mokhtar
Stasia is a world-famous pop star who is so frustrated with her love life that she accepts the proposal of a random fan holding a MARRY ME sign at one of her concerts. After she says yes, what happens next? Find out in this monthly full color series celebrating the 10th anniversary of the beloved romantic comedy webcomic, combining remastered pages originally published online with all-new material created specifically for print.In Shops: Jan 04, 2017 SRP: $3.99
https://www.youtube.com/watch?v=6CYnsMhuUTg