Joker let alone Batman has been making there rounds around the collectible circuit lately. With Batman Day this past Saturday, it is no surprise we are a whole new set of collectibles coming. This time, Mezco has announced The Joker as their next Living Dead Dolls (LDD) figure. This figure is quite creepy and is defiantly throwing off some Chucky vibes. Which I haven't decided if I like that or if I don't. The Living Dead Dolls series have been out for a while, but this one just gives me the chills as he is almost is a cross between Chucky and Joker. I could see a great story coming out of this design alone, a dark multiverse story on the Jokers' soul taking over a doll…I LOVE IT! However, this Joker LDD is based on his comic book appearance and it is outfitted in his classic 3 piece suit with the flower too. His iconic bang gun is included with him too. The figure does have 5 points of articulation so there are little positioning styles available. This creepy little figure fits the Joker style perfectly and it would be a great addition to any Arkham Asylum cell.
Joker LDD is priced at $50 and it is set for a February – April 2020 release. Preorders are live on Mezco already and that is located here.
"We're friends 'til the end, remember?"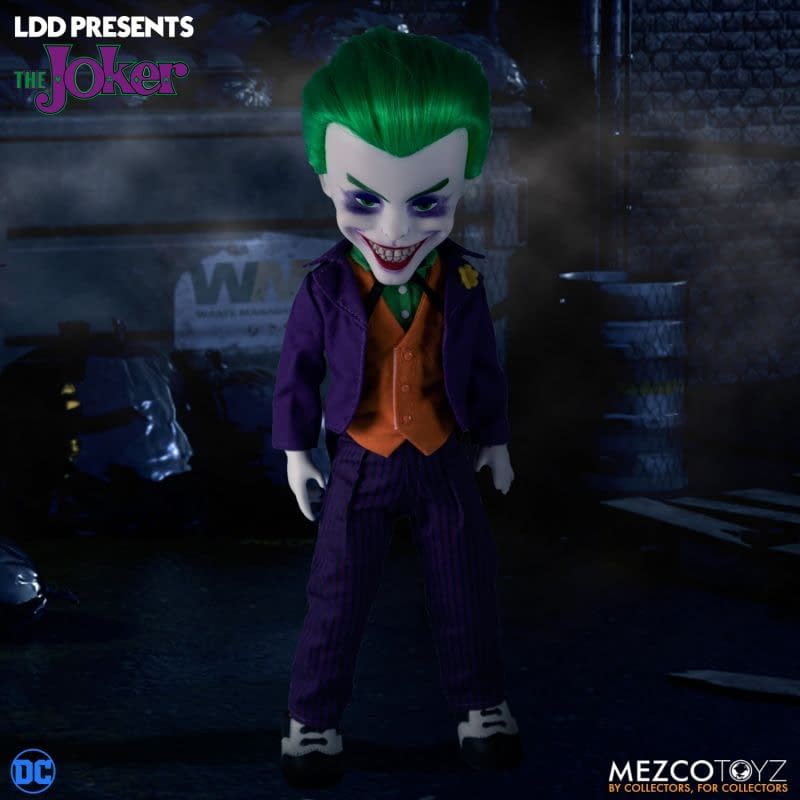 LDD Presents DC Universe: Joker
"If I weren't crazy, I'd be insane!"
Deadly, unpredictable, and deranged, The Joker wreaks havoc amongst the city of Gotham as the Clown Prince of Crime.
Based on his appearance in the comics, this clown is outfitted in a tailored 3-piece suit with lapel flower detailing.
The malevolent madman is all smiles! His all-new head sculpt captures his maniacal red-lipped grin and coiffed green hair. He comes complete with a "Bang!" flag gun that can be held in his hand.
LDD Presents DC Universe: Joker stands ten inches tall and features five points of articulation. He comes packed in a window box, perfect for display.