Marvel Crisis Protocol: Tackling the Miniatures
Marvel Crisis Protocol will be hitting game stores around the world on November 15th! I happen to work at one of the game stores that was selected to run demos of the game before launch, so I had the opportunity to get an advanced look at the Core Set, and assemble and paint the miniatures!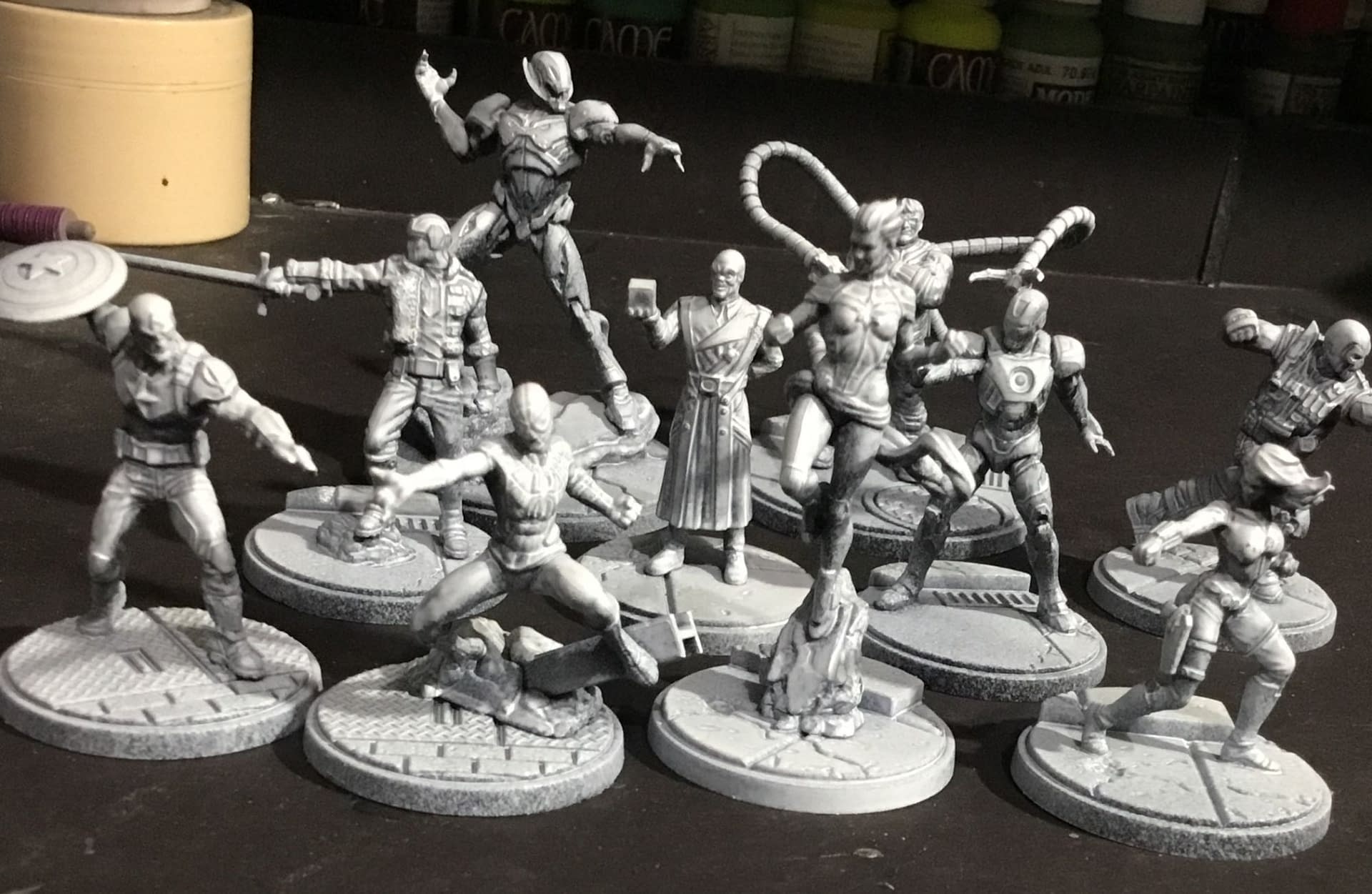 First off, these minis from Atomic Mass Games are fantastic. They clock in at 40mm in height, so they are quite a bit bigger than your typical war-games figures. That being said, though, bigger minis means more room for detail, and the miniatures in Marvel Crisis Protocol are packed with details!
Assembly didn't take too long, and once they were all put together, I got to work on painting the miniatures. First up was Captain Marvel, since she's my favorite character in the box: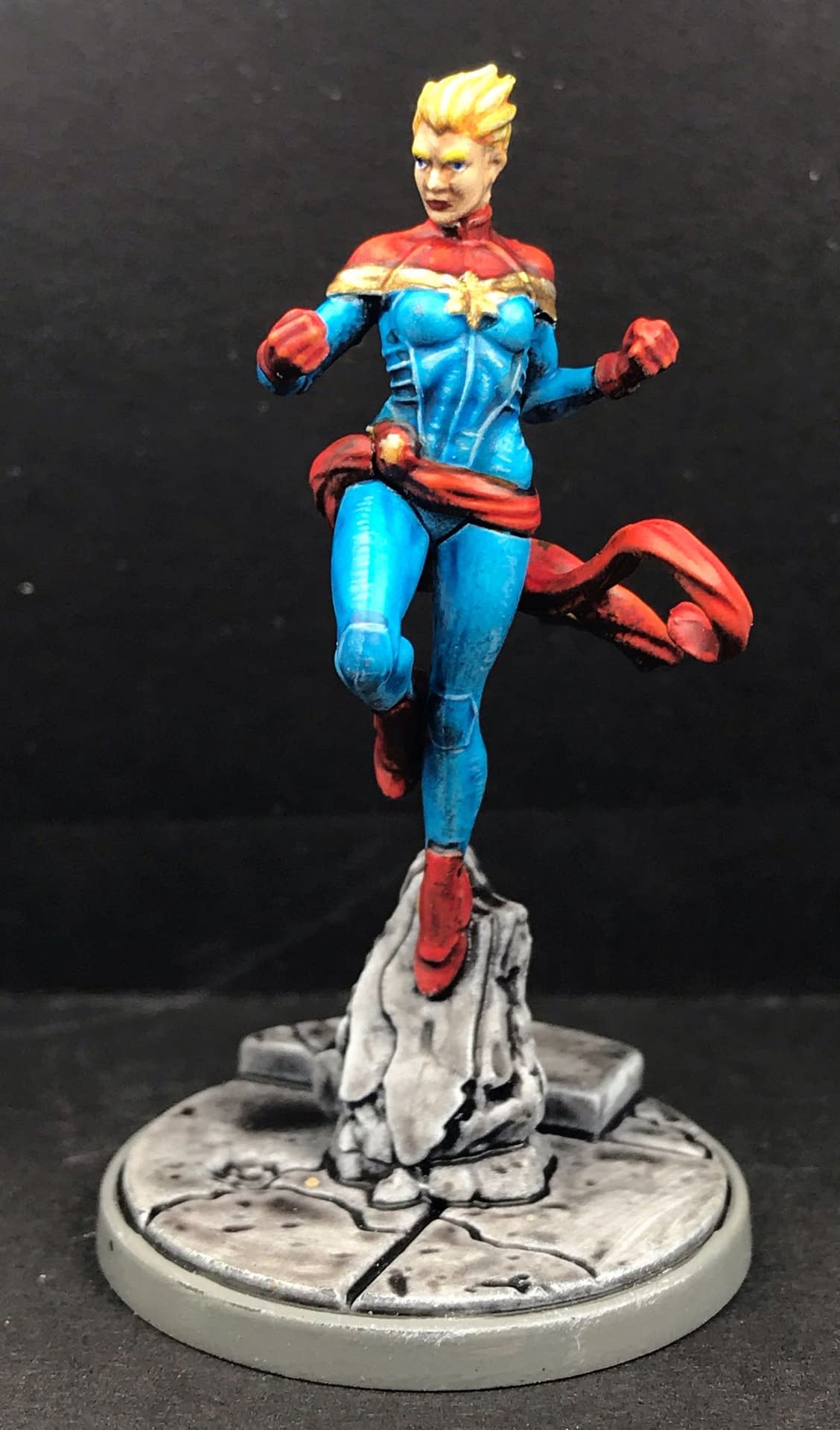 The miniatures in the Marvel Crisis Protocol core box were an absolute delight to paint. I am used to painting miniatures from Infinity, and having the opportunity to cut loose and work on a larger canvas was really liberating. Also, the female characters aren't hyper-sexualized fetish objects, which earned big points from me.
The poses are really dynamic, with even some of the more static figures looking really cool on the table top:
[easy-image-collage id=1113463]
I found myself having a hard time picking a clear favorite in the core set. The miniatures all had something to really enjoy, from Black Widow's weapon load-out to the Red Skull's sneer. Captain Marvel's sash flows wonderfully, and even Crossbones, my least favorite character in the core set, looks really cool!
[easy-image-collage id=1113464]
The most impressive minis, though, are the extra large figures. Doctor Octopus is just massive, with an impressive muscular build under his girth. His tentacles look fantastic, too. Ultron is the largest figure in the core box, and just towers over everyone on the table.
[easy-image-collage id=1113466]
I found myself having a hard time putting the figures down, and found myself getting all 10 of the minis in the Marvel Crisis Protocol core set finished in about 4 painting sessions! Hulk and MODOK will be released alongside the big core box, and I can't wait to get my hands on those two as well!
I have been asked about showing a size comparison with other miniatures, so you can see how Marvel Crisis Protocol figures stack up: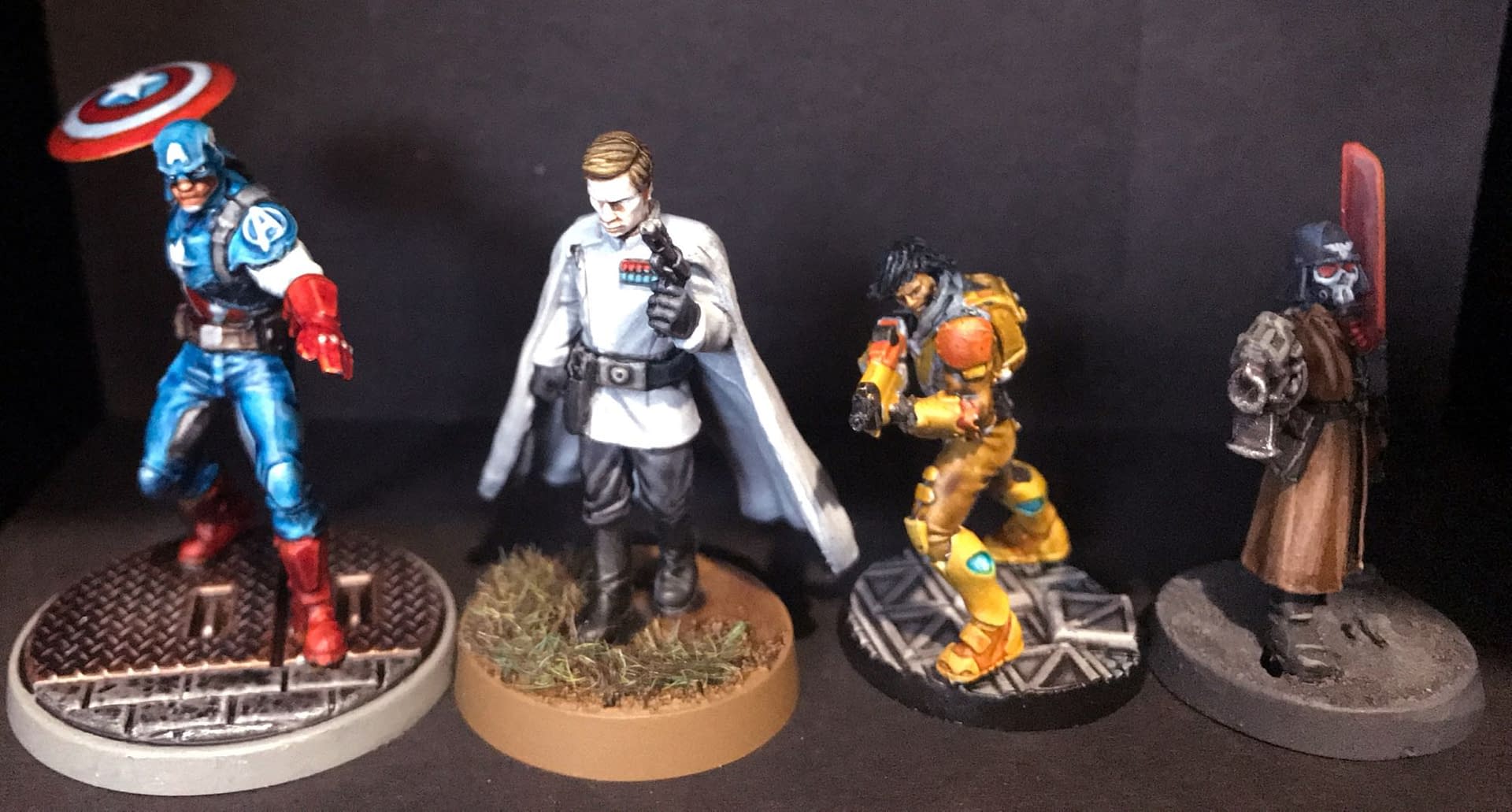 From left to right: Captain America at 40mm from Marvel Crisis Protocol; Orson Krennic at 32mm from Star Wars: Legion; a Yu-Jing Zhanshi at 28mm from Infinity, and an Imperial Guard Lieutenant at 28mm from Warhammer 40,000. As you can see, the Marvel Crisis Protocol figures tower over everything else!
Stay tuned! Our deep-dive on the core box for Marvel Crisis Protocol is just getting started! If you want to get a look at the rules for the game, Atomic Mass Games has released them free of charge right here!