Is the Media Getting Suckered into Making Roseanne a Serious Post-Trump Presidential Candidate?
It's hard to watch the unfolding furor over Roseanne Barr's rebooted television show and the increased scrutiny over her politics and embrace of the alt-right QAnon meme-generation / "Overton Window" strategy without wondering whether the mainstream media is getting suckered… again… over covering the outrageous spectacle of it without really understanding what's happening and why.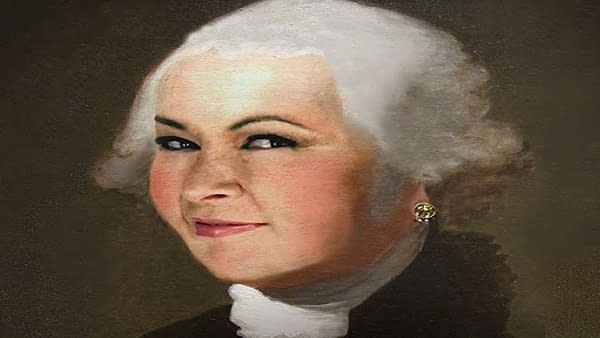 Recall that Roseanne was in fact a candidate to become the Green Party's nominee for President of the United States in 2012 — she lost the Green Party's delegate race to Jill Stein during that election cycle, but then won the nomination of the Peace and Freedom party. Appearing on the ballot in just three states, she managed to come in 6th place in the popular vote that year, with 67,326 votes total.
She floated a serious trial balloon to do it again in 2016. "I might keep running until I win. I definitely can win," she told the New York Daily News in 2014.
The comedian followed that up in 2015 with a documentary about her previous run titled Roseanne for President!, which seemed designed to keep that hope alive, and about which the LA Times breathlessly noted, just in time for the 2016 election cycle in a piece titled "Is Roseanne Barr fit to be president of the United States? Well, if you ask her…"
Roseanne Barr, the fiery populist comedian who ran for president in 2012, is the subject of a new documentary about her campaign, which in the year of Trump might have been ahead of its time.
Later that year, Roseanne had the Daily Beast enthusing, in an interview during which she also claims to have told Trump to run for President:
Barr's ambition for the White House is intimately documented in the film Roseanne For President!, a project six years in the making that balances delightful looks at Barr's home life in Hawaii with her family and saxophone-toting boyfriend with her dogged attempts to launch a third-party presidential run without the benefit of being, well, Jill Stein.
So it's clear that the press will be even less of a match for Roseanne than it was for Trump.
She's also a female Trumpian figure, but without the financial or Russian baggage that Trump has (though I'm presuming that without having researched it too carefully), but due to her years of stand-up experience will be a thousand times better in debates or press rooms than Trump ever dreamed of being. In other words: lots of Trump's advantages and far fewer of his weaknesses.
Now we have President Trump praising her in public speeches. And his administration has been supportive for quite some time too, it appears. The baton is being passed.
GOP Backers are probably already lining up from here to New Hampshire to court her.
What's to be done? Well… let's just hope that Roseanne's former spouse Tom Arnold is a little more effective in preventing this looming presidential debacle than he was during the last election cycle — though that wasn't for lack of trying, it appears. Sorry, Tom — I know putting the weight of the free world on your shoulders is unfair. And I'd much rather you just made more movies, too. But if we can't count on the press or our elected leaders to keep these matters in check… well, I guess it's on you, buddy.