 Bleeding Cool reporter Joe Glass writes:
The panel to look at DC's impending mega event, Dark Nights: Metal, and beyond at the Dark Matter line of titles, shapes up at SDCC 2017. With Metal's creators Scott Snyder and Greg Capullo, alongside Dark Matter contributors Steve Orlando, Philip Tan, James Tynion IV, Robert Venditti and more promised.
Dan Didio comes out to present the panel, and he promises it will be loud and crazy.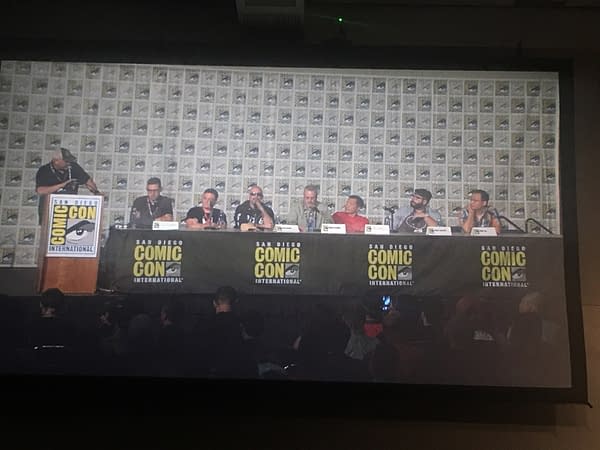 Since Rebirth, they wanted to do a big major event. He introduces them out on stage. He introduces Capullo…who looks rather plastic. Of course, then we get the real Capullo, the imposter revealed as best chum Snyder. Capullo takes the chance to rip on Snyder with an impression, which Snyder notes is the same impression Capullo uses for him and Capullo's wife. Capullo jokes that he's his comics wife.
Snyder begins talking about the idea for Metal starting in the early days, to bring Batman into the wider DC Universe. The Dark Multiverse is discovered, and the only thing that can stop it is the increasingly rare Nth Metal. The first wave of the invasion sees the Dark Knights, a Dark Justice League, attack.
They wanted it to feel like an engine of new, new territory, new characters and new books. There are clues all the way through their Batman run, and this is the culmination of everything they've done and includes so much of the DCU, mentioning Plastic Man, the Source Wall, and Doctor Fate among others.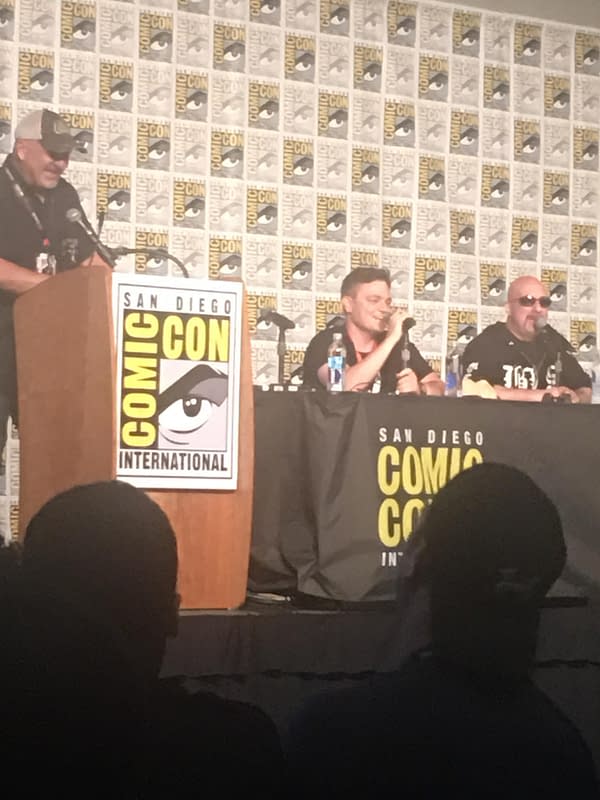 They wanted it to feel like it has big consequences, but also that life is stressful right now, so they wanted to create something that reminded you what it was like to go into the comic store and be excited about an event. Like you're rocking out on the best concert of the summer.
Capullo is loving getting to draw so many more characters. He particularly mentions he'd love to get to do a Swamp Thing run, to whoops from the crowd. He reiterates its wall to wall concert fun and will add all kinds of brand new directions in the DCU.
Didio says this panel is all about new, Metal and Dark Matter are not only about bringing in new books, but also new villains and reveals the Dark Knights.
These characters are your worst nightmares plucked before they could vanish to be the main villain of Metal's invading army. There's one more that leads them, the Batman Who Laughs, whom they are holding off revealing. Every one of these characters has a really big fun story; Snyder said that the other creators writing the one shots had the option to write them, or someone else could and they can catch up on their double ship titles. But all creators jumped at the chance to play with these characters.
It's about Batman believing he's this hero of discovery, and every discovery he made took them forward — but finds that all the things he did may actually have been leading him forward to opening the hole to the Dark Multiverse that threatens the DCU.
He promises a lot of big surprises by the end of the first issue.
Didio sets up the stage for the other panelists by discussing how they mine new characters and new concepts from the Dark Multiverse is the books coming in Dark Matter. An extra panelist not mentioned but brought out is Jim Lee.
Didio also announces the new character Brimstone, by Justin Jordan and Philip Tan. And what we believed to be Outsiders is actually The Terrifics, featuring Plastic Man, Mister Terrific, Metamorpho and Phantom Girl, like a new family of heroes for the DCU, written by Jeff Lemire.
Lee and Tynion IV talk about getting to do a team book of all new characters in Immortal Men. Tynion IV talks about being surprised by a meeting with Lee about an old character in Immortal Man, and slowly realizing Lee was talking about working on a book with him. Tynion IV talks about getting to create a whole new, dark and strange tapestry within the DCU that will add to it.
Moving to Lemire, Didio says how thankful he is to have him back at DC. Lemire says it's awesome to be back, and the book is about family and that DC is his family, so it's very special. Lemire is also working on a Metal book and will be writing Hawkman Found with Bryan Hitch and Kevin Nolan.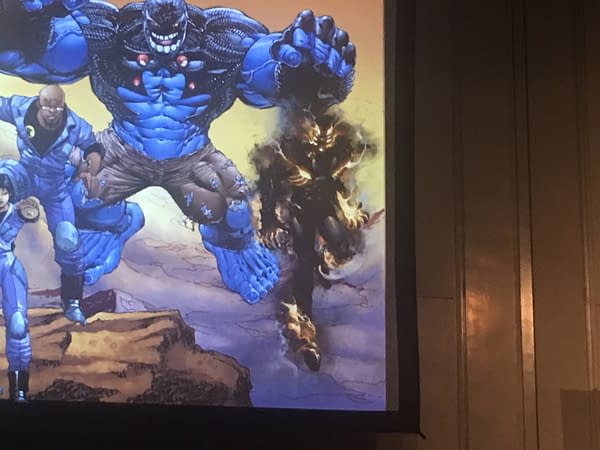 Moving on to Brimstone, Tan always loved horror, and finds it a little underrepresented in the superhero side of DC. Been a while since he did a lot of stuff for DC, so he was invited back to do something special, and was offered to do what he loves. So far, it's been some of the most exciting things to talk about and design, and working with Justin Jordan.
Back to Snyder for Challengers, who will also appear in the Metal books. He and Kubert wanted to do a book about a new generation of Challengers, and that it will feature the originals, too. It's a mix of Kirby and Lost. All about borrowed time and trying to find purpose in life, but all the kinds of kid fun stuff like in Metal. Also a chance just to let Andy Kubert go crazy on the art. The characters wake up in the Challengers tubes and the Professor gives them a mission. They have the sand timer tattoos on their arms, and if they fail, the missions the sand on them runs out.
Venditti on Damage: he describes looking at the DCU as a brick wall, and he and other creators now get to each add a brick to that wall. He describes Damage as unlike anything they have in the DCU right now, and says they are three scripts in already. Every time you see the character, something in the panel is damaged.
They talk about how they change up how they create a little bit, too, allowing the artists in on the plot creation process a lot more, allowing them to be part of making the things they really want to do together and even more collaboratively than before.
Snyder talks about how it's been great all working together as they're all friends, and working out what everyone wanted to do with the characters and series. Snyder has always been enamored by a role that allowed to bring people together in a room and create even more stories together. He says that it was all worked on together, and not all just spinning out of something he did alone, but rather a united sensibility that they want to go forward as a thank-you to fans after Rebirth.
Talking to Capullo about designing the Dark Knights, he describes it as a joyous exploration of drawing and creating art, like when you're a kid and just creating new stuff. He just looks at the essence of that character, and how can he take that flavour and twist it up. If he stays true to that, then hopefully people will enjoy it. He's just pretending he's a little kid making his sketches and doing what he wants, and DC have been great with that. Snyder praises the level of detail he adds to the designs.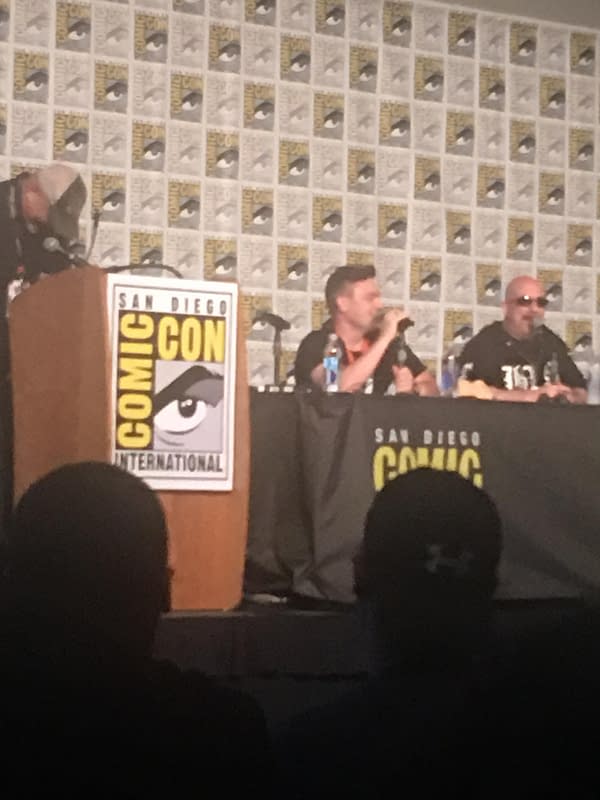 Going back to Tynion IV, and working behind the scenes to help work on getting Metal put together and teaming up on The Forge and The Casting, and of course the lead-in to Immortal Men. He describes the energy of working together and allowing the story to flow organically, such as having Talia Al Ghul mention the Silencer, because she has a role in that comic. It's about getting to play with all the toys and adding some new ones in there, too. You see these are new characters, but they exist in the same tapestry. It's everything he ever wanted out of superhero comics; getting to add to the legacy as well as playing with the legacy.
Tynion IV is working on the Batman: The Man Who Laughs one shot, and he says the design is one of the scariest designs you have ever seen.
Venditti talks about how Hal Jordan and the Green Lantern Corps ties into Metal, and issue #32 will tie in.
Moving back to Dark Matter: two books will be introduced per month starting in December. But they want to do it the right way. Every comic only has one cover, no variants, and all will be priced at $2.99. They want you to invest in this and have it not break you. Lee however has something to add: they will do something never done in comics before, and each first issues cover will fold out — not just in a double gatefold, but also up and down, allowing artists to do a very vertical composition, which will have cool reveals and interesting ways to foreshadow the titles.
On to a round of audience questions: favourite moment from working on Metal or Dark Matter? Capullo: "I drew Swamp Thing and it was one of the best experiences of my life."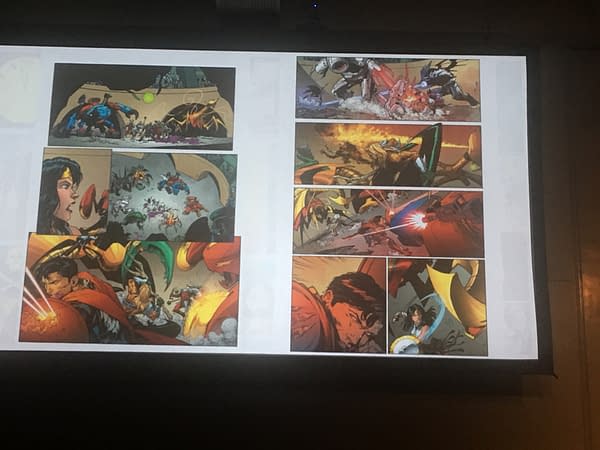 What's it like taking Batman out of Gotham into the main DCU? Snyder says he's always wanted to write the Justice League characters, and he loves their interactions, so it's been a fun learning experience. It's like writing a more familial relationship.
A kid asks: since Mister Terrific was originally from the JSA, will it be connected to Rebirth, and will we see the characters remembering the events prior to the New 52? Lemire says he basically just plotted out the whole first issue. Also, the black-and-white costume of Plastic Man being reminiscent of Offspring, Lemire says yes, they are aware of that and hints at some ideas.
DC mega fan and aspiring writer Adrian asks (after joking he wants to write for Marvel, and Lemire shoots back "You don't wanna do that,"): how much give and take there is in the collaboration? Capullo says it really does depend on the team, and discusses how Snyder gave him the scope to change scenes or elements. It shifts constantly depending on team and story. Capullo says he is definitely given plenty of freedom.
If Lemmy was still alive, would he read Metal? Capullo says hell yeah, they'd get him to write music for it.
Plans for Duke Thomas? Snyder will be developing a new series called Batman: The Signal, co-written by Tony Patrick from the DC Writers Workshop.
Enjoyed this article? Share it!